Striking Balance with Bharti Kher
By Frances Arnold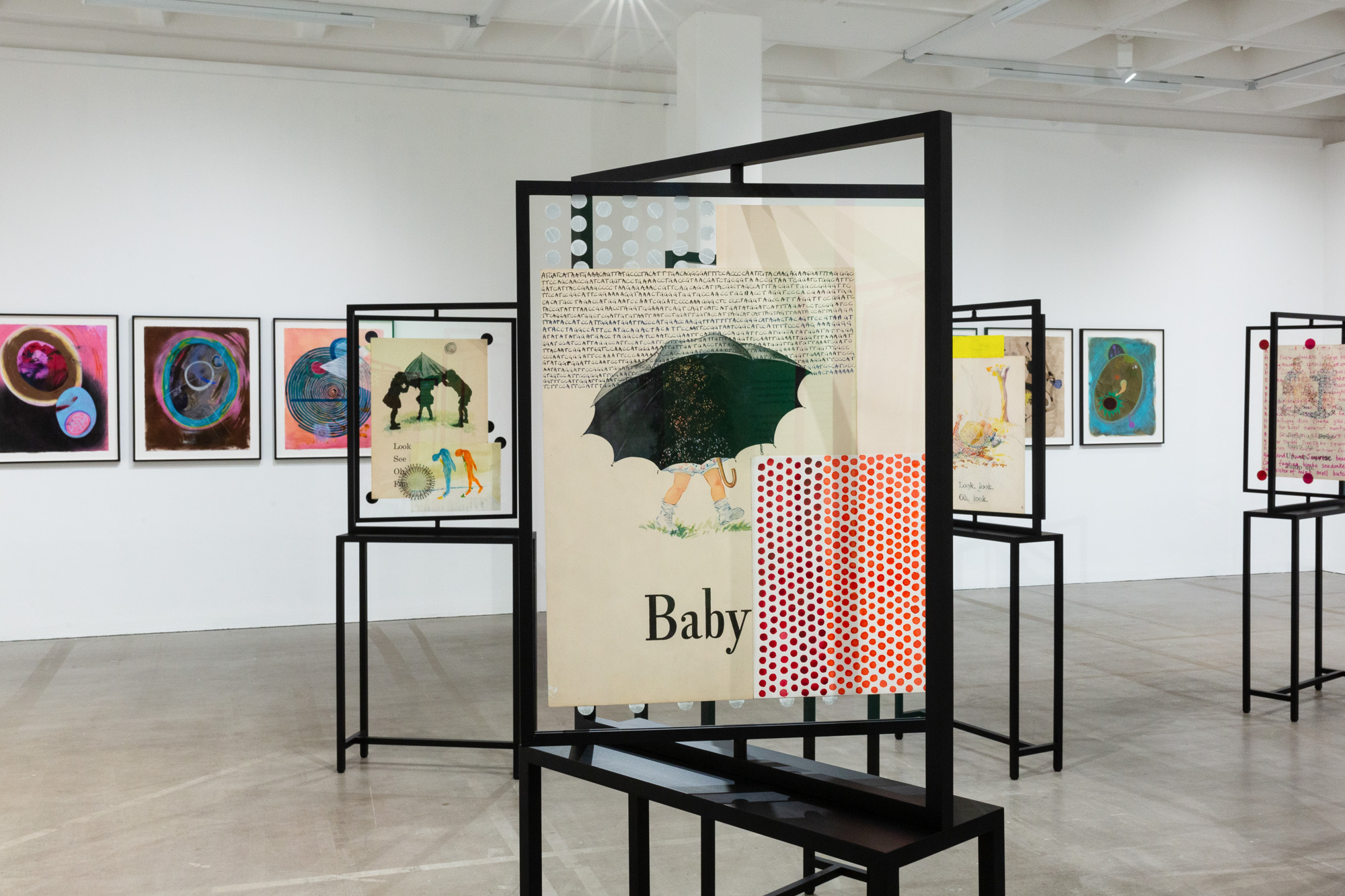 During her 2019 residency at Hauser & Wirth's converted farmstead in Somerset, England, Bharti Kher was confronted with a way of working that was quite different from her norm. Ordinarily based in a New Delhi studio with a sizable team, the artist worked alone in a light-filled space in the English countryside that was perfect for drawing. The resulting series, Body Incantatory (2019), was at the heart of the comprehensive survey "The Body is a Place" at Bristol's Arnolfini. Foreshadowing the geometric and amorphous shapes that appear elsewhere in the exhibition, the series also signals the physicality of Kher's practice, manifested here in finger painting and prints, furious hatching, and intuitive, whimsical meanderings of pen, pastel, and paint.
In the 2016 installation, Links in a Chain, pages from children's books populated with cherubic-looking blonde children are given a dark makeover. Presented double-sided in freestanding frames, collages feature cut-outs from an 18th century medical tome, bindis, and paint, with words obscured and overwritten to playful, painful, or powerful effect. Kher's annotations highlight the absurdity of the White, gender-stereotyped nostalgia the children's book claims, which is in stark contrast with the artist's own childhood in 1970s suburban England. Collages continue the exhibition's focus on the body: one lists sexist slurs used against women, dripping blood-like ink and overlaid with bindis. Elsewhere, an image of a young girl blocked out like a silhouette holds an umbrella protecting her from handwritten bodily fluids: mucus, female ejaculate, and so on.
Where these works on paper felt primal, the second floor was given over to works that, although also concerned with the body, recalled the meditative effect that comes through physical repetition and balance. There were even yoga mats for visitors to rest on. The sculpture A Consummate joy and a Sisyphean task (2019) comprises wooden objects, coiled wire, and, perhaps in lieu of the titular king's boulder, a red jasper stone. A cane balances atop a turned triangle, counterpoised by a wooden horn, with a perfectly smooth one-meter diameter wooden ring suspended above the assemblage like a pendulum. Its implied movement reframes the perpetuity of Sisyphus's punishment as cyclical and mediative.
Similarly concerned with equilibrium were three smaller sculptures—Still Life, When Darkness Becomes Light, and The Laws of Reversed Effort (all 2016)—each featuring a granite bell-shaped base. Utterly precarious, objects such as angled batons on a splinter-like point and dangling clay jars attune the mind to one's own balance, the space we occupy, and the chain reaction of movement. Fittingly, Arnolfini collaborated with Bristol-based dancer and theater practitioner Raquel Meseguer Zafe on a participatory exhibition guide, inviting visitors to consider their passage through the galleries.
The space we inhabit and the legacy we leave is central to five casts from Kher's Chimera series (2016). The intriguing objects are hollow plaster casts of models' faces and heads, their convex surface encased, mummy-like, in layers of hessian and colored wax. Their humanity all but hidden, the heads resemble geological specimens, their dripping wax crusts like strata. As with other sculptures on display here, they are positioned on concrete blocks that are the approximate weight of the artist. Crafted using an inherently intimate artistic process of casting, the series offers an alternative understanding of the body that centers on the duality between positive and negative space, essence versus form.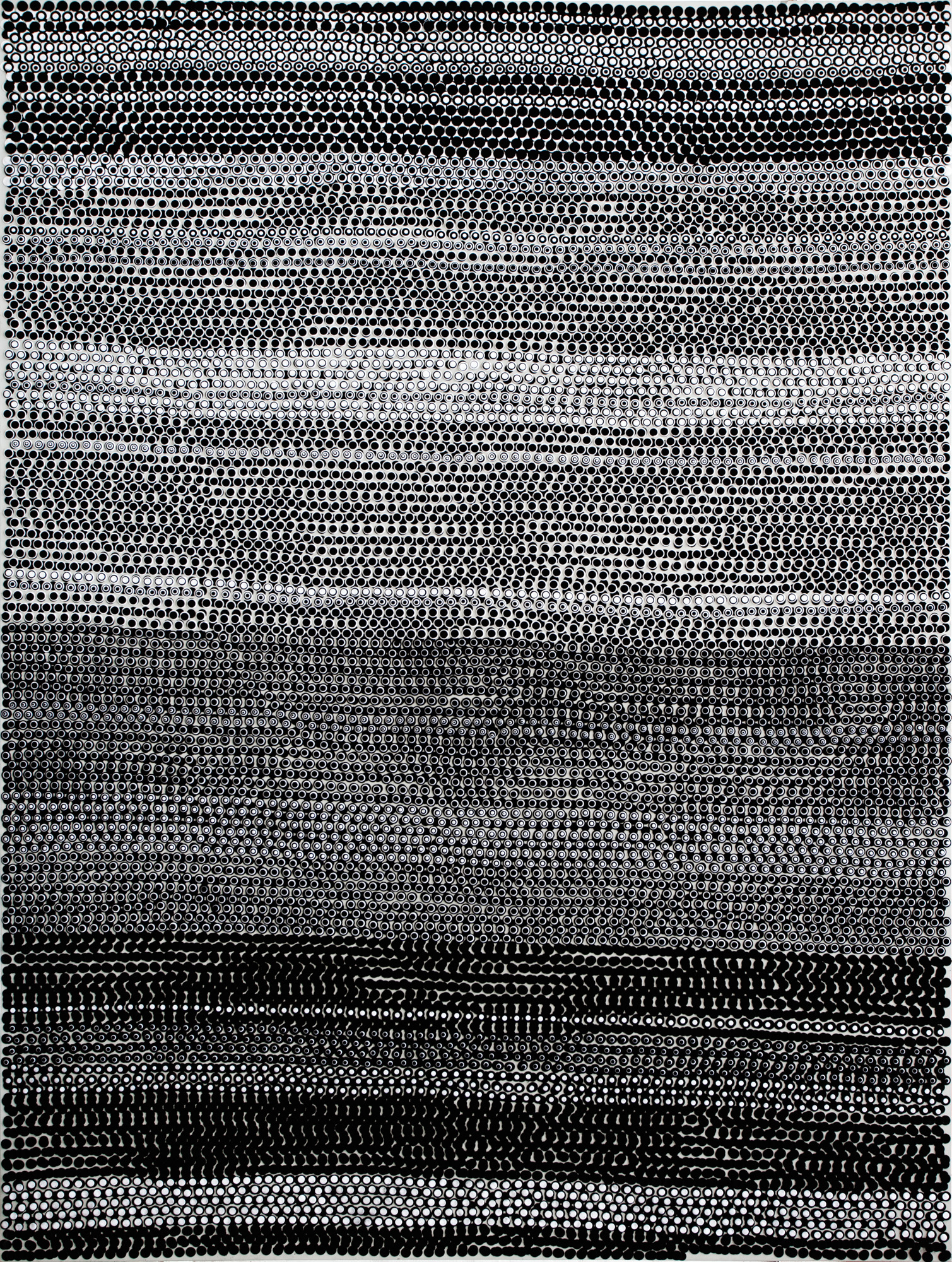 Optically dazzling, eight large-scale "bindi drawings" combine paint with densities of dot, circle, and sperm-shaped bindis. Some resemble language, like the linear, monochrome, and almost typographical Heroides V (2016). Others are more abstract, featuring organic shapes that evoke blood cells, sea creatures, or deep space. By prompting the viewer to move closer and farther away, zooming in and out for micro and macro perspectives, the canvases stimulate meditation on the body and its relationship to its surroundings. Inviting self-reflection and centeredness, the most potent medium in this eloquent exhibition is the space around, between, and inside Kher's works.
Bharti Kher's "The Body is a Place" was on view at Arnolfini from October 22, 2022 to January 29, 2023.
Subscribe to ArtAsiaPacific's free weekly newsletter with all the latest news, reviews, and perspectives, directly to your inbox each Monday.