Reimagining a "Poetic Heritage"
By Cassie Liu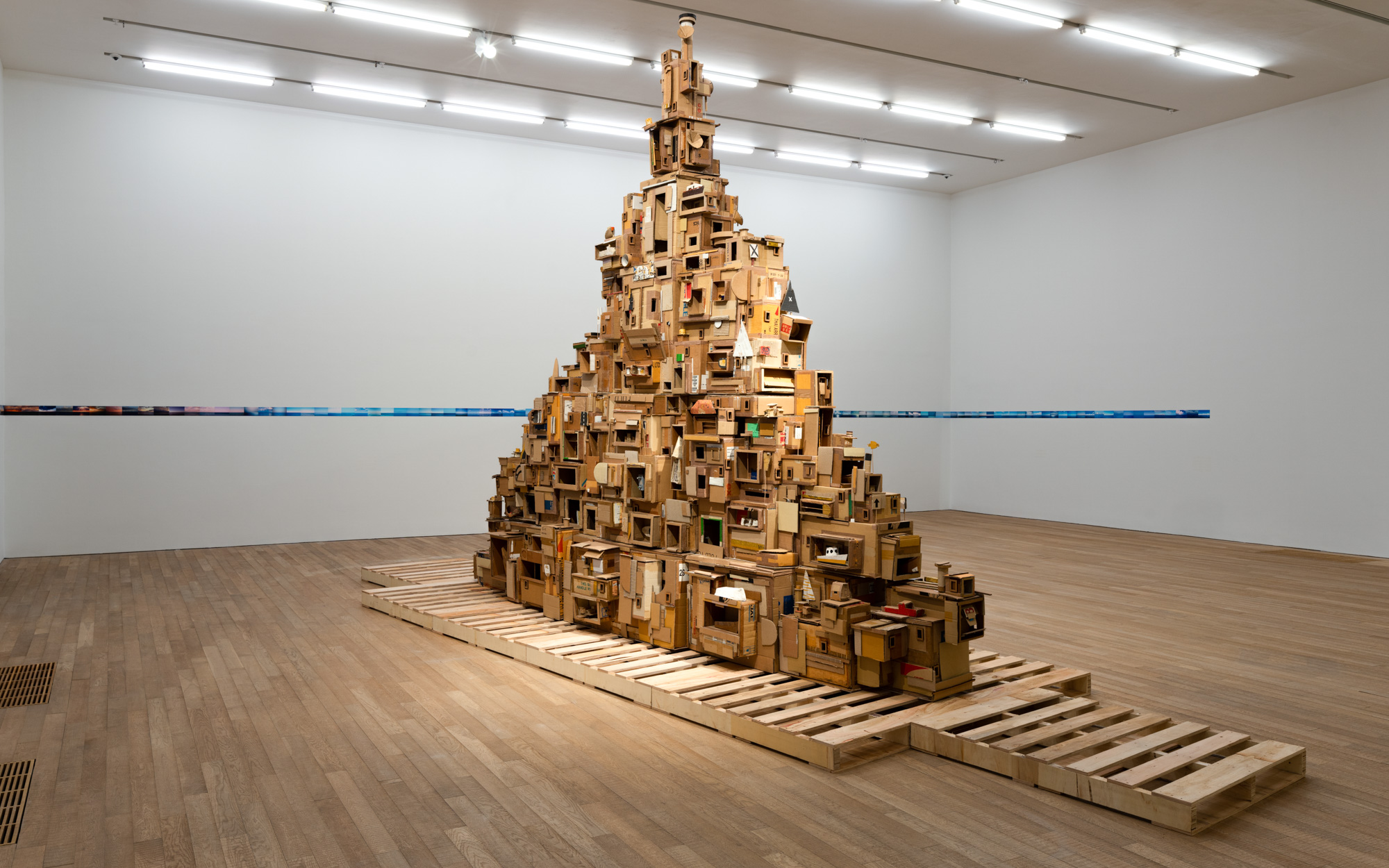 Heritage is never innocent. It signifies a partial and idealized past, designating some items as worthy of preservation at the expense of others. How can we critically reassess the process of heritage-making, and how do we invent new ways to preserve marginalized pasts? At Tai Kwun Contemporary's exhibition "Poetic Heritage," curator Alex Tam Hok-nang tackled these questions through the works of six artists and groups that challenge, subvert, or redefine practices of salvage.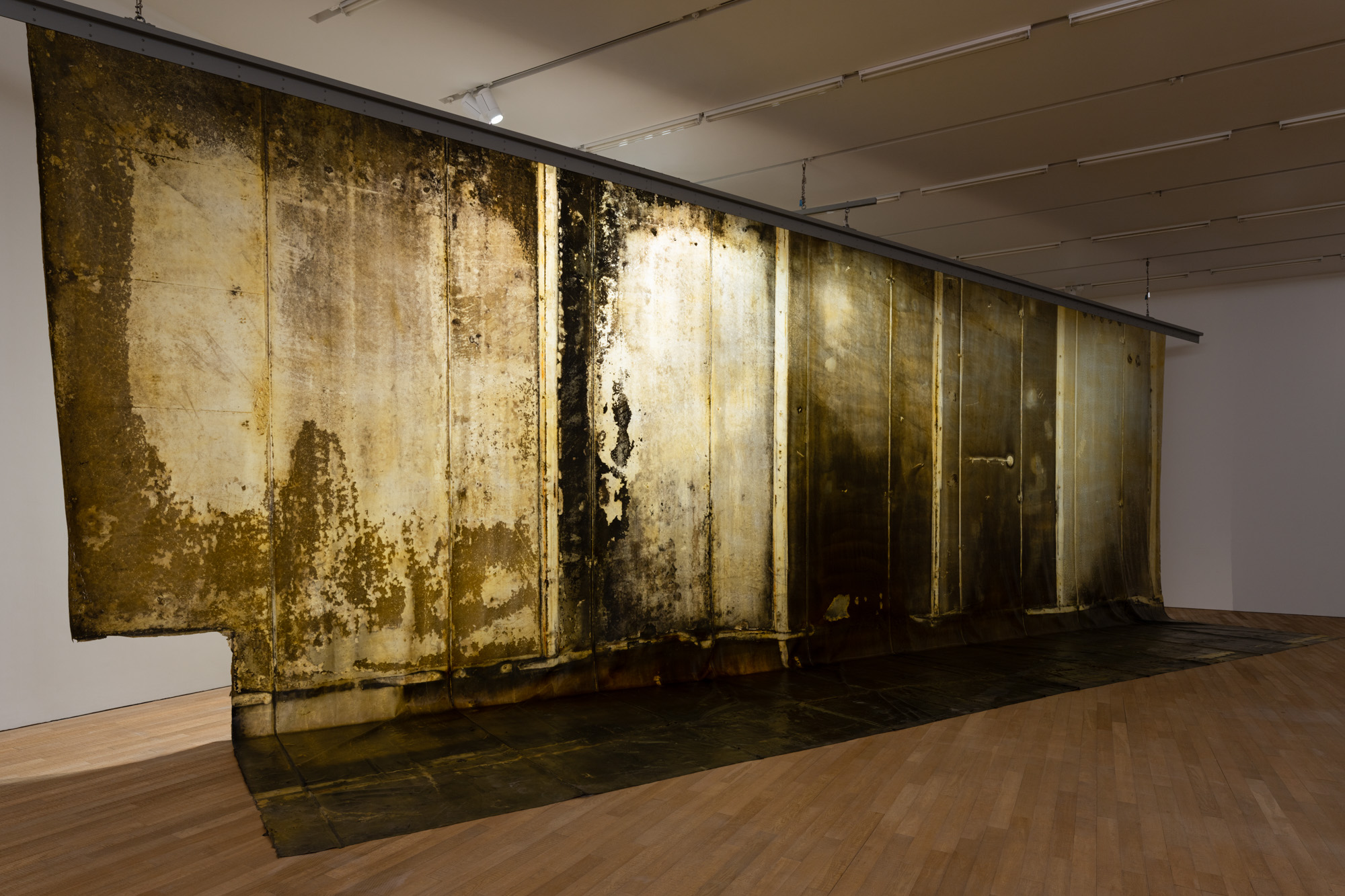 Suspended from the ceiling in the first gallery, Jorge Otero-Pailos's richly textured, 13-meter latex sheet, The Ethics of Dust: July 22, 2011 (2014), indexes the interior of the Norwegian Ministry of Petroleum and Energy office building, which was damaged in a bomb attack by domestic terrorist Anders Behring Breivik. Using liquid latex as a conservation tool, the artist applied it to the ceiling of the office, then peeled it off as it dried, registering the ephemeral soot and dust as evidence of this tragic incident. Nearby, artist couple Alfredo and Isabel Aquilizan examine heritage-making from the perspective of migrant, diasporic, or displaced communities, whose experiences are often unrecorded or actively excluded from dominant global historical narratives. Passage III: Project Another Country (2009) is a towering boat-shaped sculpture composed of cardboard shanties, evoking a model for a futuristic communal boathouse. Neatly lined up on the surrounding walls were a series of small photographs of the shoreline, taken at different times and places, alluding to a never-ending journey by sea. Passage III creates a symbolic mobile settlement for people searching for a sense of belonging.
An intermittent, crisp tapping sound drew visitors to the next room, which housed Leung Mee-ping's installation Sound of Silence (2021). A new iteration of her 2017 project in the historic village of Longli in mainland China, the work comprises piles of grayish rooftiles collected from the village houses, along with several small metal mechanical devices programmed to strike the tiles occasionally. Producing a ringing sound reminiscent of drizzle falling on an ancient Chinese rooftop, the work prompts one to rediscover the beauty of this often neglected architectural feature.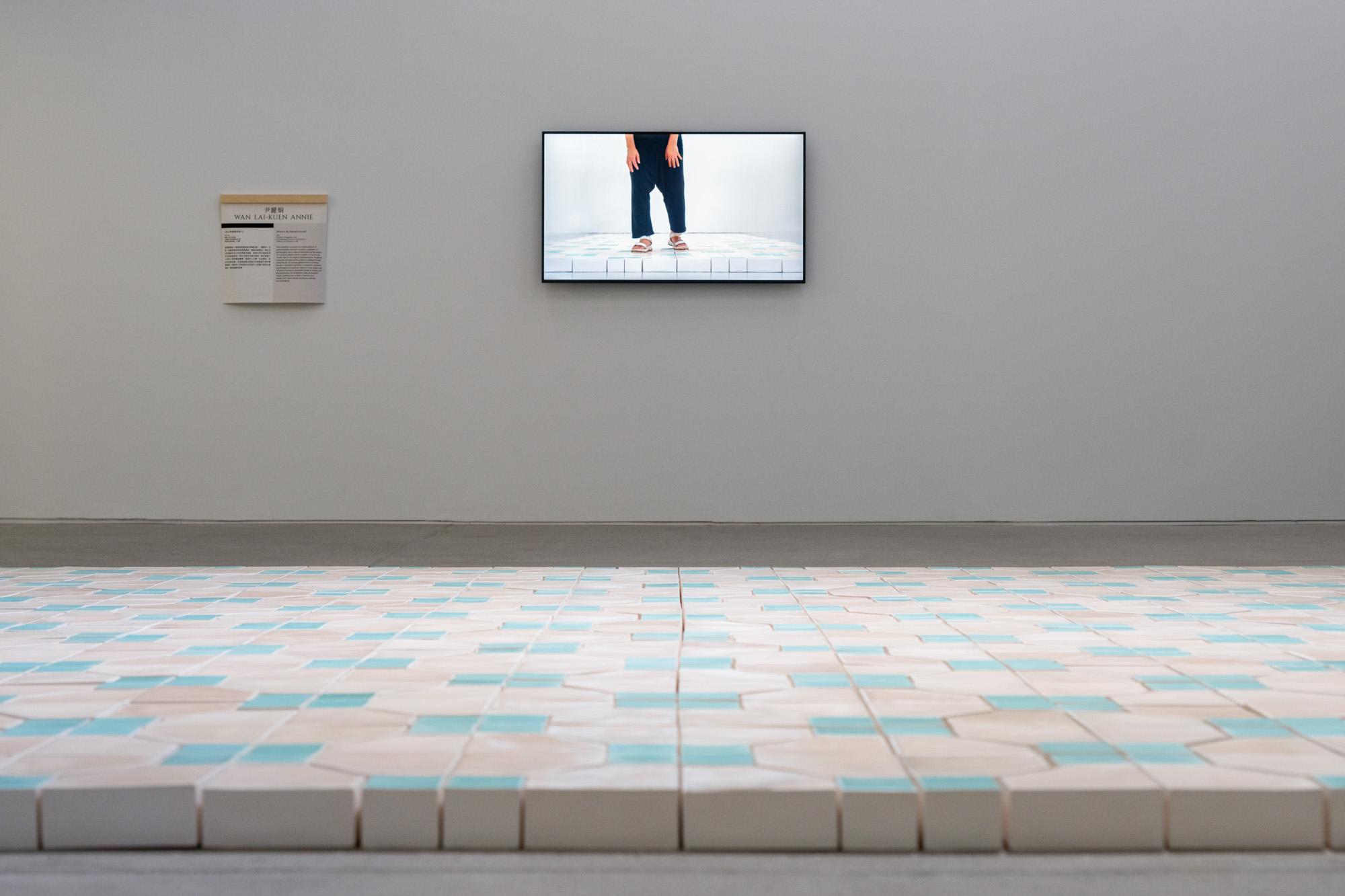 Elsewhere, the curator juxtaposed two works dealing with Hong Kong's urban debris. Annie Wan Lai-kuen's Where is My Peaceful Home? (2021) consists of pink and turquoise ceramic blocks, whose patterns are reminiscent of the mosaic tiling that was once a popular furnishing choice but that is now vanishing due to urban redevelopment. A four-minute video shows the artist slowly walking on her ceramic installation. Despite her caution, the delicate ceramic still cracks a little from the weight, making a harsh, unpleasant noise. This demonstration of the material's fragility hints at how easily a cultural object can perish in the face of rapid societal change. On the other hand, Leelee Chan's work is a more optimistic reflection of how the city's past and present can be intertwined productively. Resembling a miniature mineshaft built in a shipping container, Pallet in Repose (Barren Rock) (2021) is assembled from two drastically different materials—natural granite, reclaimed during the transformation of the historic Central Police Station compound into what is now Tai Kwun, and artificial plastic, in the form of used shipping pallets. The hybrid nature of Chan's assemblage echoes Hong Kong's identity and history, from a colonial port to a contemporary hub of globalized trade.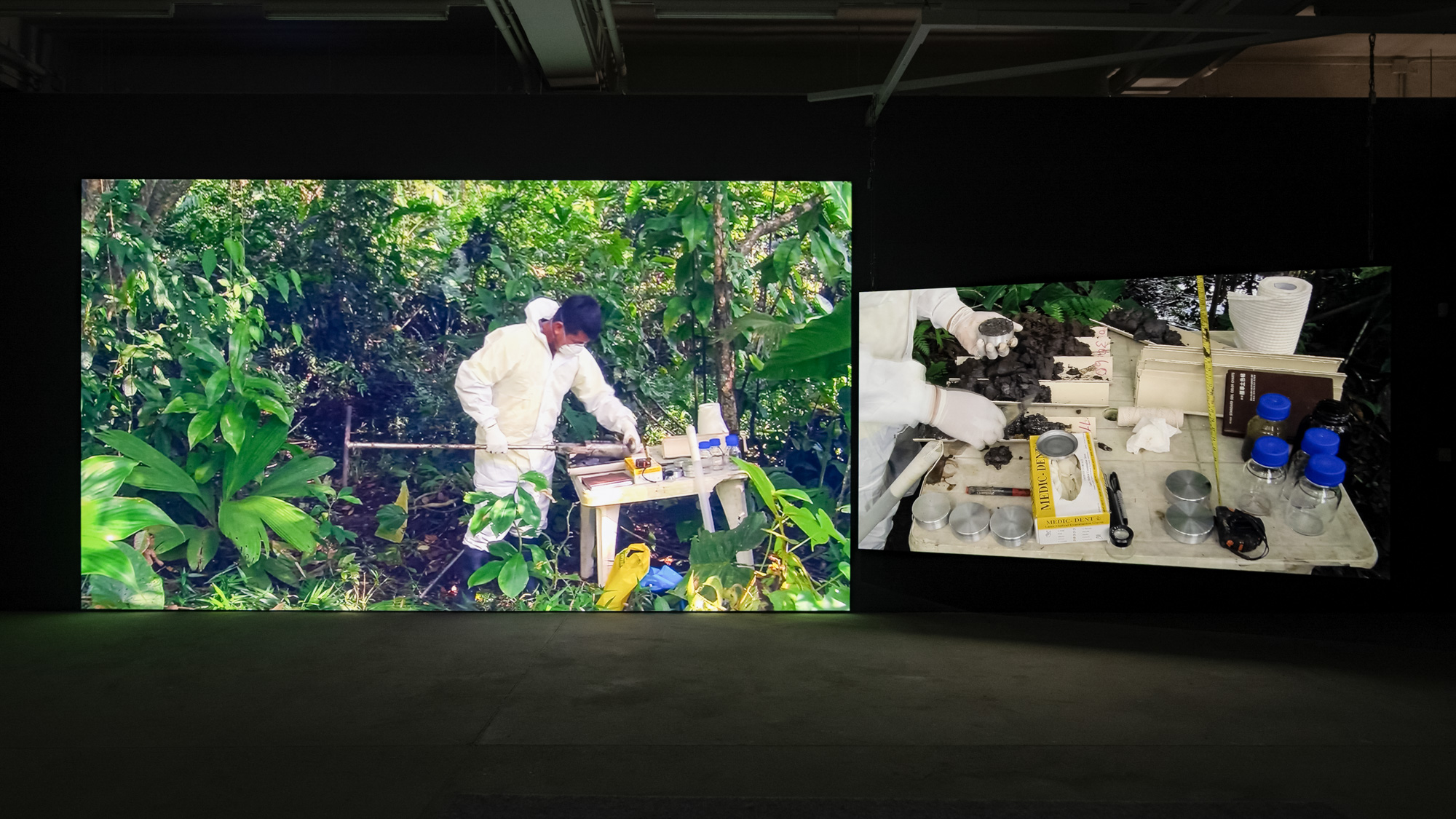 The adjacent gallery featured Ursula Biemann and Paulo Tavares's 2014 interdisciplinary project Forest Law, which comprises maps, objects, documents, and a two-channel video essay of a field trip the duo undertook in the Ecuadorian rainforest. Through interviews and field recordings, the video recounts how local Indigenous communities are struggling to advance the concept of non-human legal rights in order to protect the rainforest, amid rampant ecological exploitation that is enabled by existing legal frameworks. In a 2015 article by Biemann, she considers this work to be about not only the past, but also "a conditional future that is shaped by the decisions we are making now." Indeed, at the heart of heritage-making lies the question of what to preserve for our future, and perhaps, as the exhibition tells us, art can serve as an important tool for us to perceive and empathize with what has been neglected.
"Poetic Heritage" was on view at Tai Kwun Contemporary, Hong Kong, until November 21, 2021.