Aftereffects: A'fair 2021
By Ophelia Lai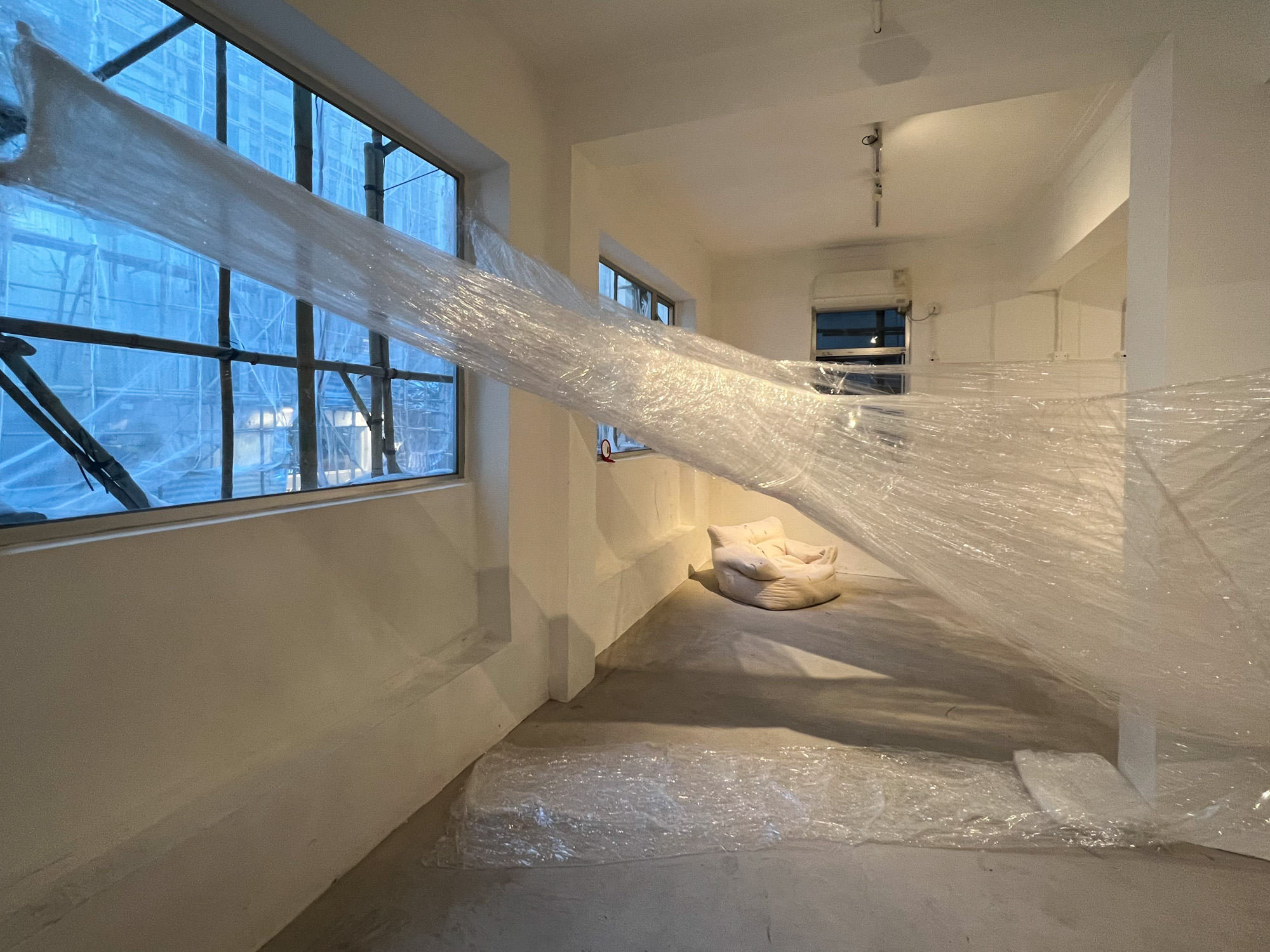 When the inaugural edition of Hong Kong's A'fair opened last year in a vacant Wanchai shop, the independent showcase was meant to evince a "[momentary] togetherness," per curator Tiffany Leung. A play on the fleetingness of an illicit romance and of the city's precarious art spaces, A'fair occupied the gutted shop interior for four days with the unruliness of fugitive squatters. If the first edition manifested an impetuous coming-together, the follow-up, curated by Leung and Aaditya Sathish, imagined the "ambivalent aftermath."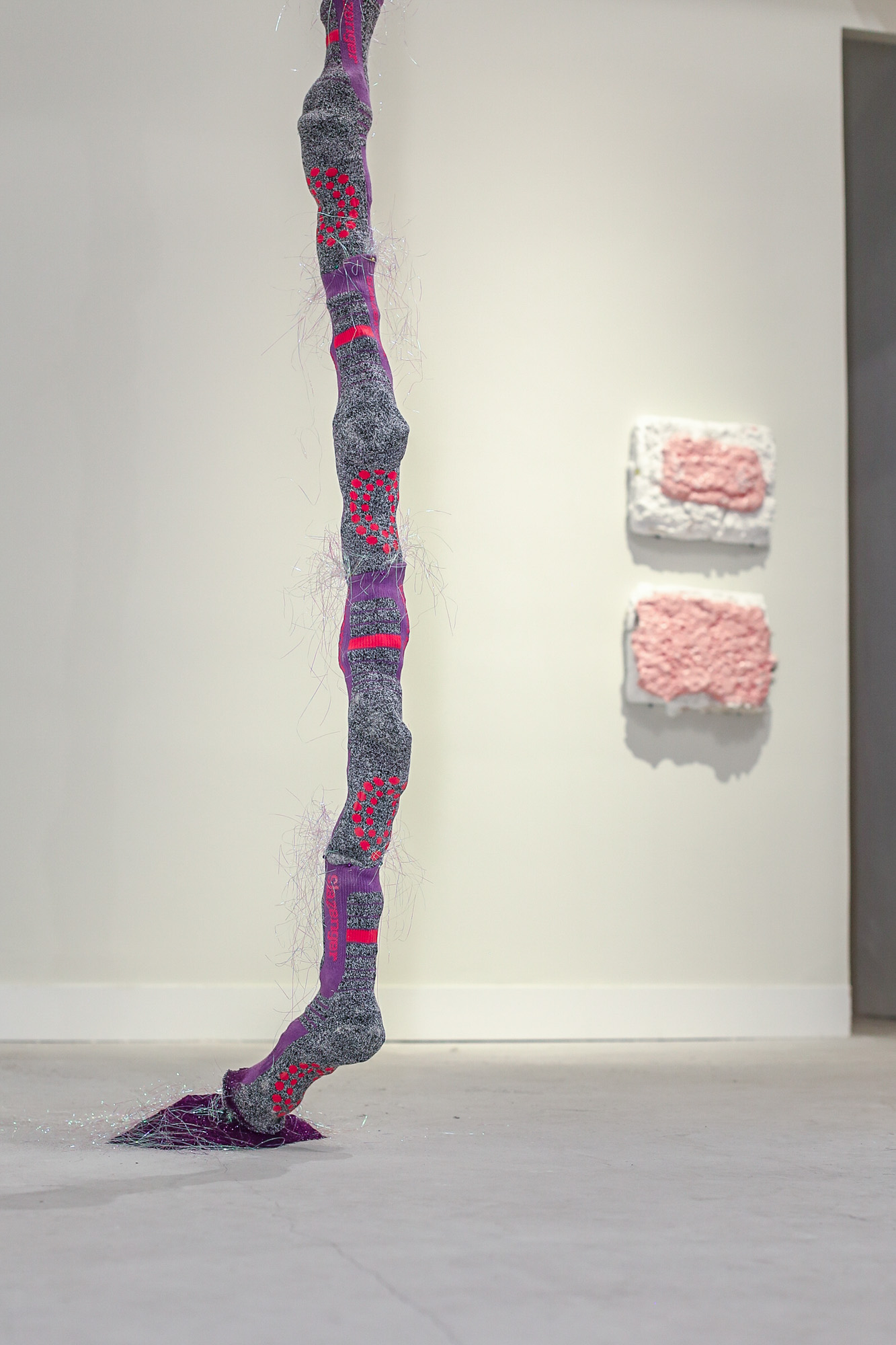 Staged in a freshly painted venue on the first floor of an old Causeway Bay walk-up, the second edition drew on the regret and awkwardness of impending departure. "In Hong Kong, where shops and art spaces are always moving due to rising rents, you don't focus on the here and now," Sathish explained. "You're always wondering who's coming next." As such, the show was strewn with ordinary objects that looked out of place, as if abandoned by a previous tenant. Norine Chu and Lau Hiu Tung, who initiated A'fair with Leung, left a purple glittery mess with I am in training, don't kiss me (2021). Named after a 1927 self-portrait of Surrealist photographer Claude Cahun masquerading as a weightlifter, Chu and Lau's work comprises a suspended chute, made from sewn-together gym socks, that has dispensed a pile of confetti and glitter onto the floor. Influenced by Lau's experience of turning to exercise after a breakup, the work playfully conflates physical exertion with the expulsion of emotional baggage.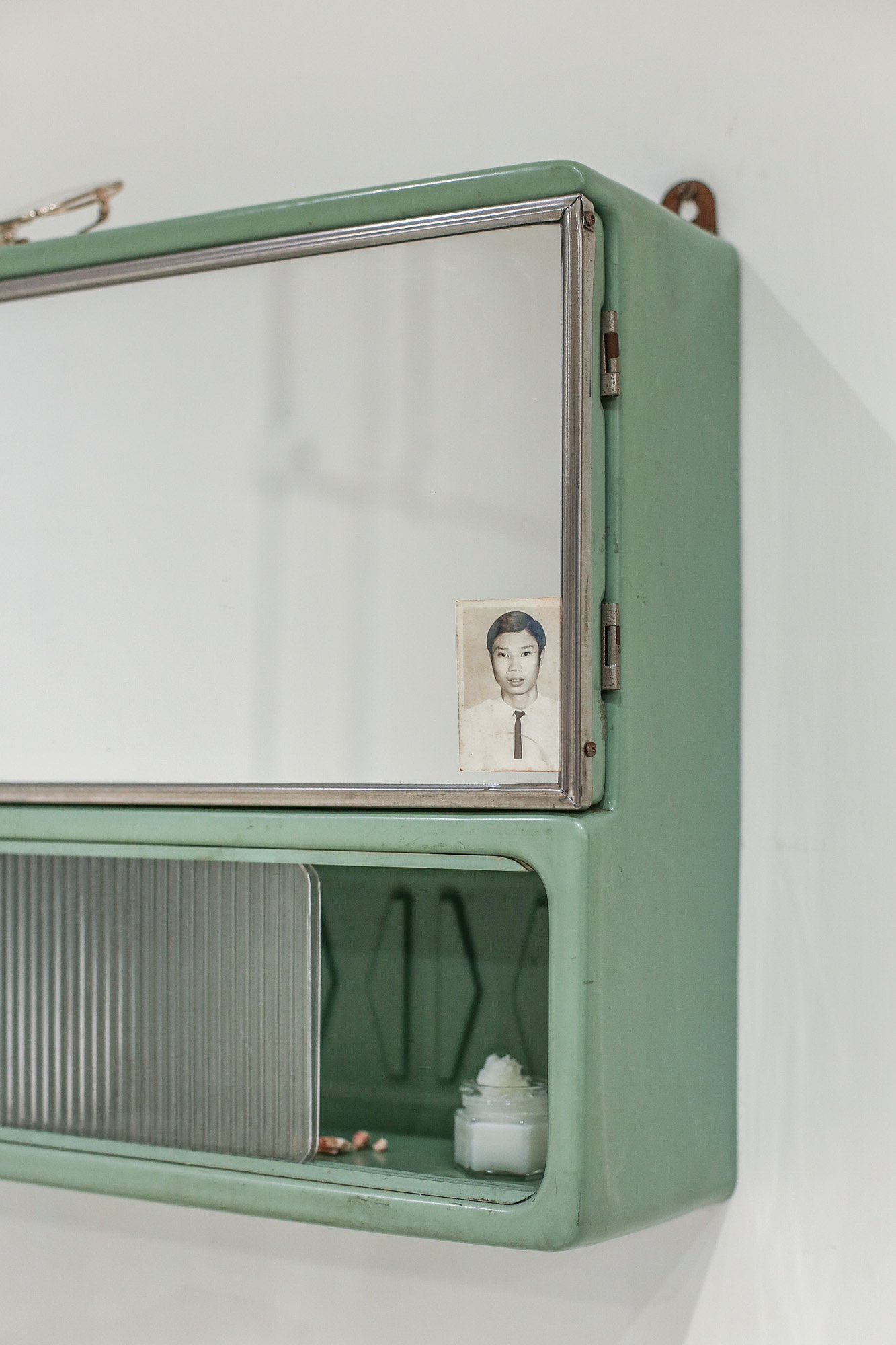 Other works subtly engaged with ephemerality and contingency. Wendy Tai's Wash my hands of (2021) recreated a bathroom sink in a corner of the exhibition space, complete with an old-fashioned cabinet and haphazard personal items. Tucked into the mirror's edge is a black-and-white photo of Tai's father, who passed away recently from illness, while a smaller mirror with a wallet-size portrait of the artist's late mother is installed at the other end of the room. When the cabinet is opened, the tinny sounds of "Happy Birthday" emanate from a miniature speaker, referencing the rule to wash hands for as long as it takes to sing the tune twice. Tai poignantly balances intimately evocative stimuli—the song, the smell of Tiger Balm—with darker allusions to disease and decay, like orange antiseptic soap and broken teeth, gesturing simultaneously to her private grief and a universal fear of the ravages of time.
Nearby, Wu Jiaru's gray bricks, slippers, and toilet paper, collected during Hong Kong's 2019 protests, resemble ashen artifacts. The objects are actually coated in a reflective substance, scintillating from a certain angle or under a camera flash. Though the bright ambient conditions made their iridescence less immediately striking, the unassuming display felt like a secret gift, more readily revealed to those who recognize Wu's lustrous signature. This hiddenness was all the more potent given the objects' fraught history, their indexing of silenced strife.
Seen throughout the show was a tension between discarding and preserving that suited A'fair's themes of transience and endings. This tension is inscribed in Winsome Wong's I only got this to build a room for you and the window (2021), which walled off a narrow strip of space with cling wrap. The installation is accompanied by a poem: "Only the window and the pillar,/I'm poor, I only got this to build a room for you,/for you and the window, you and the construction si fu/right outside the window face to face, you and the grids/and lines outside the window, and I might not be here." Stretching across the space like ectoplasm, Wong's piece subverts the plastic film's conventional use for food preservation, evoking instead futility and precarity, a token doomed to disappear. A'fair imparted that perhaps some things aren't meant to last. Still, their impressions may linger long after they vanish.
A'fair was on view at 9A Sharp Street, Hong Kong, from December 3 to 5, 2021.