Shows to See in Singapore, January 2023
By The Editors
The first month of 2023 marks Singapore's turn to be the center of attention for the art world in Asia. Singapore Art Week 2023 spans the city from January 6 to 15 with more than 130 events. At the center of the action is the inaugural edition of the Art SG fair (Jan 12–15), bringing 150-plus galleries to the Marina Bay Sands Expo and Convention Centre. The regionally focused exhibition platform SEA Focus is returning to Tanjong Pagar Distripark (Jan 6–15), featuring 56 artists working with 25 galleries active in the region. If that's not enough activity, the Singapore Biennale 2022, named "Natasha," is happening at 11 locations through March 29. Here's a look at several shows to visit beyond these major events.

Jan 13–Nov 26
Liu Kuo-sung: "Experimentation as Method"
National Gallery Singapore
Born in 1932, Liu Kuo-sung has been a leading figure in modern Chinese painting for seven decades. As one of the co-founders of the Fifth Moon group in 1956 in Taipei, Liu continuously experimented with the classic forms and materials of ink painting while blending them with abstraction. The retrospective at the National Gallery of Singapore features more than 60 paintings and 150 items from the artist's personal archive that trace the evolution of his signature styles, ranging from modern to classical.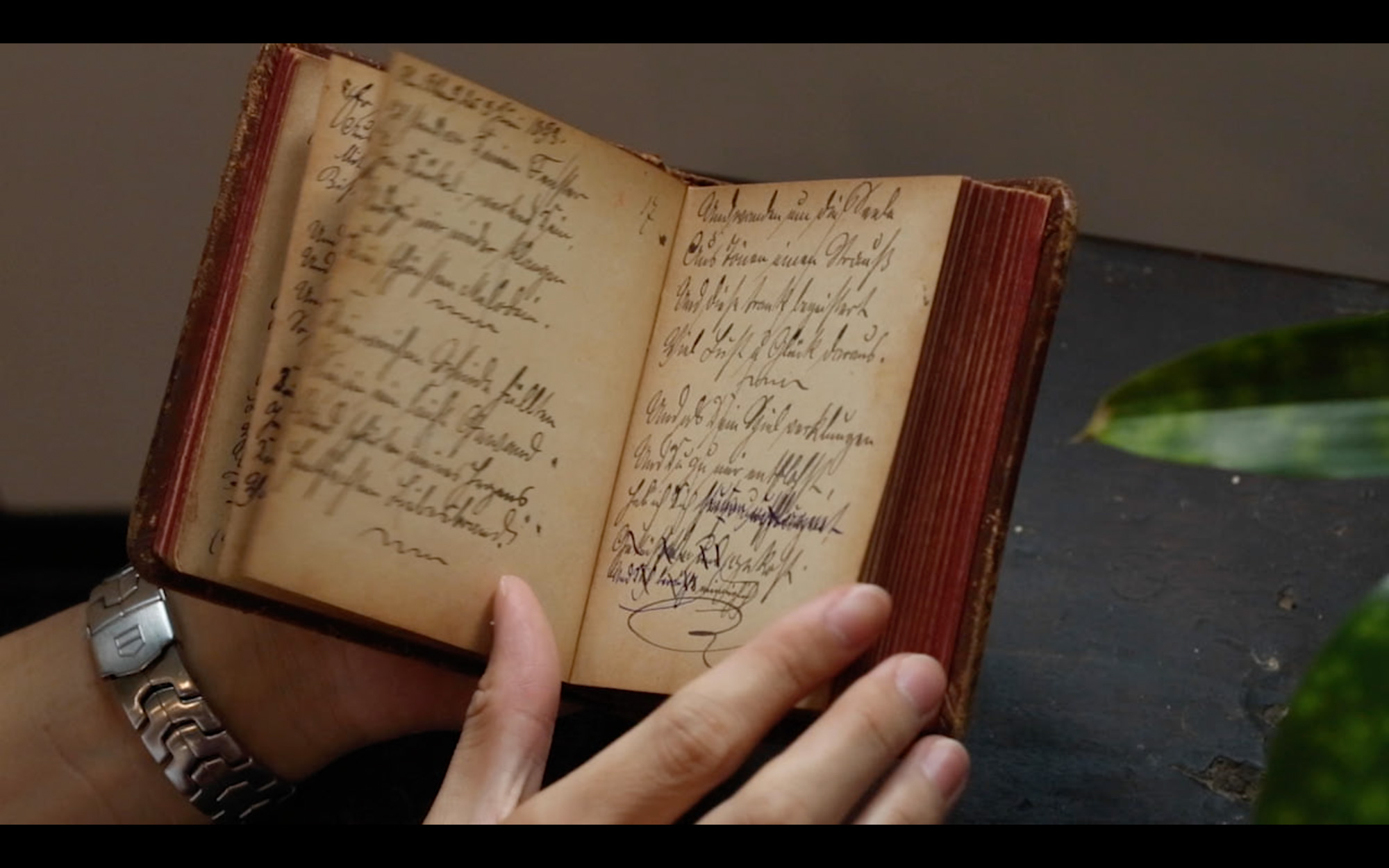 Jan 6–24
Shubigi Rao: "Pulp III"
ArtScience Museum

Shubigi Rao's "Pulp III: A Short Biography of the Banished Book" returns to Singapore after its seven-month run at the country's pavilion at the 59th Venice Biennale. Commissioned by the National Arts Council and curated by Ute Meta Bauer, "Pulp III" marks the midpoint of Rao's decade-long project "Pulp," which delves into the history of book destruction and its impact on current knowledge distribution. The exhibition at ArtScience Museum includes daily screenings of Rao's 90-minute video Talking Leaves (2022), which was filmed by the artist over the course of five years in various locations including Singapore and Venice, following the stories of those working to preserve books and libraries.
Jan 7–Mar 4
Tayeba Begum Lipi: "Melancholy"
Sundaram Tagore
Bangladeshi artist Tayeba Begum Lipi is acclaimed for her razor-blade sculptures that turn everyday objects into a site of contemplation about childbirth and the violence against women in Bangladesh. Made during the pandemic, the first series of sculptures in "Melancholy" is inspired by childhood objects including baby shoes, strollers, and highchairs—which explore Lipi's new experience of motherhood amid the deaths of several close family members. In the second series, Lipi transforms small, mundane objects such as buttons and safety pins into monumental sculptures, which are accompanied by six hand-embroidered drawings, with delicate fabric that serves as a metaphor for the fragility of life during Covid times.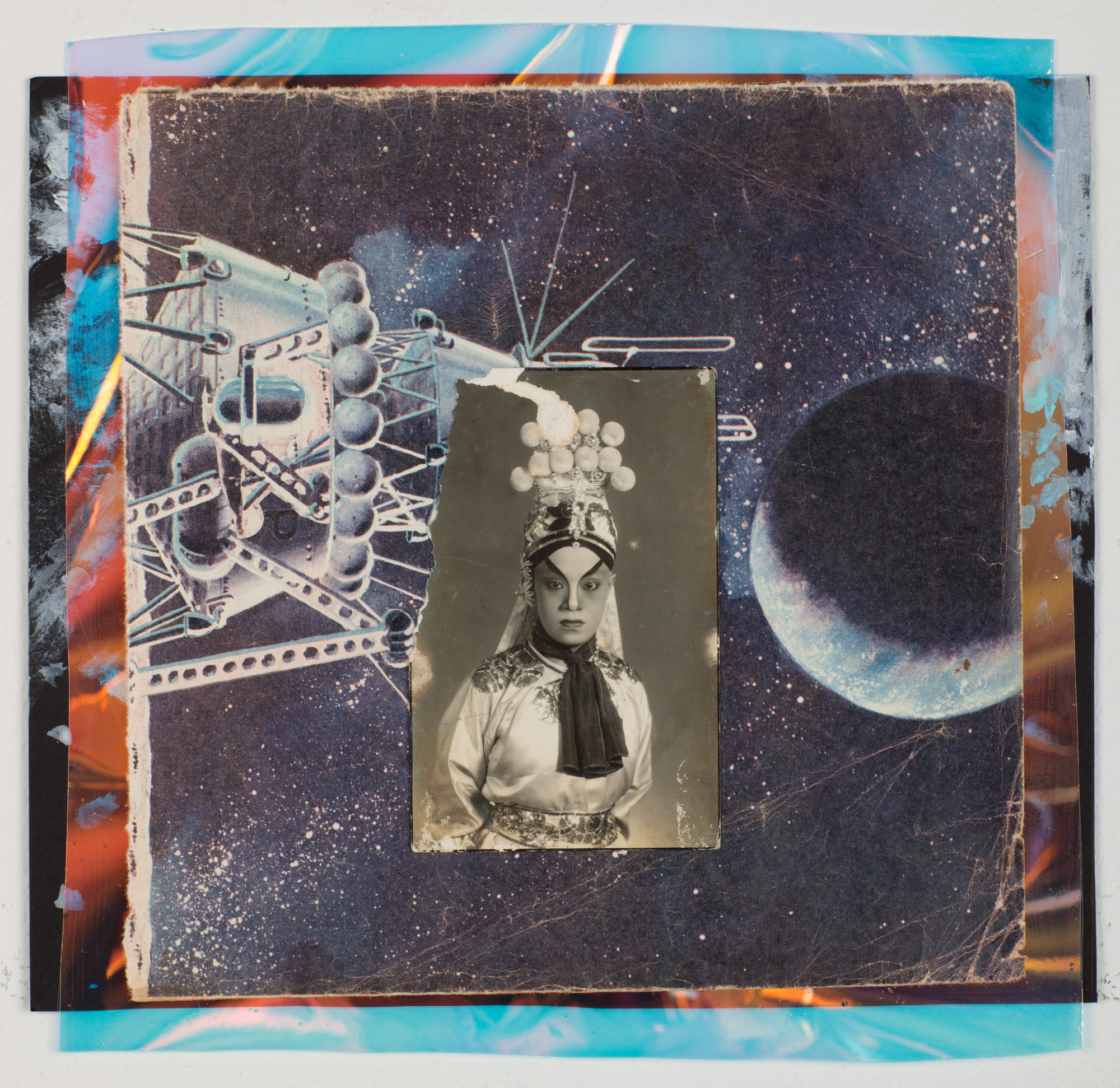 Jan 7–Feb 26
Ming Wong: "Pictures From the Wayang Spaceship"
Ota Fine Arts

Featuring new photographic collage prints that explore the relationship between the history of Chinese opera and notions of futurity and science fiction, "Pictures from the Wayang Spaceship" is Ming Wong's creation of an otherworldly realm populated by time-traveling Wayang characters. By layering obtained photographs of Singaporean and Malaysian Wayang actors from the 1950s to '70s, Soviet illustrations of space exploration, as well as Chinese brush paintings and dichroic films, Wong creates an eerie visual spectacle that questions the ideas of technology, tradition, and gender upon a futuristic opera stage set across countries and times. Wong's installation Wayang Spaceship (2022) is also on view at Singapore Art Museum's space in Tanjong Pagar Distripark, where it is activated daily at dusk, bringing figures of Chinese opera back to life.

Jan 7–Feb 26
Sarah Choo Jing: "Dancing without Touching"
Yeo Workshop

"Dancing Without Touching" is Singaporean artist Sarah Choo Jing's reinterpretation of the culture of amusement parks in Singapore, which she contrasts with the pandemic lockdowns and social-distancing measures. By placing her subjects in new scenarios where they can react and respond to each other, Choo challenges traditional stereotypes that are associated with historic characters like a Chinese opera performer, singer, and jester. Comprising a sound-video sculpture, digital prints, and NFTs of performers, the architectural installation is a mirror of our Covid-shrouded reality where human relationships become unstable and isolated, as the characters are constantly shifting their movements and dancing between expressions of confidence, introspection, and awkwardness.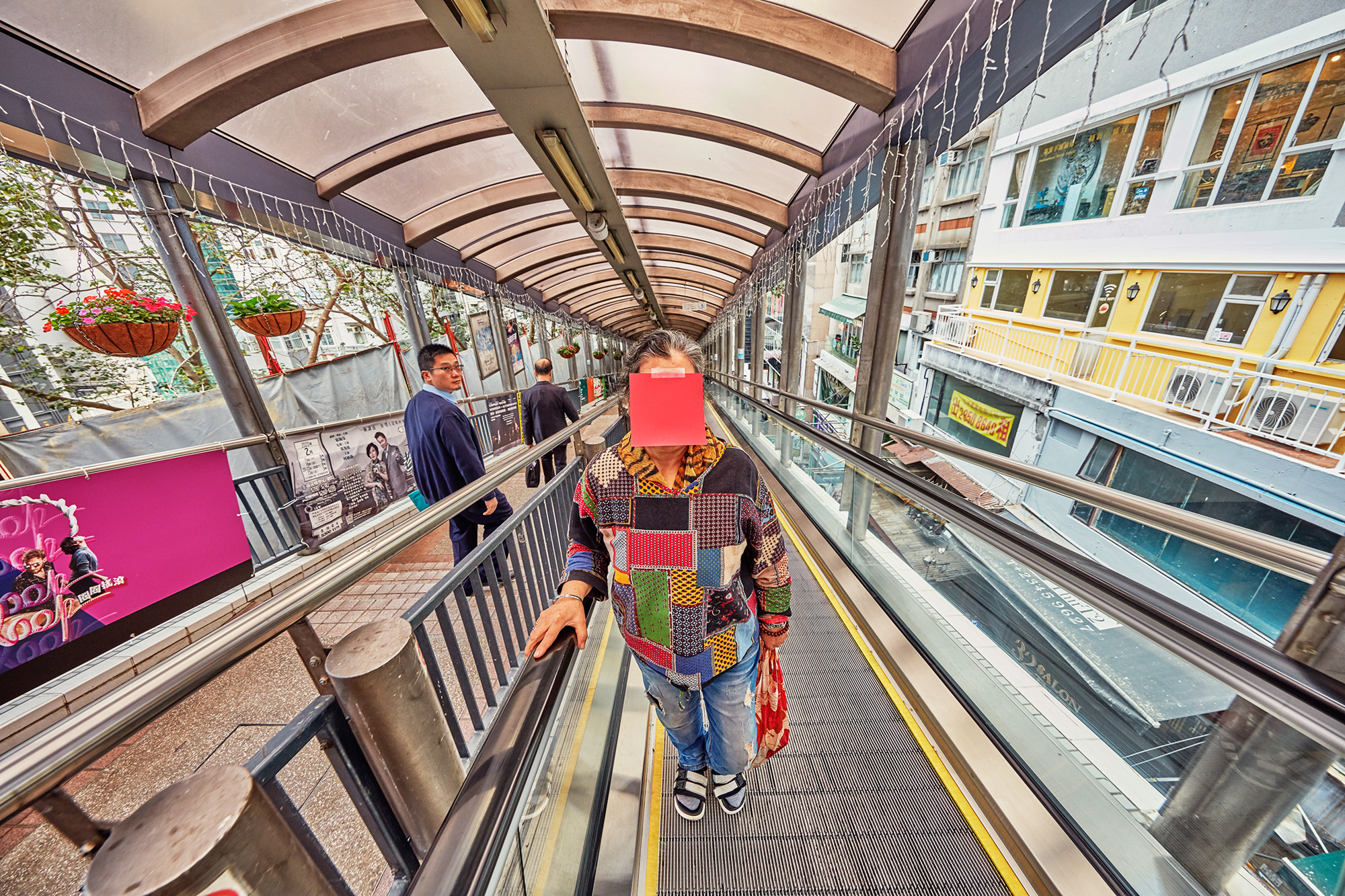 Jan 13–Mar 4
John Clang: "So this is what it feels like to be free"
Fost Gallery

John Clang presents three new bodies of work in "So this is what it feels like to be free," which marks an introspective shift in the artist's practice spurred by his forays into filmmaking. Taking its title from the illusory emancipation experienced by many whose lives returned to normalcy after the Covid-19 lockdowns, the show demonstrates Clang's heightened awareness of an image-maker's role in exploring topics around privacy, surveillance, and knowledge formation. It presents three new series: Sans the Face (2019– ), a portrait series of strangers who voluntarily covered their faces with a Post-it for the shot; The Mobile Park (2022), staged images that recall the social phenomenon in Singapore in the 1980s–90s, when people covered the windows of their cars in newspapers before parking in quiet areas to engage in intimate acts; and Reading by an Artist (2023– ), the artist's zi wei dou shu chart-reading performance, which provides the viewers with new avenues into self-knowledge.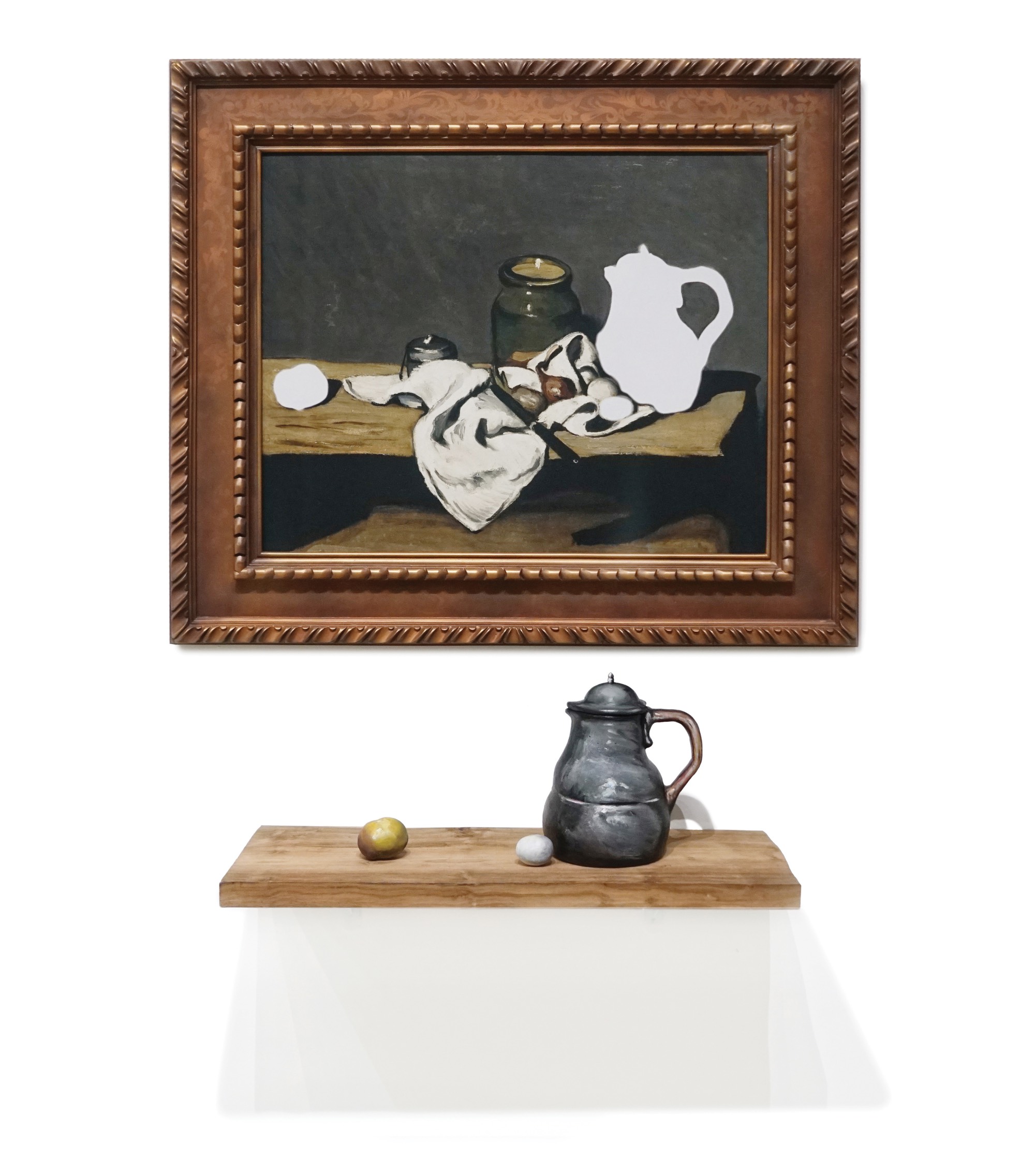 Jan 6–29
Jane Lee: "Neti Neti"
Gajah Gallery
The ancient Sanskrit expression "neti neti" roughly means "not this, not this." Jane Lee borrows this phrase for an exhibition produced in collaboration with Yogya Art Lab (YAL) and curated by John Tung, featuring 14 recent works that riff on iconic European paintings. Lee explores the physicality of painting by creating sculptural reinterpretations, from a Cezanne still-life that becomes a physical tableau to a van Gogh chair that sits in front of the canvas. Using industrial metals to interpret expressionistic landscapes and through visual transformations of iconic paintings, Lee brings familiar artistic imagery into an uneasy contemporary state.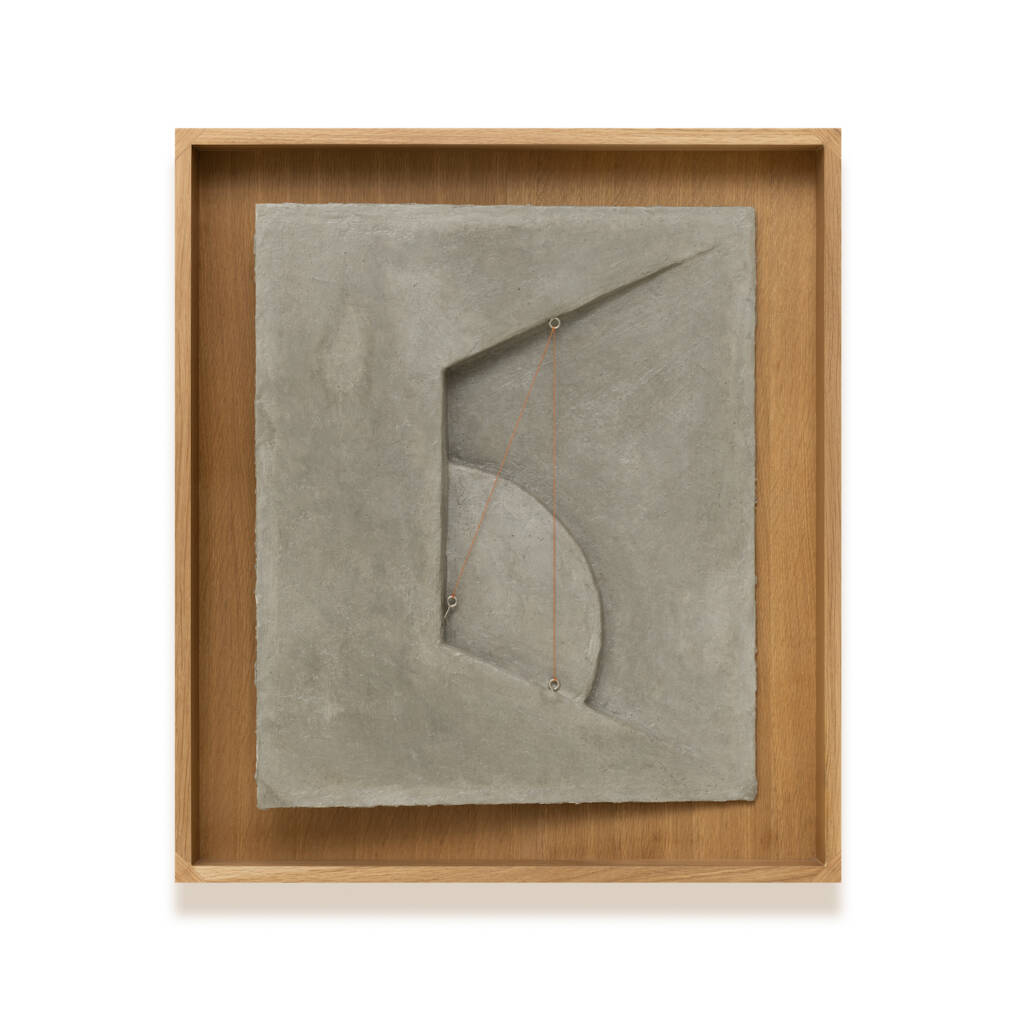 Jan 14–Feb 26
Genevieve Chua: "grrrraaanularrrrrrr"
STPI – Creative Workshop & Gallery
Curated by Reuben Keehan of Brisbane's Queensland Art Gallery | Gallery of Modern Art, "grrrraaanularrrrrrr" is a showcase of Genevieve Chua's recent works produced since 2021 in the print- and paper-making workshops of STPI. Among 46 works from several series, the show features Chua's shaped canvases, sandpaper pieces, and cement constructions that break from the picture plane into "two-and-a-half dimensions." The highly tactile-looking works draw on references to architecture, technological devices like VR headsets, as well as pure formal abstraction.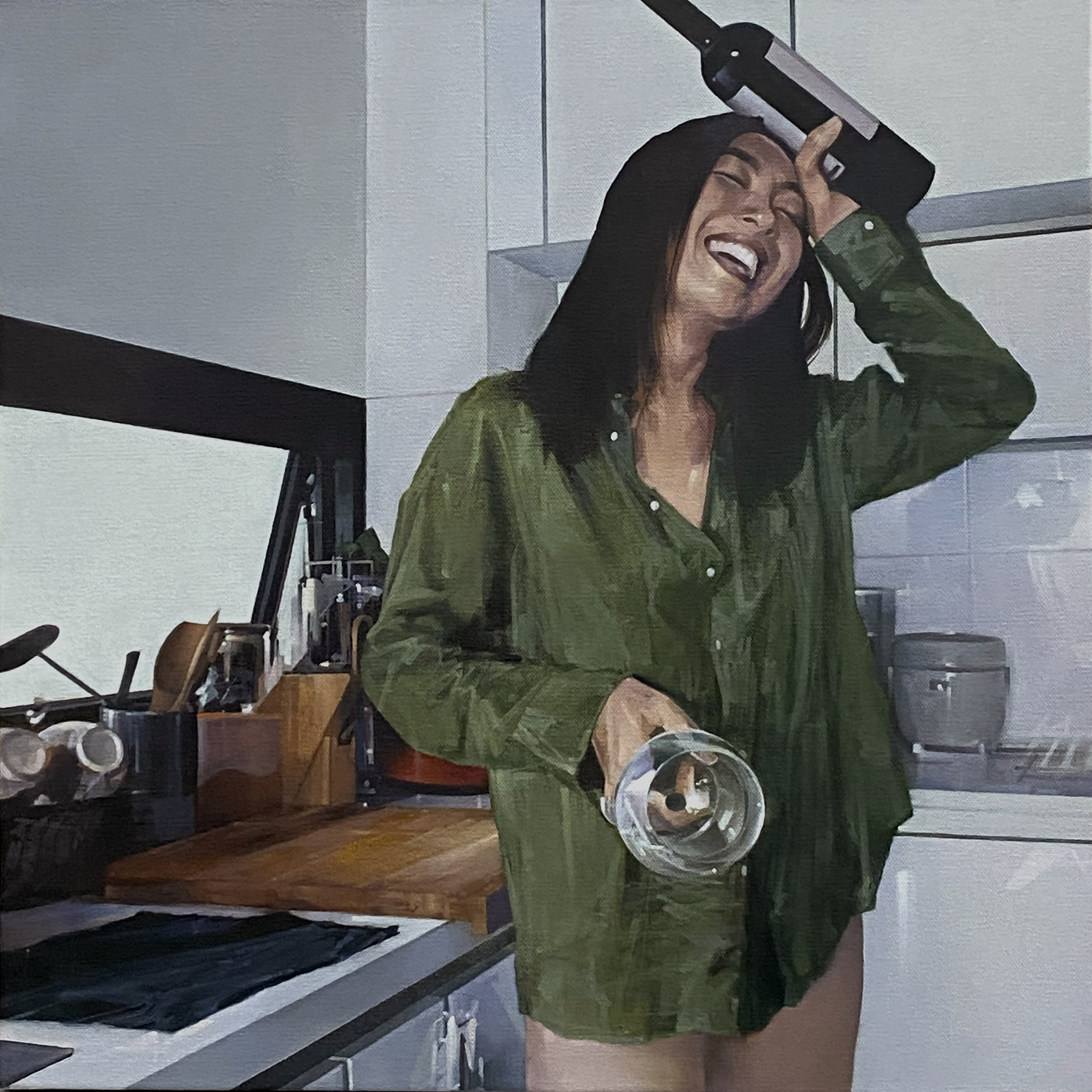 Jan 7–19
Zac Lee: "Another Day"
Richard Koh Fine Art
Malaysian artist Zac Lee paints quotidian scenes, capturing contemporary life in its material expressions and activities. "Another Day" features portrayals of scenes from coffee-shop windows, a person reading a book, a woman opening a bottle of wine, someone else in a bubble bath, and a figure applying lipstick in the mirror. The slightly somber color palette emphasizes the ordinariness of these moments. These oil paintings reflect the artist's recent appreciation of the mundane: "I want to show that life can be enjoyed slowed down."
Subscribe to ArtAsiaPacific's free weekly newsletter with all the latest news, reviews, and perspectives, directly to your inbox each Monday.