What's Showing at the 2021 Venice Architecture Biennale
By The Editors

Helmed by architect Hashim Sarkis, the 17th Venice Architecture Biennale invited participants to address "widening political divides and growing economic inequalities" by imagining a "new spatial contract" that brings people together. Featured across more than 60 national pavilions and an international exhibition curated by Sarkis in the Arsenale and the Central Pavilion, architects, designers, and artists from around the world sought out innovative approaches to improving the conditions of our constructed and natural environments. The presentations examined many of the world's urgent issues, such as climate change, resource exploitation, and the conditions of refugees and migrants. A particularly strong emphasis was placed on remediating environmental degradation. For example, Pinar Yoldaş's Hollow Ocean (2021), an installation of five water-filled glass columns, highlights the acidification and plastic pollution affecting the waters of the world. Meanwhile, others examined the potentials of organic or traditional materials, including the Bethlehem-based duo AAU Anastas, who created a vaulted canopy with interlocking stone slabs, All-Purpose (2020), and lent the structure for the Sonic Liberation Front's protest against Israel's bombing of Gaza during the festival's opening. Here's a look at the national pavilions from the Asia-Pacific region making waves in Venice.

"Accommodations"
Curators: Uzma Z. Rizvi, Murtaza Vali
Venue: Arsenale
Curated by anthropologist Uzma Z. Rizvi and art historian Murtaza Vali, the Saudi Arabia Pavilion, titled "Accommodations," examined how built environments have evolved in relation to emergency situations. The three-part exhibition included archival photos as well as illustrations by the selected architects—Hussam Dakkak, Basmah Kaki, and Hessa Al-Bader of Studio Bound—based on encounters in temporary and permanent structures that were designed to control the spread of contagion during mass pilgrimages or pandemics.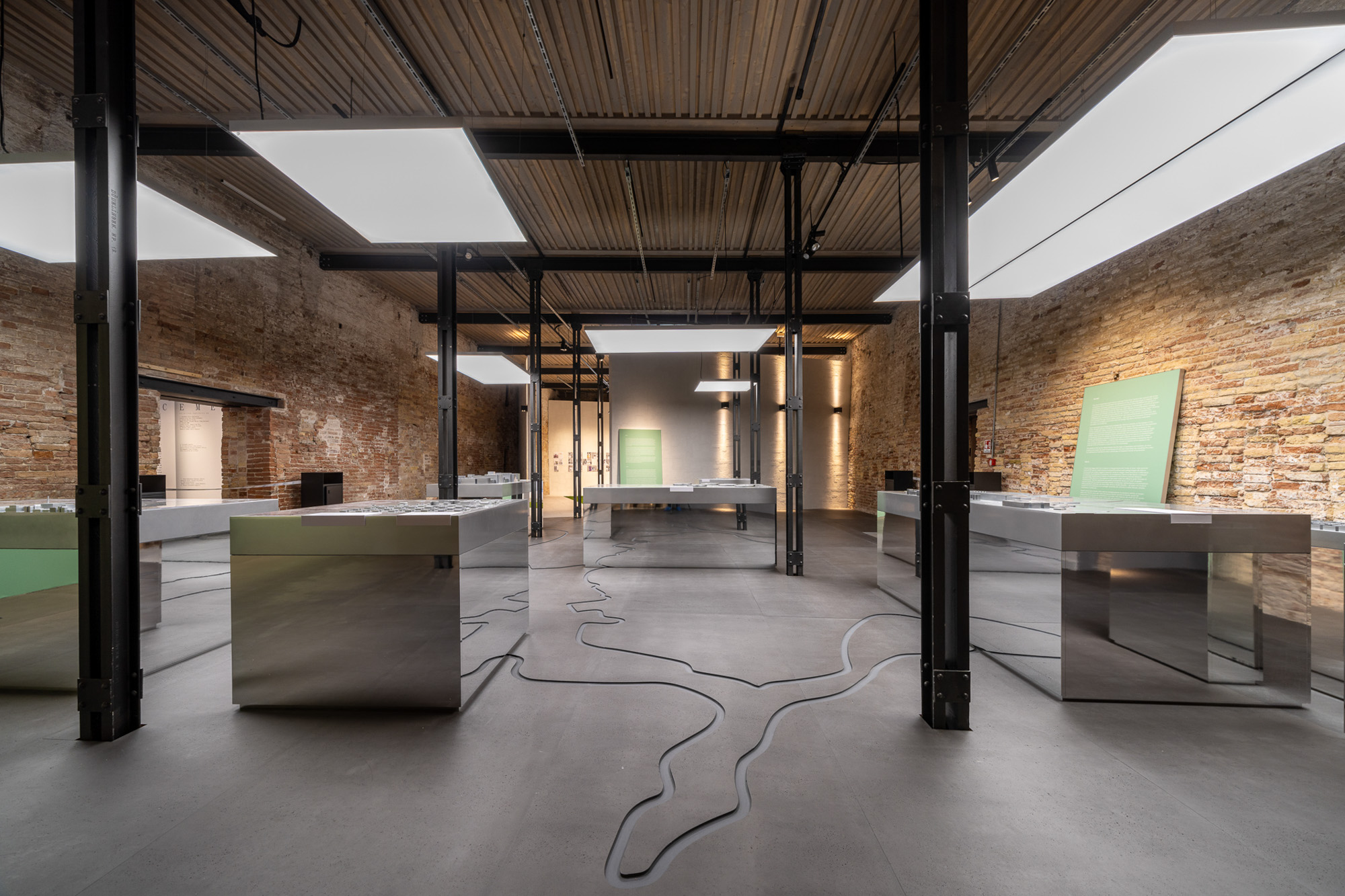 "Space Wars"
Curators: Asaiel Al Saeed, Aseel AlYaqoub, Saphiya Abu Al-Maati, Yousef Awaad
Venue: Arsenale
"Space Wars" initiated a conversation on Kuwait's hinterlands. The desert territories are home to archaeological digs, electricity cables, oil pipelines, and Gulf War-era missile launchpads. However, as the country's urban centers expand, radical transformations of these peripheral sites appear imminent. Through the showcase of a collaboratively designed carpet, as well as archival footage and satellite images of Kuwait City and its surrounding areas, the project reveals the competing forces that are shaping the nation's spaces.
"Wetland"
Curators: Wael Al Awar and Kenichi Teramoto
Venue: Arsenale
Displayed at "Wetland" were photographs by New York-based artist Farah Al-Qasimi, who captured sabkhas (salt flats) in the United Arab Emirates. The images were paired with prototypes for a material that can replace the common Portland cement, the production of which generates eight percent of global carbon emissions. The new, environmentally friendly material was developed by curators Wael Al-Awar and Kenichi Teramoto, who worked with a group of researchers, using the sabkhas' chemical compounds as their inspiration.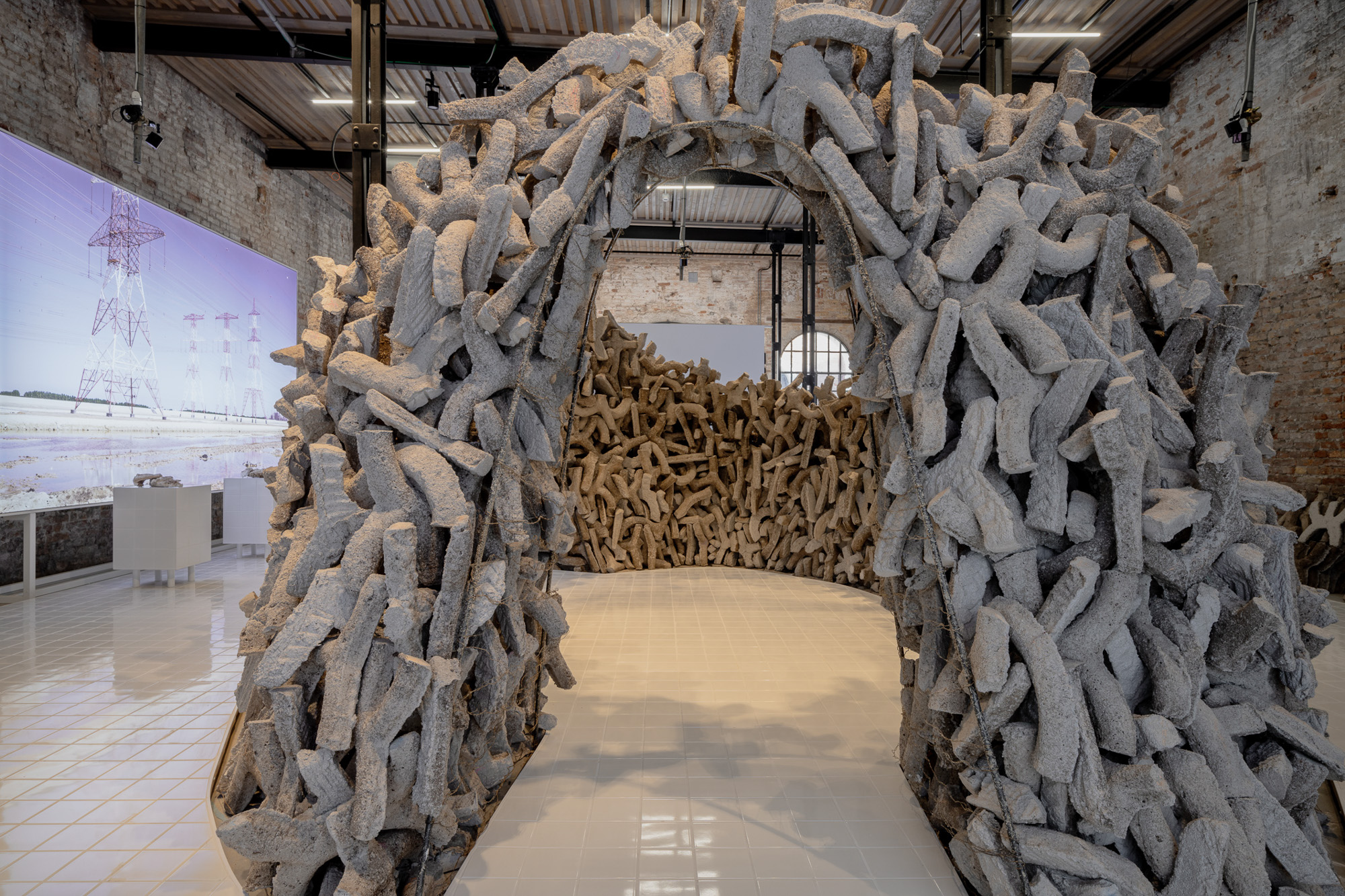 "Ark Re-imagined: The Expeditionary Pavilion"
Curators: Safina Projects
Venue: TBA
Iraq's debut presentation at the Architecture Biennale spotlights artist Rashad Salim's Ark Re-imagined (2016– ) project. Challenging stereotypes of the biblical Ark that are based on European boat-building techniques, Salim investigates and revives the boat-construction methods and watercraft types that emerged in Iraq around 10,000 years ago, when sea levels rose dramatically. Building on these ancient innovations, he proposes new vessels that address the contemporary challenge of extreme weather brought on by climate change.
"Architecture as Measure"
Curator: Neyran Turan
Venue: Arsenale
Titled after curator Neyran Turan's book Architecture as Measure (2020), the presentation at the Turkey Pavilion asked: "What can architecture contribute towards a new planetary imagination of our contemporary environment beyond environmentalism and technological determinism?" The exhibition consisted of an installation of prototype architectures and an online publication, prompting viewers to speculate on the future environment through storytelling.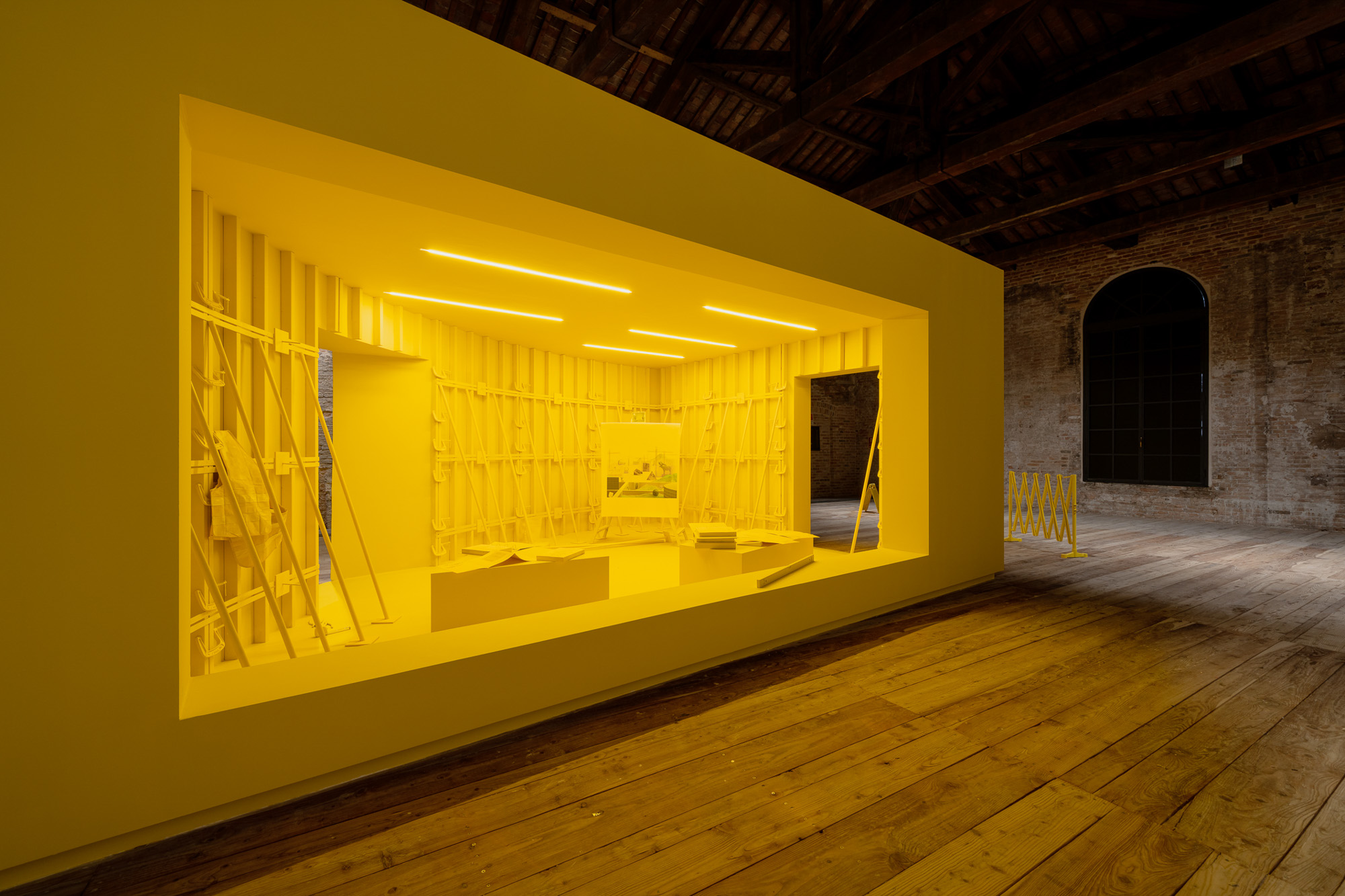 "A Roof for Silence"
Curator: Hala Wardé
Venue: Magazzino del Sale 5, Dorsoduro 262
Designed and curated by architect Hala Wardé, "A Roof for Silence" drew inspiration from a group of ancient, long-dead olive trees in Bchaaleh, whose hollowed trucks are inhabited by various species. With paintings by artist Etel Adnan and philosopher Paul Virilio, photographs by Fouad Elkoury, a film by director Alain Fleischer, fragmented glass forms by Wardé and Jeremy Maxwell Wintrebert, and an audio piece by Soundwalk Collective, the project prompts reflections on the potentials of supposedly empty spaces.
"Co-ownership of Action: Trajectories of Elements"
Curator: Kozo Kadowaki
Venue: Giardini
In Japan, the number of houses awaiting demolition increases significantly every year due to shifts in the country's demographic structure. To explore architecture instead as a chain of renewable and collaborative actions, curator Kozo Kadowaki and a team of architects—Jo Nagasaka, Ryoko Iwase, Toshikatsu Kiuchi, Taichi Sunayama, Daisuke Motogi, and Rikako Nagashima—took an old wooden house that was dismantled in Japan, and reconfigured its elements at the Japan Pavilion.
"Future School"
Curator: Hae-Won Shin
Venue: Giardini
Architect Hae-Won Shin transformed the South Korea Pavilion into an academic facility for radical thinking, inviting 260 exhibitors around the world to discuss issues relating to diasporas, the climate crisis, and innovation. In addition to the physical campus at the Giardini that hosted a series of workshops, lectures, performances, and exhibitions, the project has also launched campuses globally, as well as a digital platform and archive named "Future School Online."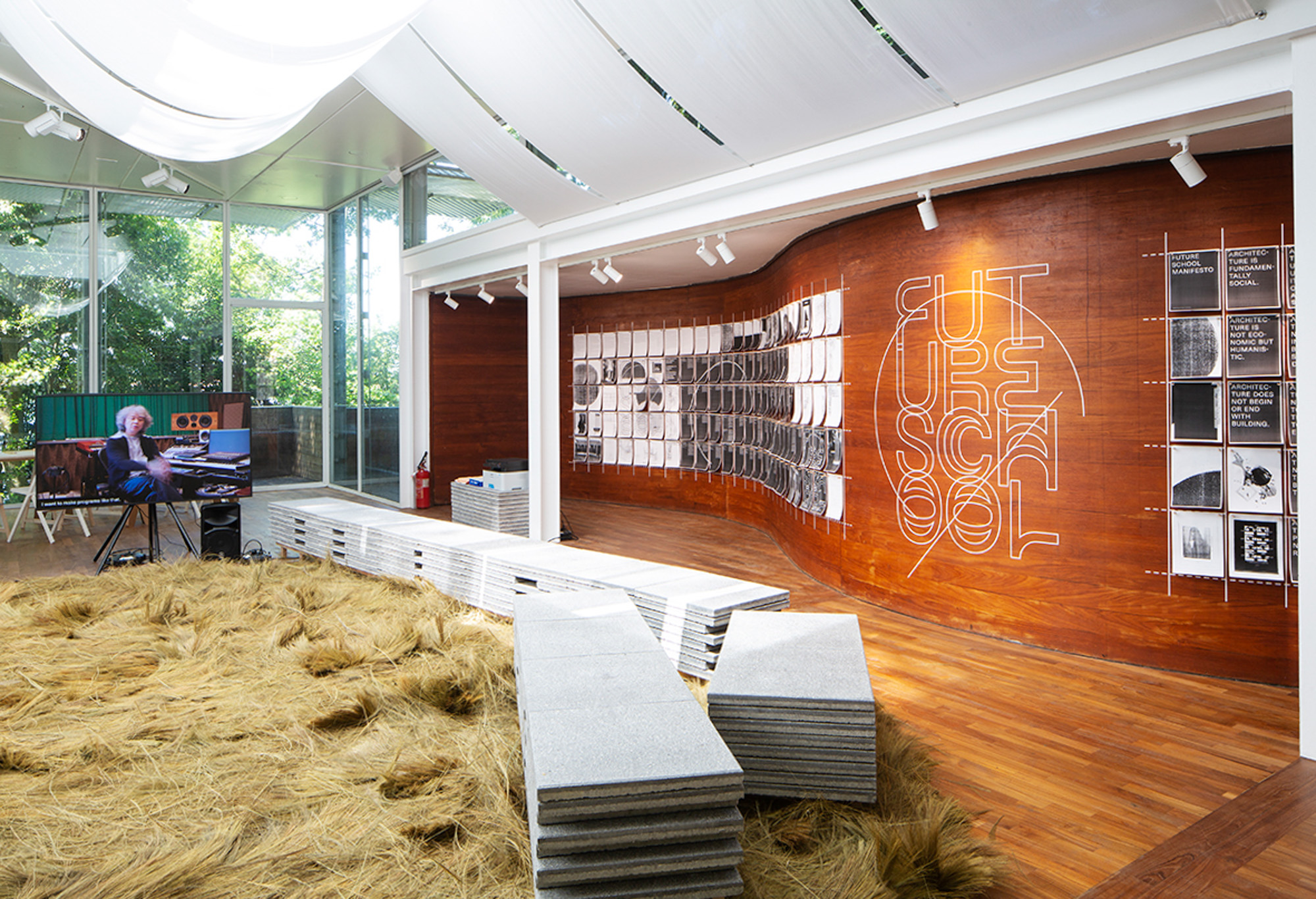 "Structures of Mutual Support"
Curators: Framework Collaborative (GK Enchanted Farm Community, architects Sudarshan V. Khadka Jr. and Alexander Eriksson Furunes)
Venue: Arsenale
In 2019, Framework Collaborative hosted a 22-day workshop in the Filipino municipality of Angat with farmers, carpenters, housewives, and students who collectively conceptualized, designed, and built the structures, including a library, shown at the Philippines Pavilion in Venice. By presenting the results of the collaboration, the Pavilion demonstrated how practices of mutual support can shape our current architectural and cultural productions.
"Primitive Migration from/to Taiwan"
Curator: Divooe Zein Architects, Double-Grass International Co.
Venue: Palazzo delle Prigioni
In the dim Palazzo delle Prigioni were five projects by Taiwanese studio Divooe Zein Architects, respectively titled Siu siu – Lab of Primitive Sense, Nature Monastery in Bali, Semi-ecosphere glasshouse for isolation and meditation, Lab of Primitive Sense, and The Forest BIG (all works 2021). Inspired by geological and ecological features, the enclosures offered spaces for respite and explored different means of creating environmentally friendly buildings.
The 17th Venice Architecture Biennale is on view until November 21, 2021.
To read more of ArtAsiaPacific's articles, visit our Digital Library.