The National 4: Australian Art Now
By Tess Maunder
The responsibility for curating a selection of practices by artists working across a huge nation-state takes work. For The National 4: "Australian Art Now," Beatrice Galton, Jane Devery, Freja Carmichael, Aarna Fitzgerald Hanley, and Emily Rolfe took up the role and provided a framework for Australian artists to present new work and expand their practice in a unique context, free from a specified theme. In a joint statement, the curators proposed that the assembled works reflect "intergenerational learning, community, and social interconnectedness, the role of language, and personal narratives that acknowledge broader social and political issues."
This year, in addition to mainstay venues in Sydney—the Art Gallery of New South Wales, the Museum of Contemporary Art, Australia, and Carriageworks—The National 4 welcomed a fourth new exhibition partner, the Campbelltown Arts Centre. a multidisciplinary contemporary arts center located in Western Sydney, an hour by train from Sydney's CBD. This much-welcomed inclusion acknowledges the important role that Western Sydney plays as a center for diverse communities. There, curator Emily Rolfe presented ambitious work by eight artists. Shivanjani Lal's Aise Aise Hai (how we remember) (2023), a gallery-sized field of life-sized plaster cast sugarcane stalks, references boats that transported over 60,000 people from India to Fiji, including members of Lal's family, to work as indentured laborers from 1879–1916. In an adjacent room is the intergenerational presentation by Isabel and Alfredo Aquilizan with their family's Fruitjuice Factori Studio. Together they present a life-sized upturned boat, titled Another Country (The Juncture of Between Becomes Comfort Zone) (2010–23), made using mixed media. Notions of class, resources, and migration emerge, specifically highlighting Australia's inhumane border security in turning back refugees that arrive in Australia, precariously, by boat. Proving that both Lal's and Aquilizan's work speak to themes of intergenerational learning and personal narratives that problematize key political events in the region.
Meanwhile, at the sparse and industrial Carriageworks were 11 artists' work; this section was curated by Quandamooka woman Freja Carmichael and Carriageworks own Aarna Fitzgerald Hanley. Elizabeth Day's The Flow of Form: There's a Reason Beyond a Reason. Beyond That There's a Reason (1797 Parramatta Gaol), Carriageworks, Redfern (2023), presents a floor-to-ceiling wall of unraveled threads from second-hand clothes that have been reconstituted as fabric panels. Found texts from the clothing scraps appear such as: "Damage was passed on from generation to generation," here hinting at Day's interest in demonstrating intergeneration trauma that incarceration survivors face—a compelling work to present in a city and country founded as a penal colony. Also, Erika Scott's The Circadian Cul-de-sac (2023), an inflatable life-raft filled with a column of suburban household detritus rising like a mushroom cloud, hints at an impending environmental explosion on our horizon. Both works speak to the role of what curators called the role of "personal narratives in acknowledging broader social and political issues."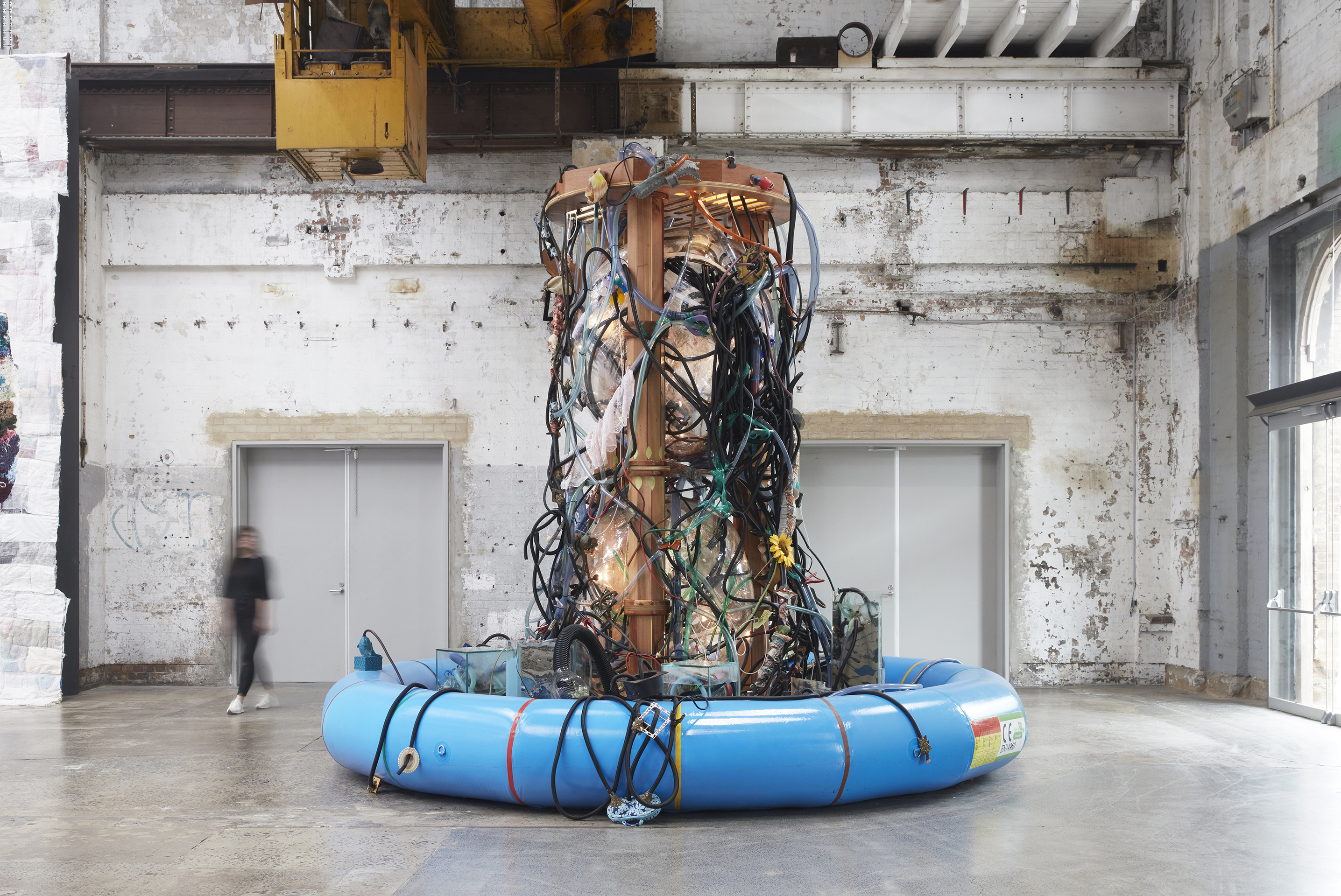 The Art Gallery of New South Wales (AGNSW) presented work by 14 artists curated by AGNSW's Beatrice Gralton. Highlights include Nabilah Nordin's brightly colored and textured installation of "anti-monumental" freeform abstraction sculptures, Corinthian Clump (2023), which proved to be an excellent statement contrasting against the neoclassical architecture of the AGNSW's historic vestibule. Meanwhile, David Sequeria presented Song Cycle (2020–21), an installation of 300 unique, intimately scaled drawings of spherical forms, exploring the cycles of music, color, and culture. Brenda Croft's series of 60 photographic inkjet prints, from original tintype prints, Naabami (thou shall/ will see): Barangaroo (army of me) (2019–22) commanded attention through powerful gazes of First Nations women and girls, whose visages challenged and subverted the colonial architecture, collections, and histories.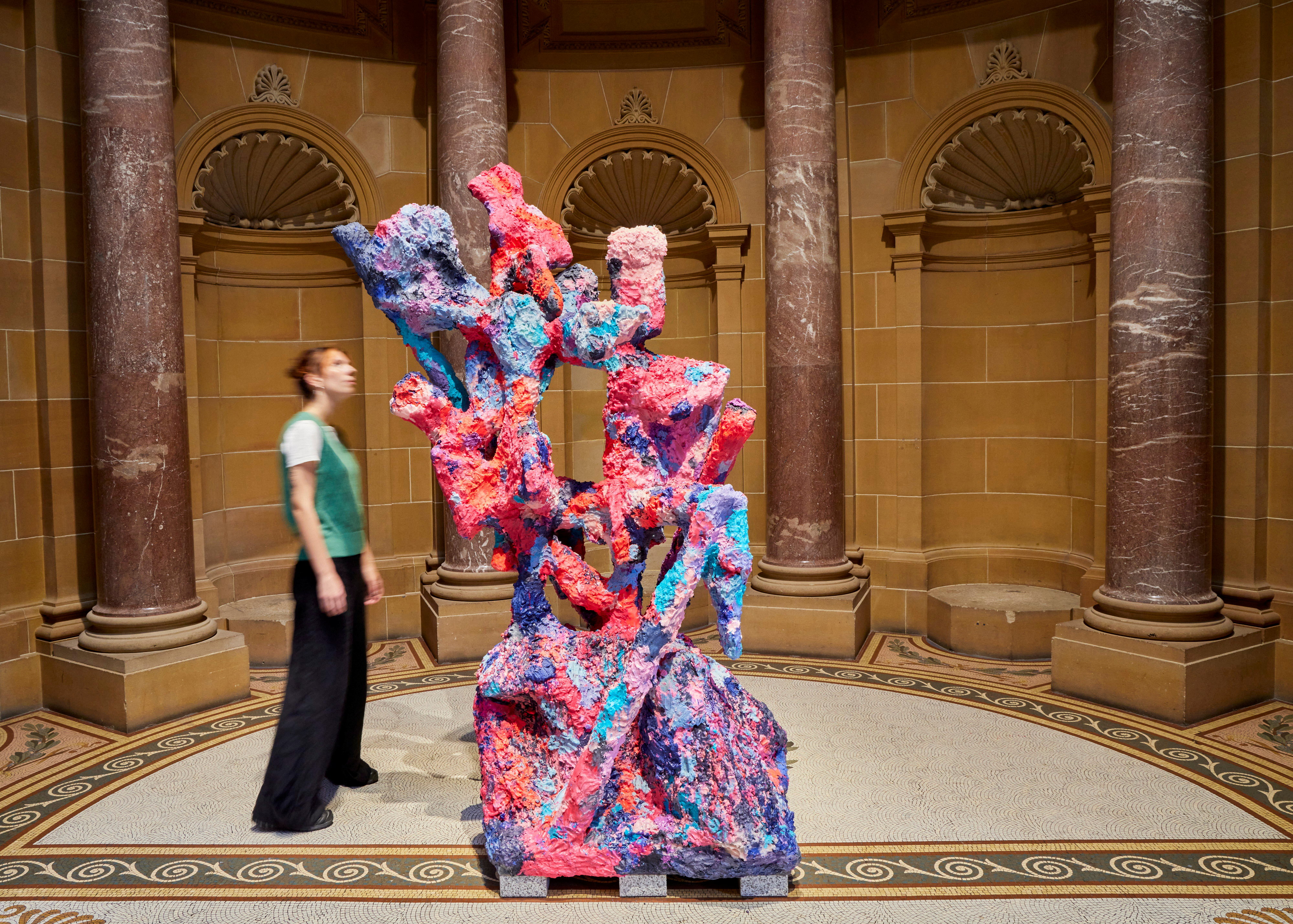 At the Museum of Contemporary Art, Australia (MCA), collaborative and community-based practices were evident in the 15 artists and collectives curated by MCA's Jane Devery. A captivating four-channel video YOYI (2020), produced by artists from Jilamara Arts and Crafts Association Artists filmed on Country in the Tiwi Islands, and a project by the collective Ivi based between Queensland (Australia), Aotearoa (New Zealand), Tonga, Hawai'i, and Fiji both emphasize knowledge-sharing, the latter through the production of ngatu (barkcloth). Simryn Gill connects local and personal experiences to questions of place and belonging in her installation Maria's Garden (2021), referencing culture, place, and belonging through prints from the garden of her former neighbor.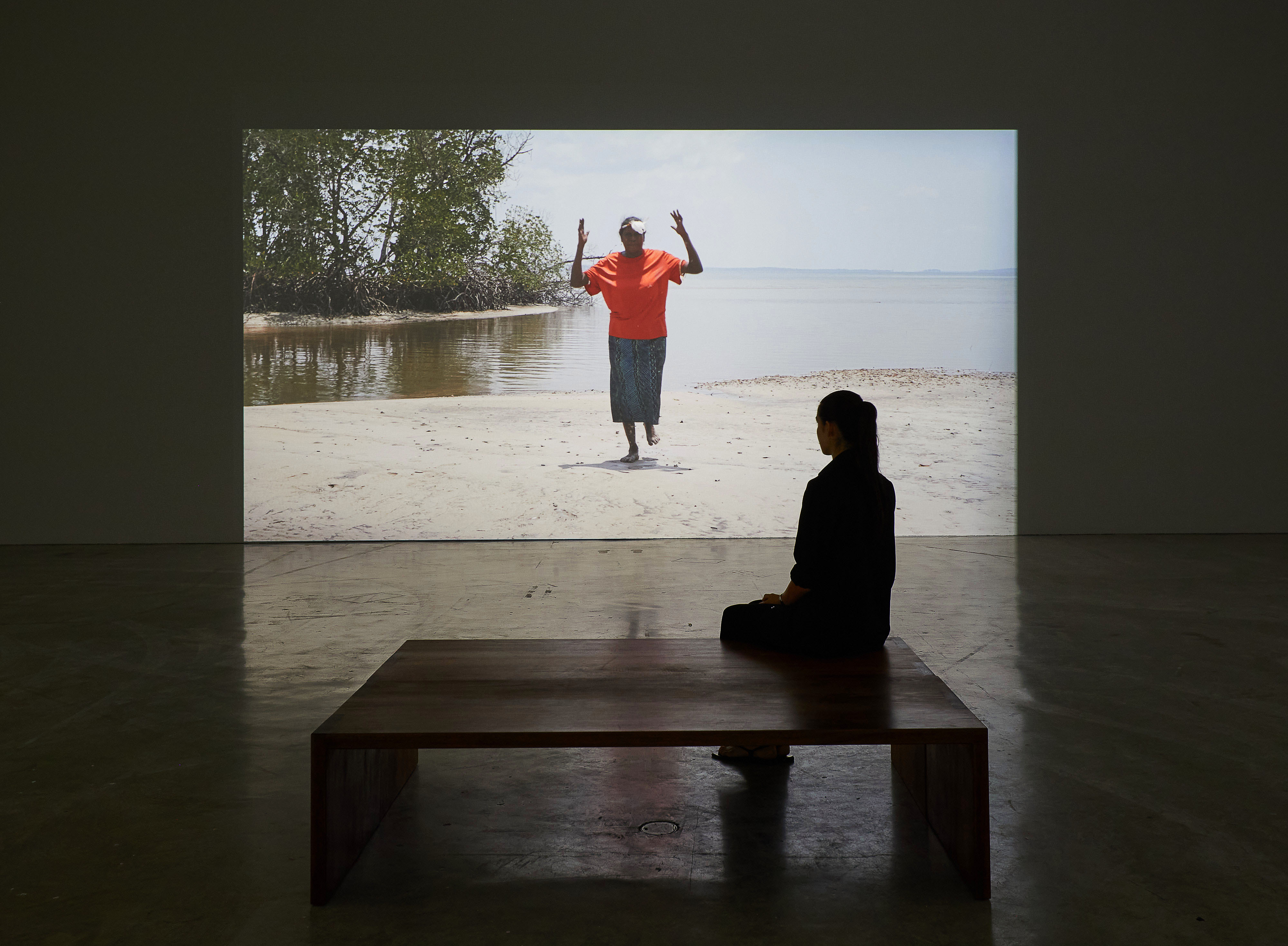 The National has always occupied a challenging curatorial trajectory; it dances between a loaded name that seeks to define the zeitgeist of art produced now in Australia and yet, with a curatorial approach that deliberately avoids so. As curator Jane Devery illuminated, "[t]his might seem at odds with an exhibition whose remit is to represent the art of 'here and now,'" but since the inception of the biennial series this has not been the exhibition's aim. Despite the loaded name and heavy expectations, the fourth iteration of this exhibition held relevance to audiences, artists, and the industry alike by discussing a multitude of ideas that acknowledge social and political issues, such as social connectedness in a post-lockdown context, intergenerational sharing of knowledge, and encouraged audiences to spend time with difficult histories that are too often glazed over. However, at an organizational level, building upon the success of involving a fourth exhibition partner with the Campbelltown Arts Centre, the National could expand its exhibition framework to reach more audiences in Australia beyond Greater Sydney. For instance, as an exhibition of national relevance, the exhibition could tour to other states and regions. Additionally, a different city could take turns hosting it each edition. A wider network of satellite spaces could also expand to include small-to-medium-sized artist-run spaces, showcasing how a wider arts ecology works together to support art practice. As the series is still fresh, it is worth questioning and reflecting on how a country as huge as Australia can garner the most visibility for exhibiting artists and audiences alike.
More exhibition information at The National 4: Australian Art Now.
Tess Maunder is a curator, writer, and editor in Naarm/Melbourne.
Subscribe to ArtAsiaPacific's free weekly newsletter with all the latest news, reviews, and perspectives directly to your inbox each Monday.