STPI and ROH Projects Present Heman Chong's "Labyrinths (Libraries)"
By STPI – Creative Workshop and Gallery
Malaysia-born Singaporean artist Heman Chong's cultural work is situated at the intersection between image, performance, situations, and writing. Through intimate interrogation and intervention, Chong investigates the function of everyday infrastructure as a political medium.
For his current exhibition at ROH Projects, Jakarta, Chong is showcasing a variety of works, including his new series Labyrinths (Libraries) (2022– ), comprising paintings that resemble maps of spaces produced from tight grids. These are highly organized spaces with little room for improvisation. Horizontal and vertical lines dominate these paintings' surfaces, forming pathways navigated in one's mind like a maze. Each painting's visual language in Labyrinths (Libraries) is a constant oscillation between positive and negative space, sparking thoughts about how certain ideas can be skillfully veiled and hidden behind others.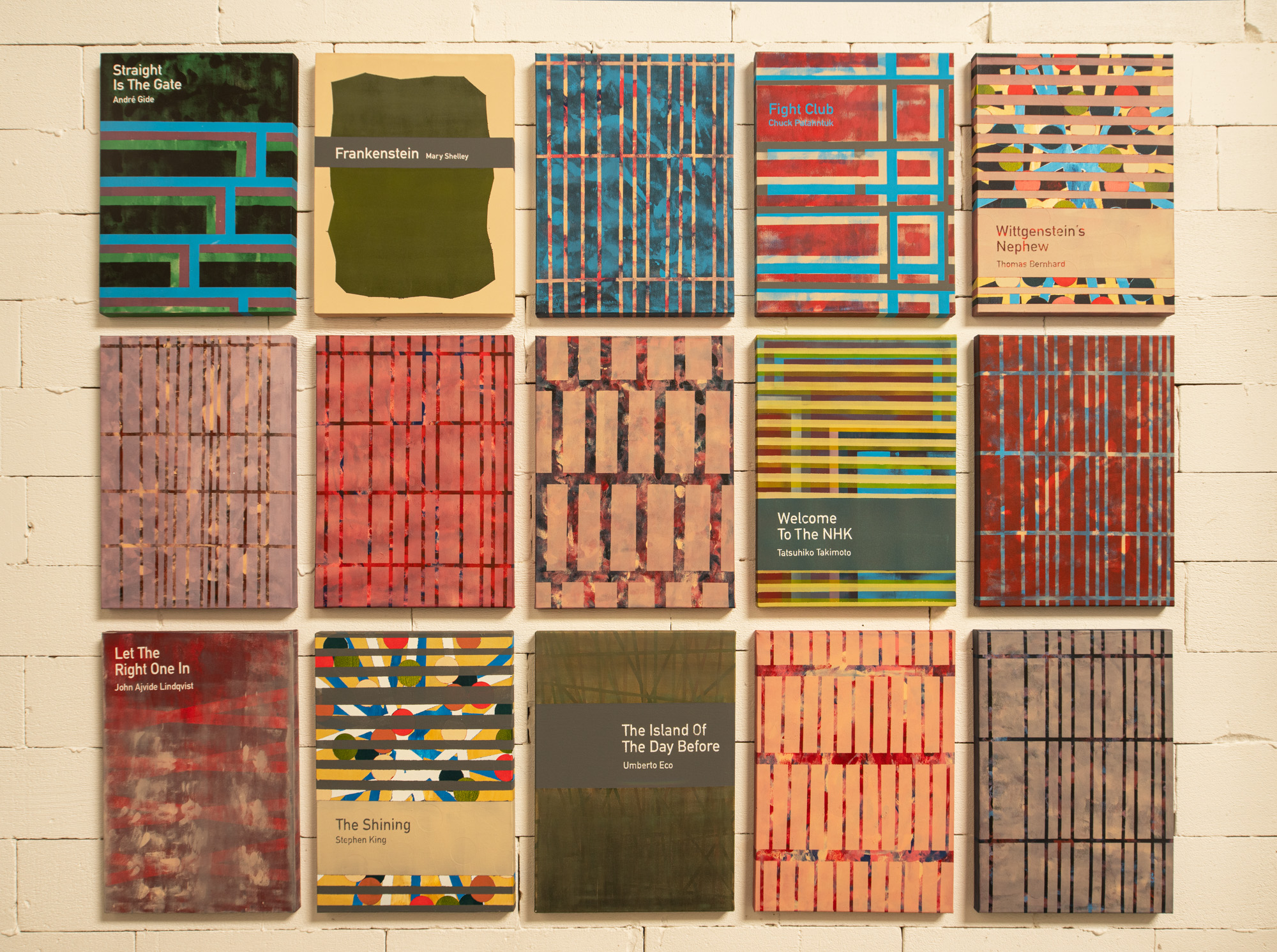 Within every library, books contain many opposing ideas. In addition to Labyrinths (Libraries), Chong also includes paintings from his earlier series Book Covers (2009– ). The series considers the multiplicity of relationships between books and the spaces between them. Inspired by a joke by the art critic Jan Verwoert ("Why are conceptual artists painting again? Because they think it is a good idea"), Chong undertook an extended interrogation of painting. Over the years, specific to this series, Chong worked with one canvas size and one brand of acrylic paint. Both sets of materials are purchased off the shelf from Art Friend, an art supply store located at Bras Basah Complex, Singapore. As a result, each painting is defined by these materials and the everyday parameters of Chong's life.
Adding to the exhibition, Chong presents a performance and installation. Everything (Wikipedia) (2016) begins with an encounter with an individual walking around a room, reading from their mobile device. The performer emotionlessly reads Wikipedia's article of the day, accessed from servers in real-time, before choosing a link within the article to read next. They repeat this action over and over until the predefined hours of the performance have ended. This durational performance results in a futile attempt to vocalize a representation of the entirety of human knowledge. The hyperlinks across many entries written by the everyday person eventually spiral into the depths of irrelevance from the original article of the day.
(Free) Trade (2022) appropriates the architecture of an art fair booth and transposes it as a large-scale, temporary installation located at the centre of the gallery. It is a minimalist sculpture that materializes from a set of instructions, constructed whenever it is exhibited. After the show, it is dismantled and recycled, only to reappear at the next exhibition. Conceived out of Chong's interest in everyday infrastructure, (Free) Trade locates the ubiquitous art fair booth in the gallery, producing a space of contemplation similar to pavilions in gardens. It is via this emptiness that we can collectively think about the possibilities of these spaces as sites of meaning that can arise out of our imagining.
Heman Chong's "Labyrinths (Libraries)" is on view at ROH Projects, Jakarta, until February 12, 2023.
For more information, follow STPI and ROH Projects on Instagram.
* This post is presented by STPI — Creative Workshop and Gallery.