Robert Zhao Renhui's "The Bizarre Honour"
By Marybeth Stock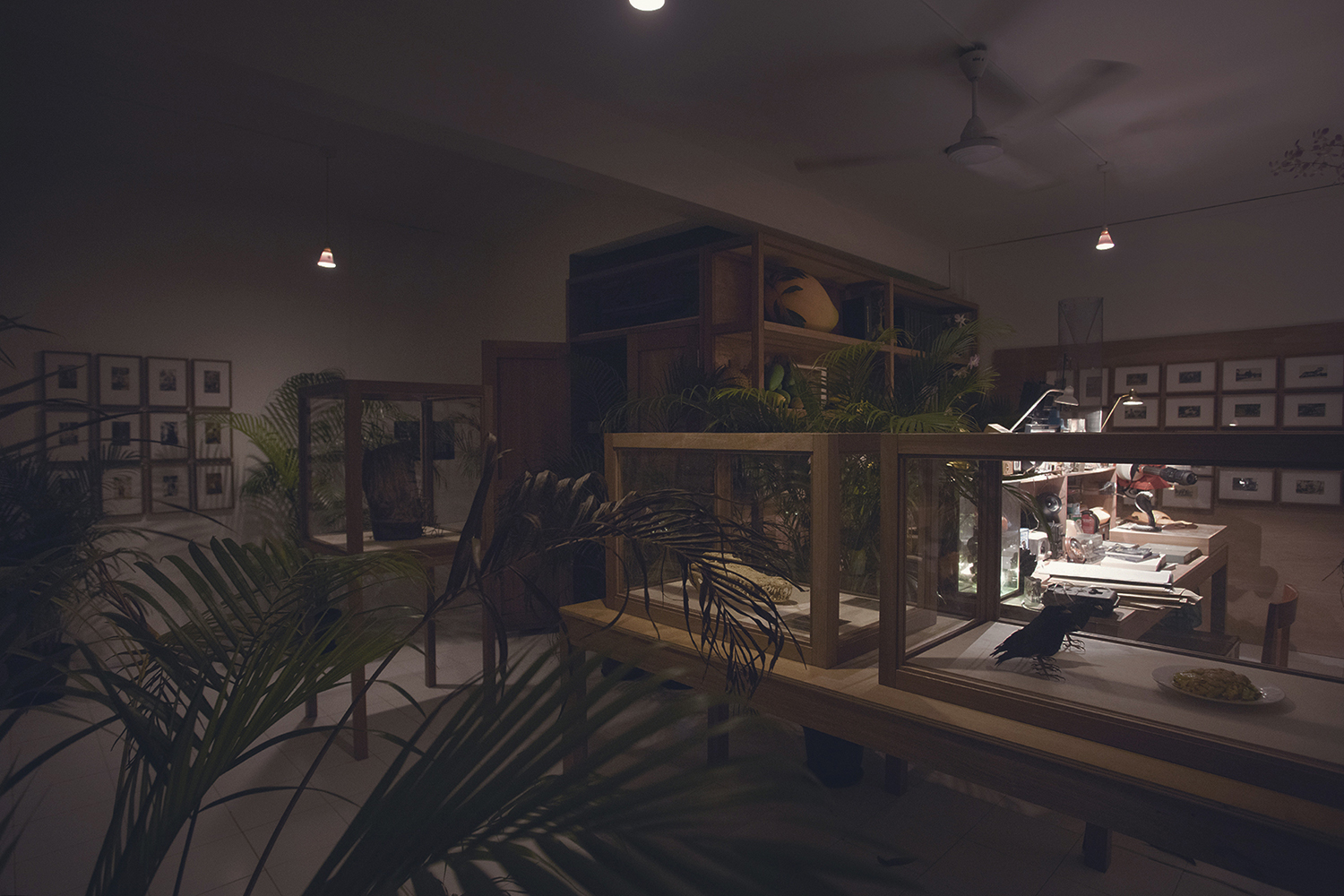 Wunderkammern, collections of natural specimens and rarities referred to as "cabinets of curiosities," first appeared in the 16th century and endure to this day. They not only sustain the pedagogical heart of most natural history museums, but also are conceptual fodder for many an artist. The promise of "wonder," however, is rarely delivered. To the jaded 21st-century eye, a truly wonder-full Wunderkammer is best inferred: Joseph Cornell's oblique shadow boxes come to mind, as do, more recently, the phantasmagoric fauna of Australian artist Kate Rohde, and the alchemical installations of Singaporean Donna Ong.
Another Singaporean artist, Robert Zhao Renhui, has amassed a vast collection of curiosities under the auspices of his idiosyncratic Institute of Critical Zoologists (ICZ). Since 2008, the Institute has teased and intrigued: it is utterly imaginary, yet explores real moral and ethical issues involving our intercessions with the natural world. Within the ICZ framework, Zhao produces pseudo-documentarian photographs and installations graced with startling authenticity.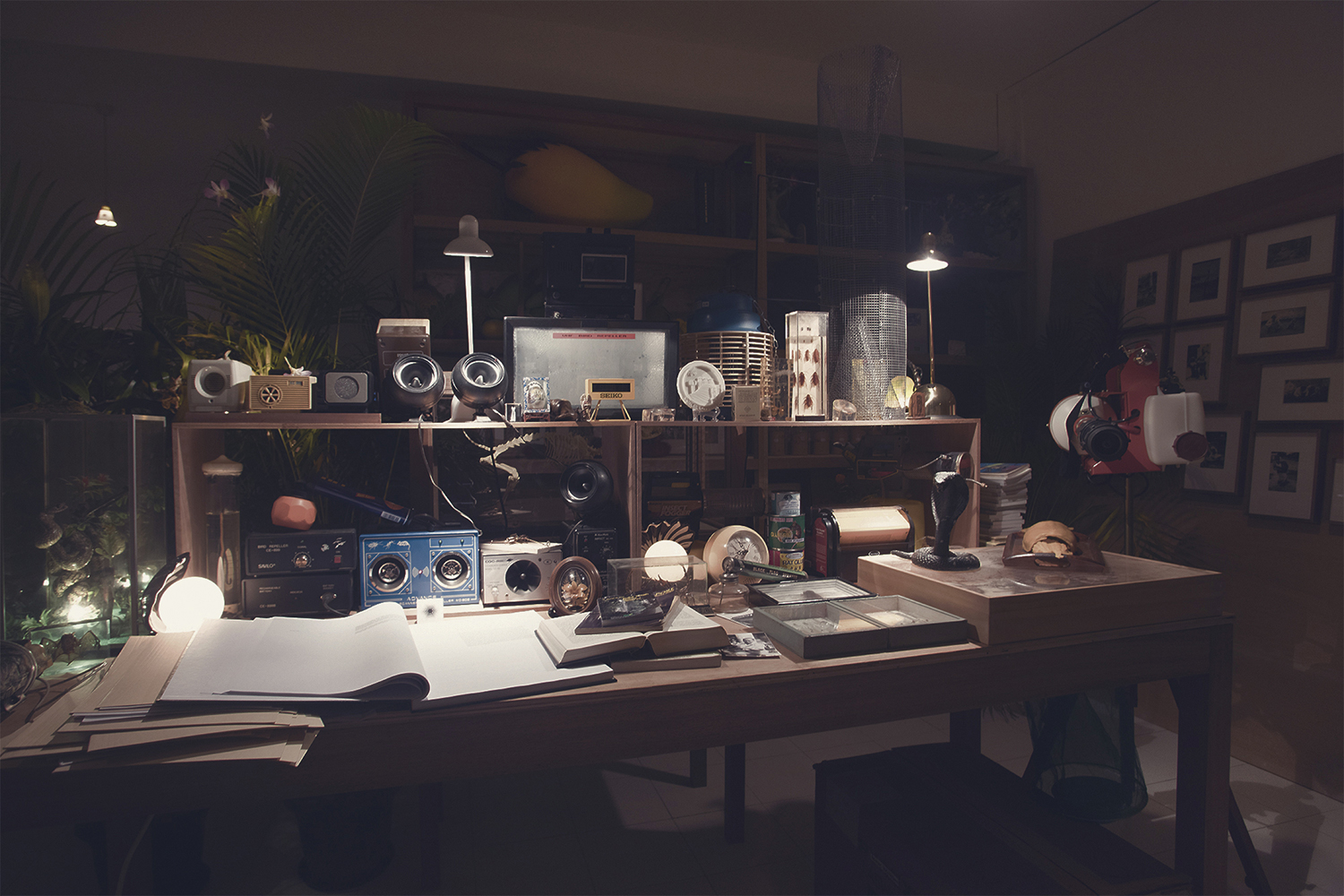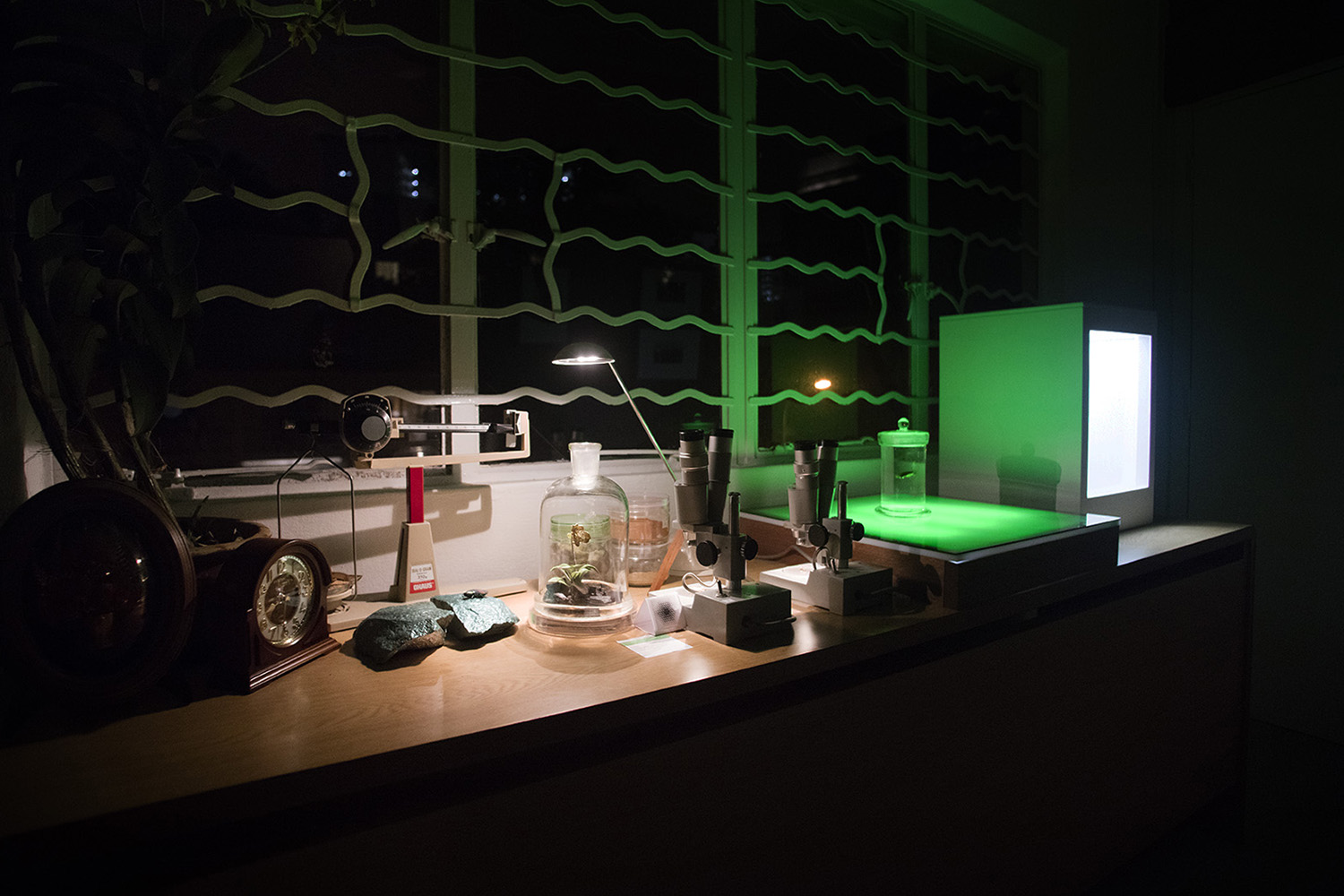 In conjunction with OH! Open House projects, Zhao invites visitors—two at a time—to wander the collections of a nameless natural history society. Situated in a quiet neighborhood, his delightfully immersive Wunderkammer, titled "The Bizarre Honour"—an anagram of the artist's name—consists of a narrow terrace house stuffed with over 300 natural and scientific artifacts. Zhao aims to chronicle "the contentious relationship between this island and its human inhabitants, from colony to city-state," and does so through an interactive theater where bemused visitors are propelled—without guidance or explanation—into the role of explorer, scientist and historian.
The prelude to "Honour" begins modestly, in the tiny front garden, where an insect-collection trap hangs from a tree. Nearby are tools of a peripatetic naturalist: a bike, motion-sensor cameras, binoculars. Inside, through a jungle-maze of potted plants, Zhao stages odd aggregations of archival records and tropical field equipment. A cluttered desk is surrounded by a veritable flea-market: songbird traps, vintage photos of logging and rubber-tree tapping, ultrasonic pest-repellent contraptions, preserved insects, mosquito fogger, taxidermy, skeletons, soil samples, resin-embedded orchids. Overwhelmed, one gratefully sits at the desk to browse files of local man-versus-nature news articles dating from the mid-1800s to the present: downed branches, haunted trees, stolen fruit (by human and monkey), animal attacks (snakes, tigers, boars), plus government edicts on wildlife imports, rules for keeping pets, and "How to Keep Monkeys at Bay."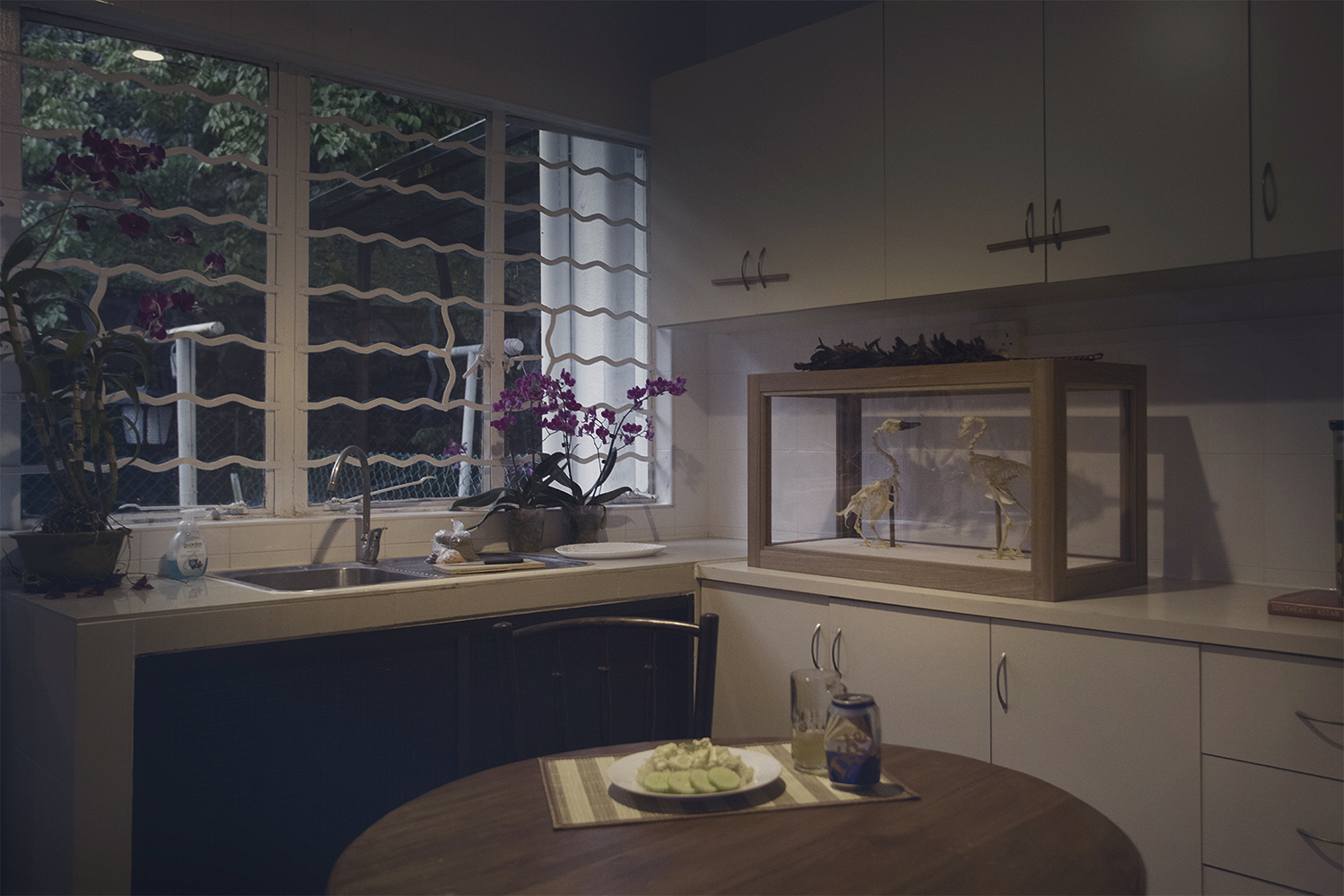 Reflecting Singapore's half-century of aggressive nation-building, these anecdotal still-lifes in "Honour" are sparked by Zhao's wry humor. In the kitchen, a plate of chicken rice (the de facto national dish) rests alongside chick embryos, while a feather duster lies casually atop a vitrine holding duck and chicken skeletons. The rejoinder to a closet crammed with insect repellent and bug-lights is an acid-yellow room where chitinous remains languish beneath a bug-zapper. This micro-drama, labeled "The World Will Surely Collapse," may imply nature's subjugation, but is parried by the heartening sight of uppity tree roots breaking through concrete in the back garden—and countered again by Zhao's glass cabinet of locally endangered songbirds (stuffed) pondering a plate of chicken rice.
The artist revisits Singapore's evolving anatomy through photos of the Bukit Ho Swee fire of 1961 that left thousands homeless, marking the beginnings of modern public housing here (and the ascendency of concrete). A video montage of old postcards traces Singapore's waterfronts, from fishing village to reclaimed land to global shipping hub—a work prefaced by the artist's gnomic statement: "Places offering views of nothing henceforth would be confronted by something." Zhao's poetic doublespeak echoes the city-state's long-standing technocratic response to nature.
Upstairs, a droning voice-over narration extolls the economic miracle of Singapore, accompanied by the chirping of live crickets ("for fish") tucked in the tiled bathroom. If visitors pause to click through an old carousel projector, they can squint at faded Kodachromes of a Singapore with tiny lanes, shop houses and snake charmers. This second floor comprises scenarios that blend history, irony and myth, including faux fragments of the "Singapore Stone," an ancient petroglyph blown up by British military; one live tilapia, legacy of the Japanese occupation introduced to augment food supplies; one Japanese sword; a rare "botanical gem" called a coconut pearl; and fulgurites, lightning-fused sand forms, on display courtesy of the "Fulgurite Society of Singapore."
After examining all this ephemera in suspended disbelief, the visitor turns to Zhao's accompanying 80-page dossier of research, photos, maps and diagrams, hoping to fathom it all. But the artist perceives that fact is a poor storyteller. Instead, these documents serve only to amplify his proto-fictions through a wonder-full hybrid of fact, exaggeration and fable. By orchestrating the oddments of "The Bizarre Honour" into experiential context and storyline, Zhao composes a curious memoir of how Singapore has codified its natural, and social, ecologies.
Robert Zhao Renhui's "Bizarre Honour" is on view at OH! Open House, Singapore, until February 26, 2017.