"Nothing is Forever: Rethinking Sculpture in Singapore"
By Louis Ho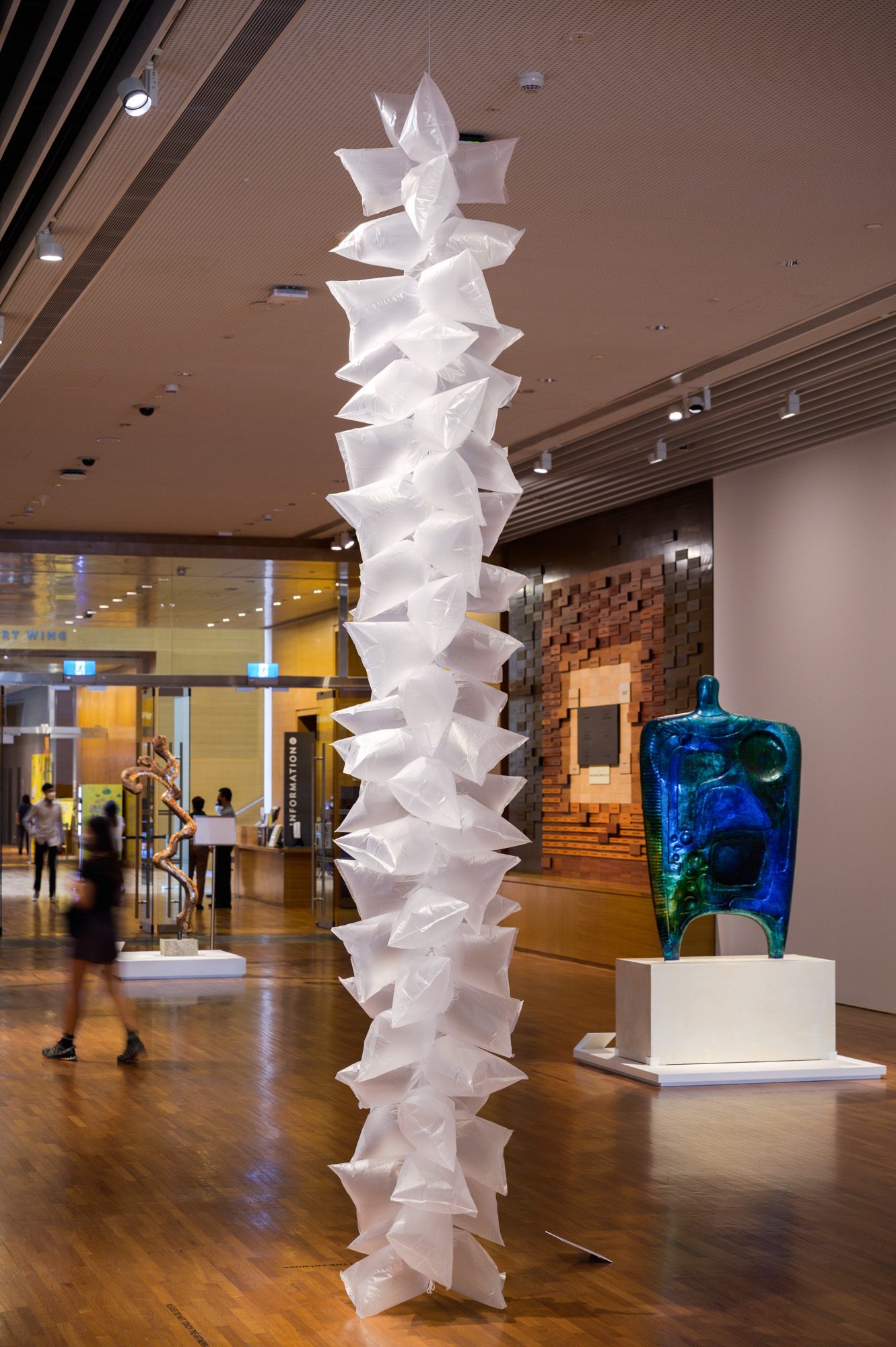 "Nothing is Forever: Rethinking Sculpture in Singapore" at the National Gallery Singapore (NGS) billed itself as the city's first exploration of sculpture in three decades, an interrogation that simultaneously historicized the sculptural object and sought to extend its discursive and material boundaries, narrated through more than 70 works. The results of the historicization effort were illuminating (re-)discoveries, an excavation of an otherwise neglected stratum of Singapore's art history. The attempt to expand the parameters of sculpture proved to be less compelling, a disappointingly narrow exercise premised on questionable assumptions.
Works like Lim Leong Seng's New Era (1976; remade 2022) and Kumari Nahappan's Almanac Series #01-04 – Campbell Lane to Tank Road (1991) mark moments of critical reflexivity in the history of sculptural practice in Singapore. Juxtaposed against monumental objects of stone and metal, Lim's tower of inflated plastic bags foregrounded the counter-intuitive embodiment of three-dimensional form as ephemeral airiness. Nahappan placed ritual vessels into the nooks of her monochromatic canvas, collapsing the found object and painting in the manner of Robert Rauschenberg's combines; art historian TK Sabapathy remarked: "Such pictures no longer appear as flat planar surfaces alone but as encompassing existent domains." Also noteworthy was an interactive video which allowed viewers to explore the ASEAN Sculpture Gardens in several Southeast Asian cities, including Singapore. (At the time of writing, only Singapore's was available for viewing.) Now largely forgotten, the local iteration was inaugurated in 1982 with works by artists hailing from the founding ASEAN member countries.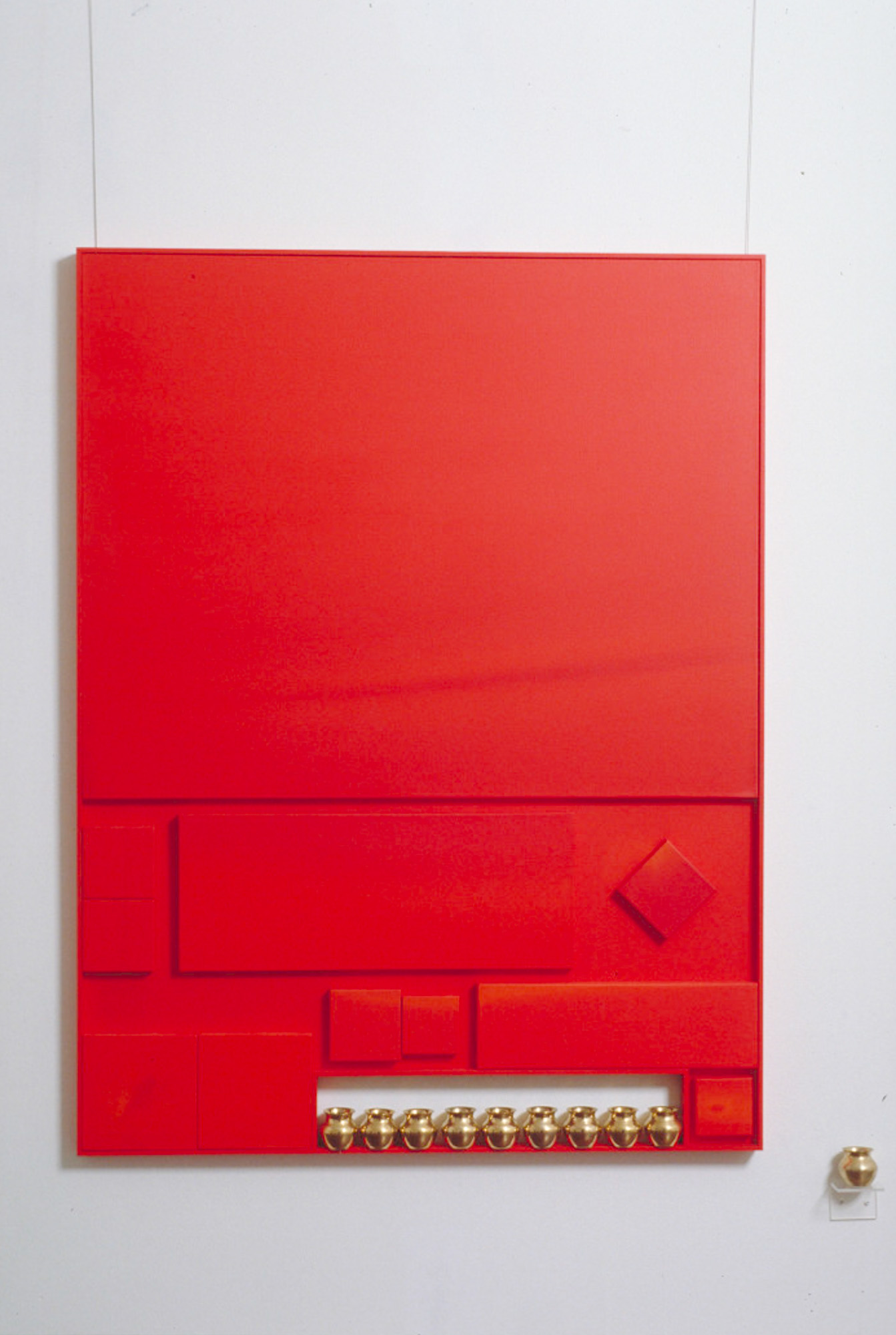 The show's attempt to renegotiate the limits of sculpture, on the other hand, fell flat. An ostensible highlight was the inclusion of South Indian temple statuary and tomb artefacts from the Bukit Brown cemetery, described as "works that are not conventionally thought of as being sculpture." This wildly misleading supposition contradicted established academic and museological understanding. Chronological surveys of Western art often begin with the architecture and sculpture of Near Eastern, Greek, and Roman civilizations, which are frequently deployed in religious and mortuary contexts. South Asian statuary, linked to Buddhism and Hinduism, is likewise displayed in institutions such as the Metropolitan Museum of Art in New York City. The framing of contemporary visuality within genealogies shaped by traditional material culture–tracing the precedents of art-making as we know it to older practices that may fall outside of familiar categories–has precedent in, for one, Alfred H. Barr's inclusion of an African mask and a copy of a famous Hellenistic Greek statue of Nike of Samothrace (c. third century BCE), alongside works by Pablo Picasso and Umberto Boccioni, respectively, in the hugely influential "Cubism and Abstract Art" exhibition at the Museum of Modern Art in New York in 1936. In Singapore, "Thai Transience" (2012–13) at the Singapore Art Museum (SAM) likewise displayed antiquities from Thailand, including Buddhist sculpture and Ban Chiang pottery, alongside contemporary works.
The presence of painting, installation, and performance in the exhibition represented the expanded range of sculptural possibilities, but the breadth of works here seemed unduly circumscribed. The interstitial spaces between painting and sculpture, for one, was explored through the works of Cheong Soo Pieng, Teh Tien Chong, Anthony Poon, and Nahappan—embodying a micro-history of a sub-genre—but, in this regard, it seemed an oversight to omit a figure such as Jane Lee. Lee is best-known for works that utilize paint three-dimensionally, transforming the two-dimensional plane of the picture surface into a tactile field of sculptural skeins of paint, the example par excellence being Raw Canvas (2008), a massive piece that covers an entire wall elsewhere in the NGS building. The congruities between sculpture and land art were famously explored by Rosalind Krauss in her essay, "Sculpture in the Expanded Field" (1979), that examined the "negative condition" of sculpture as objects or phenomena within architecture and landscape that are precisely not those things, i.e. the sculptural presence as "not-architecture" and "not-landscape". It would have been interesting to probe the potential of land art in Singapore as a sculptural form. The genre has been slow to develop in the densely built-up city-state; one of the more recent examples being Twardzik Ching Chor Leng's Real Estate (2014), for which the artist dug up a plot of earth from SAM's front lawn and transposed the displaced soil into the museum.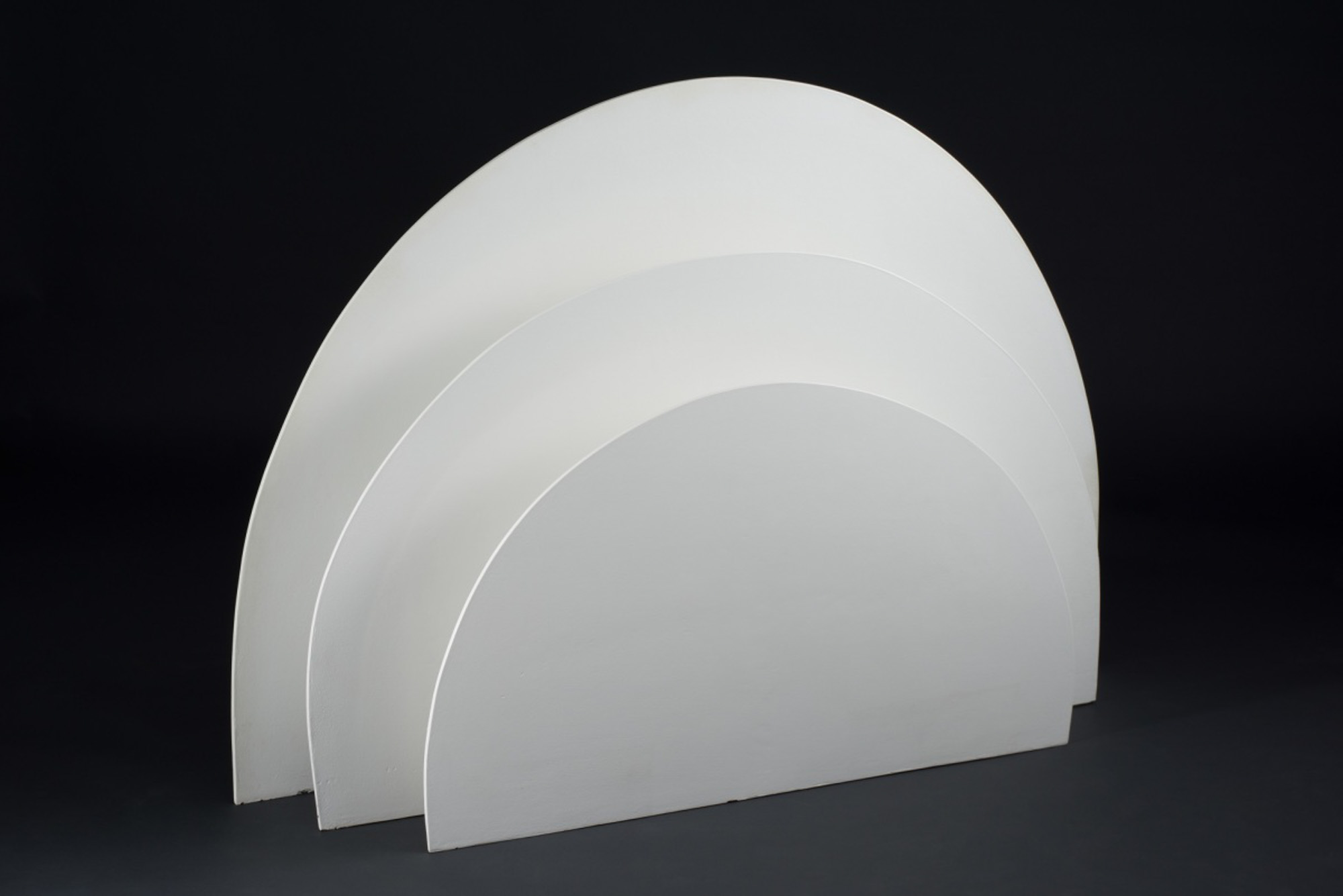 Another shortcoming was the lack of attention paid to spatial concerns. Sculpture, at least in its most recognized form, is an object that occupies space, and should be allowed room to breathe. "Nothing is Forever" was situated in a medium-sized gallery in the basement level, with several large works placed in a transitional passageway. The gallery was jam-packed with pieces that were positioned too closely together; for instance, a floor-bound sculpture by Kim Lim, Steps (1967), was squeezed between wall text and another work, where it resembled little more than a structural fixture, doing its pristine linearity of form little justice. Here, the balance between object and environment required more nuanced calibration—as did, ultimately, the exercise of rethinking.
"Nothing is Forever: Rethinking Sculpture in Singapore" is on view at the National Gallery Singapore until February 5, 2023.