Nadim Abbas's "Camoufleur"
By Ned Carter Miles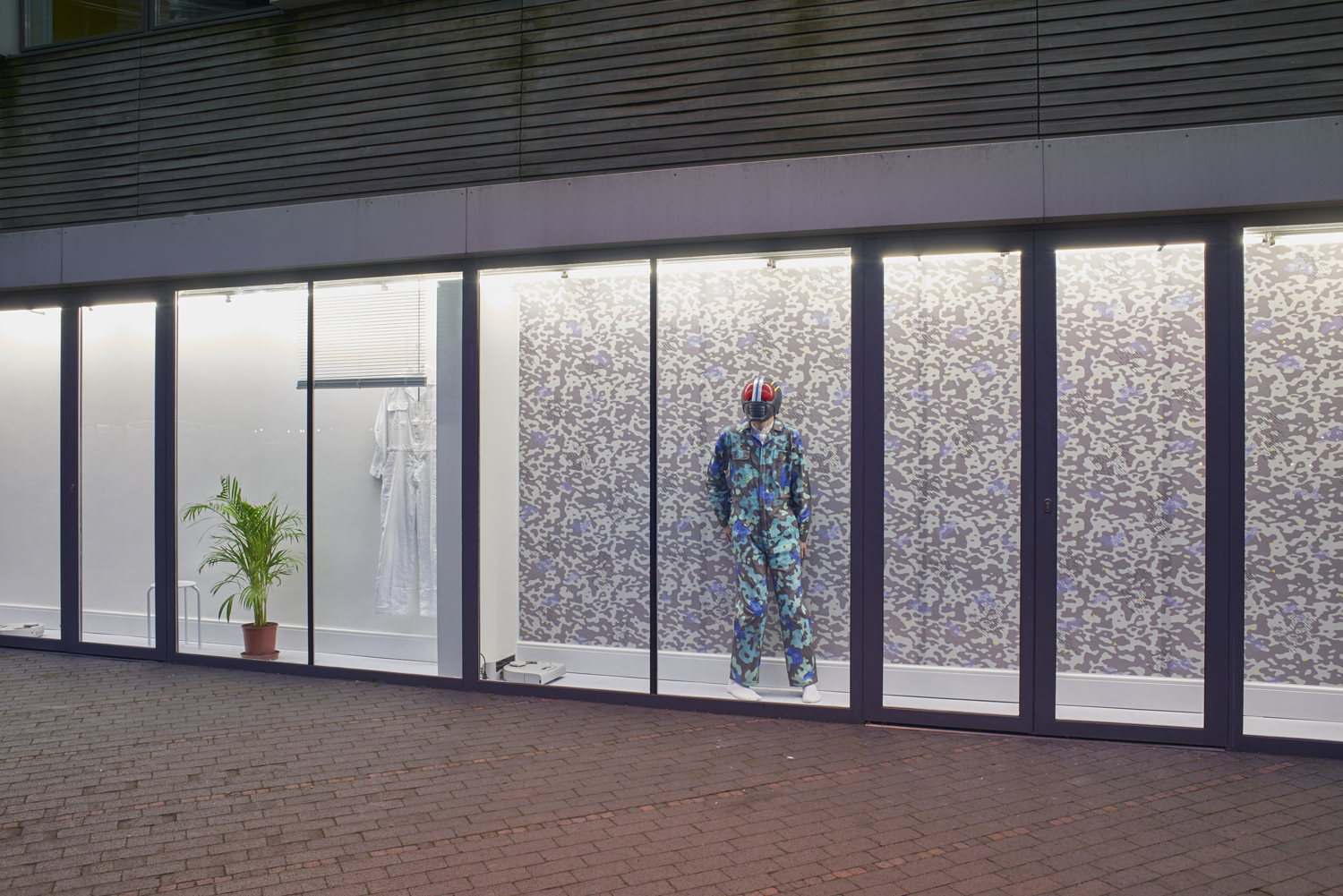 It is a central paradox of urbanization that, although city dwellers live in ever-closer quarters, they do so in increasing isolation. This is among the subjects touched on in Nadim Abbas's new installation at London's Vitrine gallery—a space whose glass windows allow it to be viewed panoramically 24 hours a day.
A native of Hong Kong—by some counts the most urbanized place in the world—Abbas sought to extend his interest in urbanization to the cultural phenomena of otaku and hikikomori, both of which originated in Japan and are most prominent in Tokyo—the most populous city in history.
Otaku and hikikomori are not synonymous terms. The former loosely refers to a person with an obsessive interest in a given subject and the fan culture that surrounds it; the latter is associated with what psychologists call "acute social withdrawal," which affects more than 1 million (mostly male) Japanese citizens, and is considered a form of mental illness.
The two phenomena should not be conflated, but can conceivably both be associated with notions of visibility. Often, the modern city compartmentalizes life, obscuring neighbors from view via the structure of its buildings and their opaque walls. Nonetheless, contemporary domesticity does provide other paths to culture and community. The internet, comics and other media allow the obsessions of otaku to flourish by means of a largely unilateral gaze.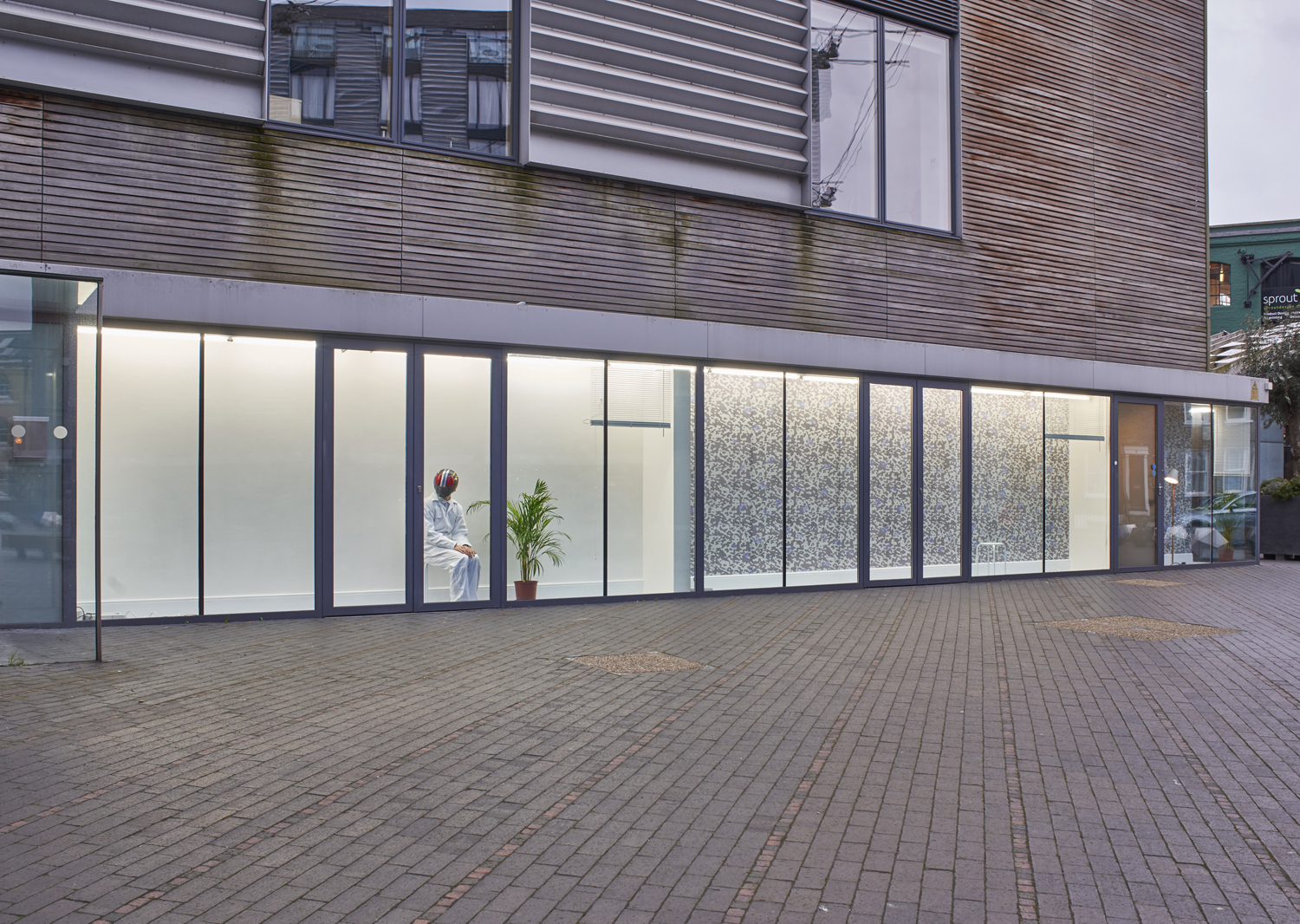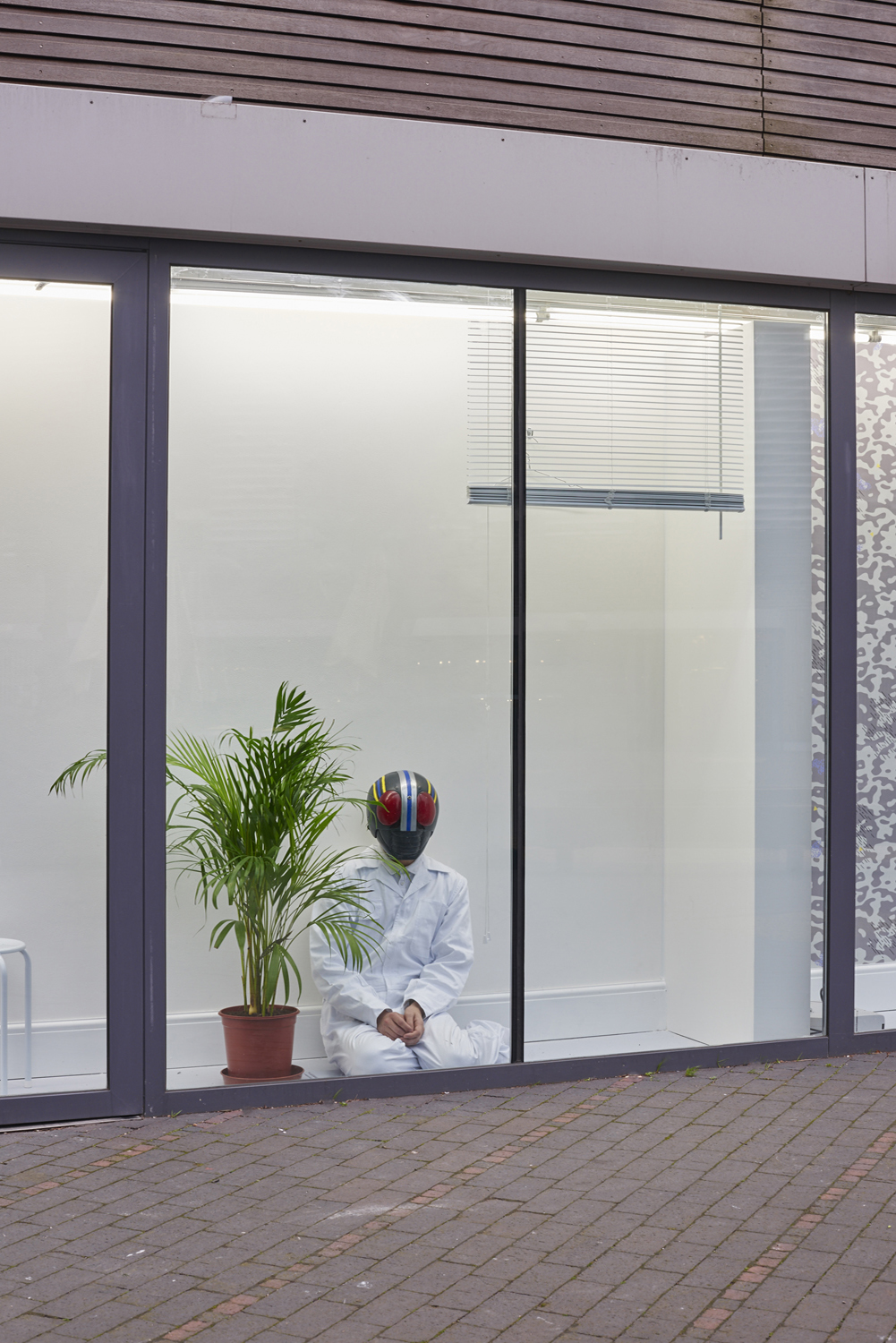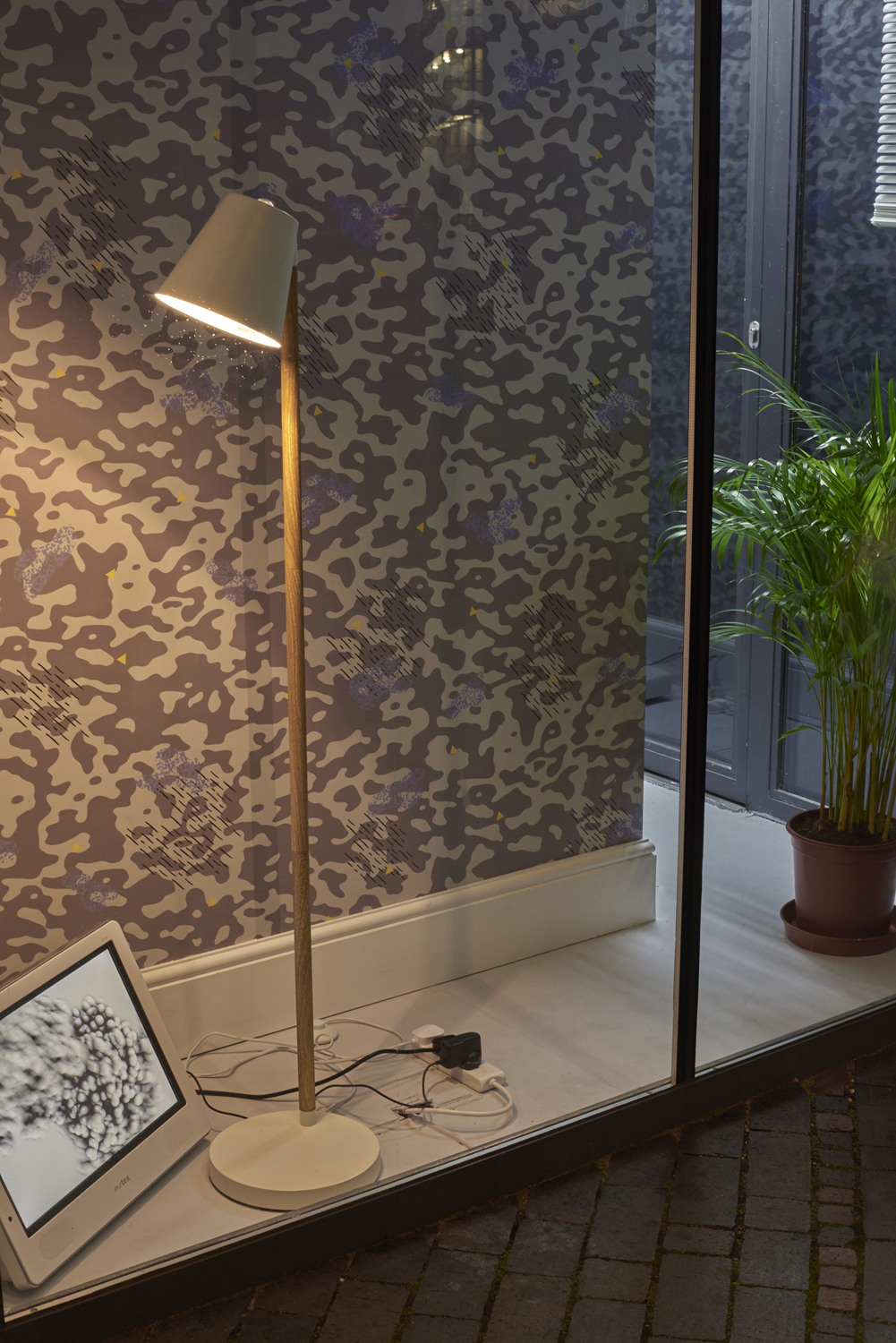 The bedroom is a pivotal space in otaku culture, manifesting an individual's obsession through decoration and collectables, and has been documented by projects such as cultural anthropologist Patrick W. Galbraith's book Otaku Spaces (2012). Camoufleur (2017) hinted at the significance of such locations, but only by eliciting a slight voyeuristic thrill without deeper analysis.
The installation saw Vitrine gallery partitioned into two implicitly domestic spaces. Each contained household objects—a stool, a houseplant, lamps, robotic vacuum cleaners—but one was plain white and the other decorated with camouflage wallpaper designed by Abbas. At times, a performer occupied the space, wearing a jumpsuit patterned to match the section of the installation in which he sat or stood, a black and red helmet similar to those found in the Japanese manga and television franchise Kamen Rider (1971– ) leaving him awkwardly exposed in his surroundings.
The word "camoufleur" refers to the artists and naturalists employed to design military camouflage during World Wars I and II. As a title, it referenced a certain kind of otaku, Gunji Ota, who fetishize military culture, and ostensibly sought to draw parallels between domestic space and warfare. Where these parallels lay or how they interacted with other elements of the work was unclear.
If we consider the performer to be the eponymous camoufleur, hiding himself or his dwelling from outside eyes, we glimpse the contours of Abbas's declared interest in how otaku and hikikomori are consequences of the urban conditions around them. He nonetheless leaves us in the dark as to what these distinct groups of people are concealing, what differentiates them, or what connects them to the piece's other stated themes.
The question is no doubt intriguing, and would be more so were it addressed in the installation as well as its promotional material. Instead, superfluous additions and references to theory acted as camouflage for a tenuous conceptual foundation. There is no seeming reason, for instance, to have included a computer monitor on the floor with an image of a Fel d 1 molecule, the protein found in cat saliva that is largely responsible for human allergies. Allusions to cats have appeared in Abbas's other work, and might conceivably reference his own experience of domesticity and discomfort, but this makes the work personal, distancing it further from its apparent concern with urban spaces and subcultures, warfare and domesticity.
The most defined reaction to the piece was a sense of voyeurism made strange by a second-degree fetishizing of the already fetishistic otaku and reclusive hikikomori. Vitrine gallery being what it is, however, a similar effect would have been achievable with any wallpaper or other intimation of domesticity. The installation's other material content, though indicative of many—perhaps too many—interesting ideas, fell short of meaningful synthesis.
Nadim Abbas's "Camoufleur" is on view at Vitrine gallery, London, until April 15, 2017.
To read more of ArtAsiaPacific's articles, visit our Digital Library.