"Interweaving Poetic Code" for an Equitable Future
By Judy Chiu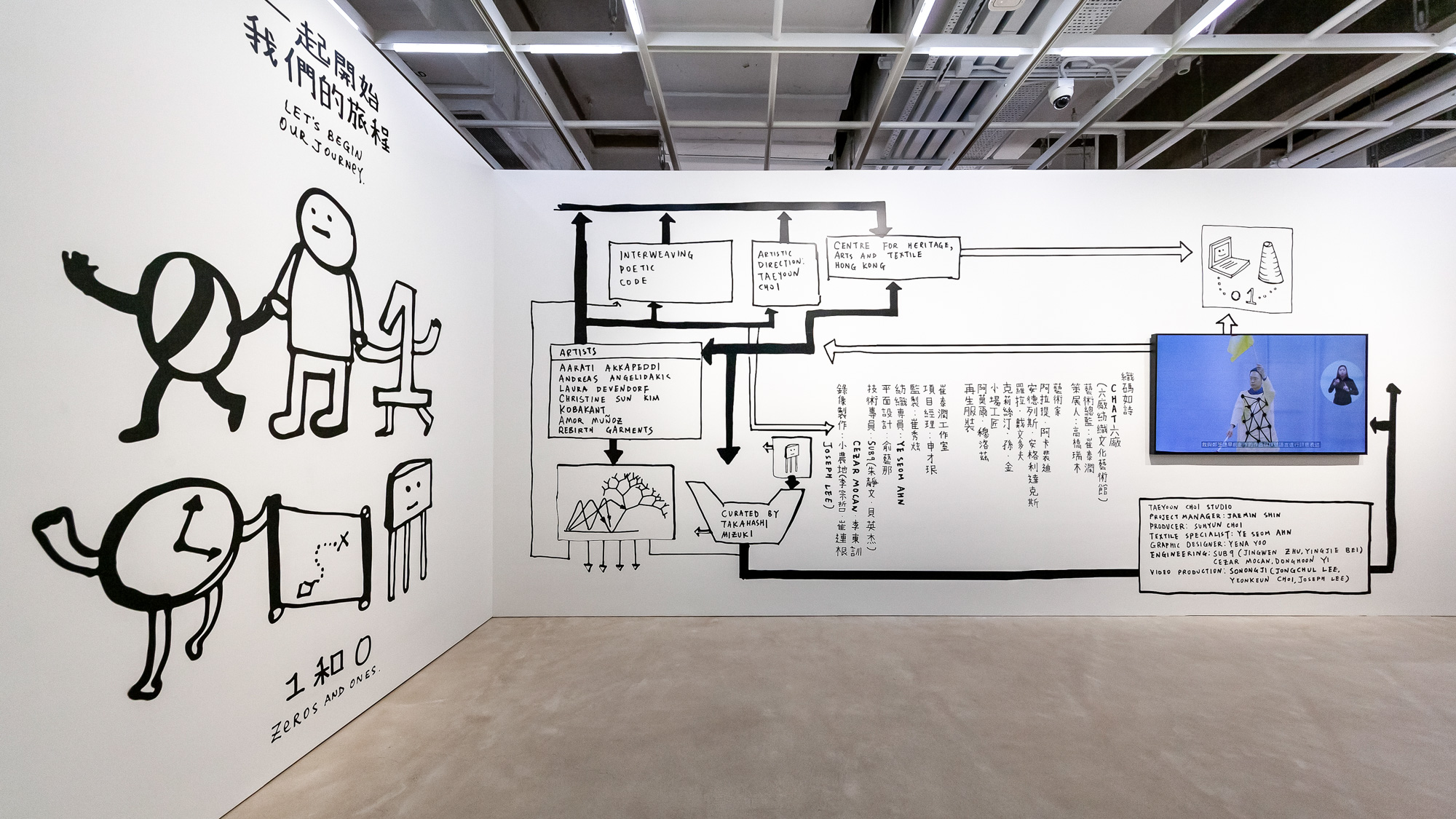 Presented at the Centre for Heritage, Arts & Textile, "Interweaving Poetic Code" set off to tie together the interrelated histories of computer code and textile with human empathy. Early binary code was inspired by the Jacquard loom—a revolutionary machine that used punch cards to mark intricate patterns. Nowadays, computer codes, legible to few people, are used to determine what we see on our screens and for surveillance. But could we instrumentalize code for more equitable purposes? Plastered on a wall by the entrance of "Interweaving Poetic Code" was artistic director Taeyoon Choi's mural Let's begin our journey! (2021), which depicts a stick figure holding the numbers zero and one. Symbolic of the entire exhibition, the image hints at Choi's answer—by using binary and other computer codes to generate humanist connections, we can create an inclusive technological society.
Several of the show's works spoke to the ties between code and textiles, and invited visitor participation. For example, audiences, especially those who are visually impaired, were encouraged to touch Choi's Code to Knit (2021), a series of Anni Albers-inspired knitted flags with sponge-like surfaces bearing lines of JavaScript. Amor Munoz's Coded Textile (Matter and Memory) (2018), on the other hand, weaves a different type of code. Inspired by the magnetic core memories of early computers, the black blocks in the wool tapestries represent zeroes, while the white blocks symbolize ones. Each row, interspersed with black and white, denotes an English letter in binary code that viewers could decipher for the message, "the universe is woven weft like time space / intelligent craft warp weft like zeroes ones."
Maneuvering masterfully between tech, text, and textile, the exhibition not only invited connection through interactive artworks; with a series of recorded events, it also prompted contemplation on how to collectively create positive change. Seen on a monitor, Distributed Web of Care (2019) is a lecture-performance led by Choi that explores a technological future built on accessibility, sustainability, and trust. In the lecture, Choi discusses alternative methods of communication with members of the School for Poetic Computation, an education platform co-founded by Choi where students collaborate with faculty. In the following performance, co-choreographed by Choi, performers of different age groups, genders, and ethnicities are tied together by a long piece of pink string. Like nodes in a network, each person's movements were affected by and would impact the larger group, sparking awareness of how we are interconnected. A similar web is spun by Choi and Christine Sun Kim in their lecture-performance FUTURE PROOF (2016), originally presented at the Seoul Museum of Art. Choi and Kim delve into questions such as how technology can be respectful and inclusive of marginalized people, typing their answers on a projected screen, and stopping occasionally to communicate with each other in American and Korean sign language. White strings attached to wind chimes were hung across the Museum space, around and over audience members who could tug to trigger sound. Through this web of sound and sight, set against a backdrop of social criticism, Choi and Kim model an engaging way to broach much-needed conversations on technological inclusivity.
Choi's largest web of care was the exhibition itself, which weaves together artists of various backgrounds, much like how first-generation Telugu-American artist Aarati Akkapeddi feeds Indian textile patterns through a machine-learning framework in Memory and Motif (2021), intertwining patterns of cultural and personal significance into a larger, collective matrix. To drive home his idea of care, Choi lined up 18 pen drawings on the walls leading to the exit. These drawings include long texts, doodles, and diagrams that explicitly discuss social-justice issues such as racism, ableism, classism, and democracy. One of the posters states, "FIGHT THE POWER (AS WE KNOW IT) / BUILD THE POWER (AS WE DESIRE IT)." Through Choi's lens, we see the potential of code, textile, and text as collaborative mediums and propellers of positive shifts.
"Interweaving Poetic Code" started with 0 and 1, the foundations of our modern society, but ended with something greater than the simple binary—a call for change.
"Interweaving Poetic Code" is on view at the Centre for Heritage, Arts & Textile, Hong Kong, until August 5, 2021.
Judy Chiu is an editorial intern at ArtAsiaPacific.
To read more of ArtAsiaPacific's articles, check out our Digital Library.