"If You Give Me Lemon, I'll Make Lemonade: Tales from Tokyo and Tangkahan"
By Marybeth Stock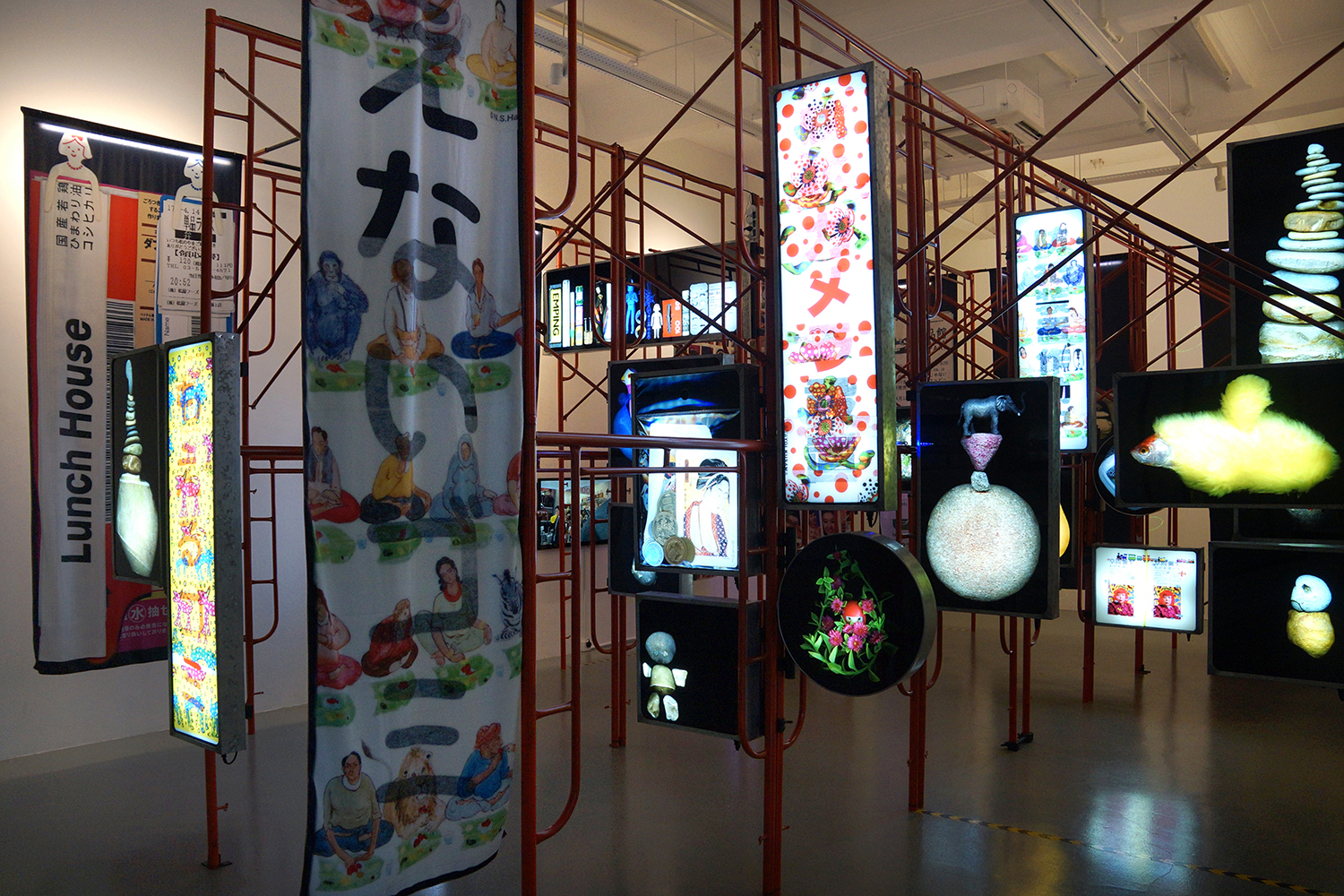 Angki Purbandono is an optimist. In 2012, when the Indonesian artist spent ten months in a Yogyakarta prison, he inaugurated a prisoners' arts program, and departed with an entirely new, rather jaunty body of work. At Mizuma Gallery's Singapore space, in his solo exhibition, "If You Give Me Lemon, I'll Make Lemonade: Tales from Tokyo and Tangkahan," Purbandono again elevates experiential detritus, translating the temporal—restaurant receipts, rocks, dead insects and more—into gorgeous recollection.
Purbandono is a co-founder of MES56, a loose photographers' collective in Yogyakarta, formed in 2002 in reaction against conventional notions of salon portraiture and street photography in "Indonesian photography." Purbandono goes further by repudiating even the camera itself, by utilizing scanners to generate his signature "scan-art." At Mizuma, the artist presented 30 new scanographs, with all but two dated 2017, some as neon-lightbox installations of C-prints, others as long fluttering fabric banners imprinted with droll imagery.
Purbandono's "Lemonade" reflects the dichotomy of two utterly distinct personal experiences: a month spent in the tiny Indonesian village of Tangkahan, in the Sumatran jungle; and a couple of weeks in metropolitan Tokyo, assailed by its frenetic environment of concrete and materialism. True to Purbandono's idiosyncratic "documentarian" approach, the artist collected and scanned found objects during these visits. For the show at Mizuma, he then incorporated this imagery into an exuberant, maze-like installation of towering red scaffolding, studded with large lightboxes and hung with banners.
Unsurprisingly, this massive construction vacillated between the subdued hues of Sumatran nature and vibrant Tokyo flash. Visitors were compelled to gingerly pick their way through this labyrinth (taking care to avoid injury against low-slung piping and heavy lightboxes), which evoked the uncanny sensations of both breaking trail through dense jungle, and prowling a neon-lit cityscape.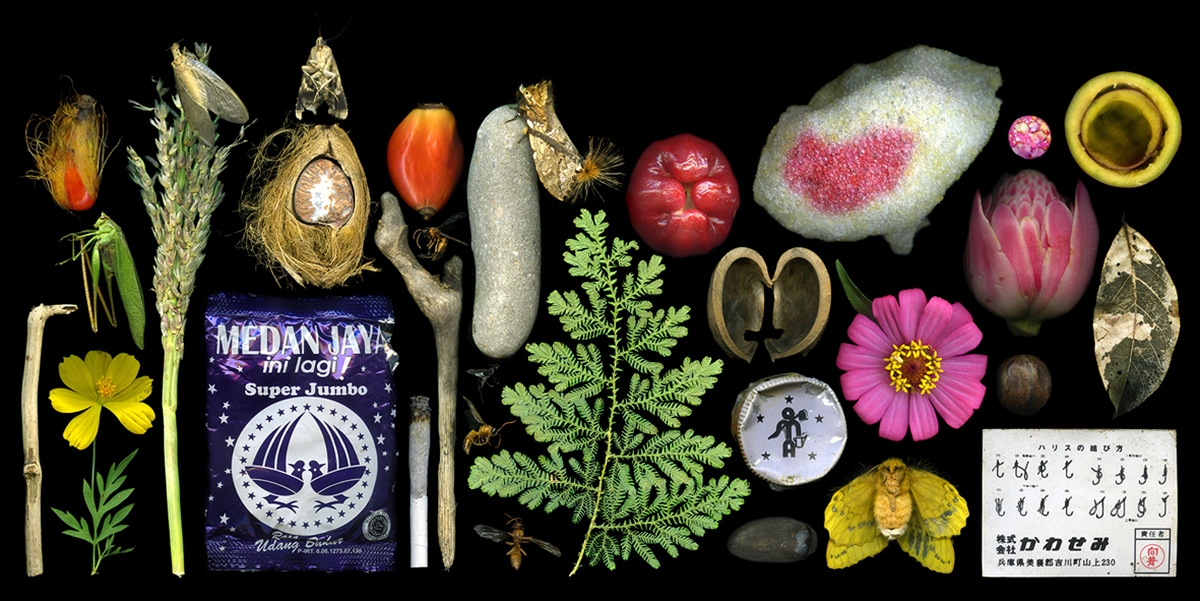 Purbandono's "tales" from Tangkahan reflect the village's changing identity, as it transforms from illegal logging center to eco-tourism hub. Interacting with elephants in the name of "conservation" is a highly controversial part of that new commercial identity, reflected in the artist's slyly articulated lightbox Elephant in the Room (2016), depicting a miniature wood elephant nestled within a radiant orange squash. Reflecting the local fancy for erecting cairns of river rocks, Purbandono scanned stately aggregations of stones, including the fluid and imposing The Monument A, and anthropomorphic Stone Puppet. Souvenir from Tangkahan is a scanned grouping of stones, seeds, empty snack bag, flowers, insects (dead and alive)—plus insecticide lid—which encapsulate Purbandono's jungle encounters in microcosm.
The artist's Tokyo imagery fixates on the graphic appeal of Japanese signage and pattern. Non-Burnable Rubbish, a scan-print on fabric, and the lightbox image Crime Surveillance Cameras, are both layered in gaudy motifs, including flamboyant polka dots lifted from a Yayoi Kusama exhibition. Purbandono attended this museum show, as evidenced by Yayoi Ticket—which manifests to perfection the over-hyped "Yayoi Glare." The salacious Erotic Bubble (bawdy vintage tchotchke) and earnest Birds Can Not Swim (toy bird plus floatie) are also typical of the artist's eye for the farcical. It is the impudent image of a fish sporting a yellow-fur hoodie, however, where Purbandono surpasses himself: Sweet Lolita in Harajuku pays cheeky homage to Tokyo fashionistas—and to a previous work from his prison portfolio, After Party (2012), which starred a lacerated goldfish.
Purbandono riffs on these peripheral artefacts, improvising and iterating memory: deranged as they may seem, these are cherished—and vital—recollections. In a 2017 group show in Singapore, the artist's installation Cosmic Axis Memories (2016) was a kaleidoscopic memoir comprising hundreds of transparencies of family and friends, encompassing a heart of light.
At Mizuma, Purbandono's vivid lightbox images were mounted in simple sheet-metal constructs, recalling shadow-box assemblages of Joseph Cornell—but the eclectic imagery in "Lemonade" veers towards the glib, rather than the evocative. ­­­­­­ Early in his practice, Purbandono's images involved neo-pop tangles of oddments like plastic figurines and food, prompting observations that his work was triggered more by "play and boredom" than conceptual complexity. The artist himself has acknowledged that he pursues visual aesthetics first, allowing the concept to catch up. In recent years, however, Purbandono has anatomized his quirky allusions, classifying random objects as metaphor for memory itself. In "Lemonade," here is the irreverent taxonomy of the artist's personal reality: a ticket, a seed, a fish . . .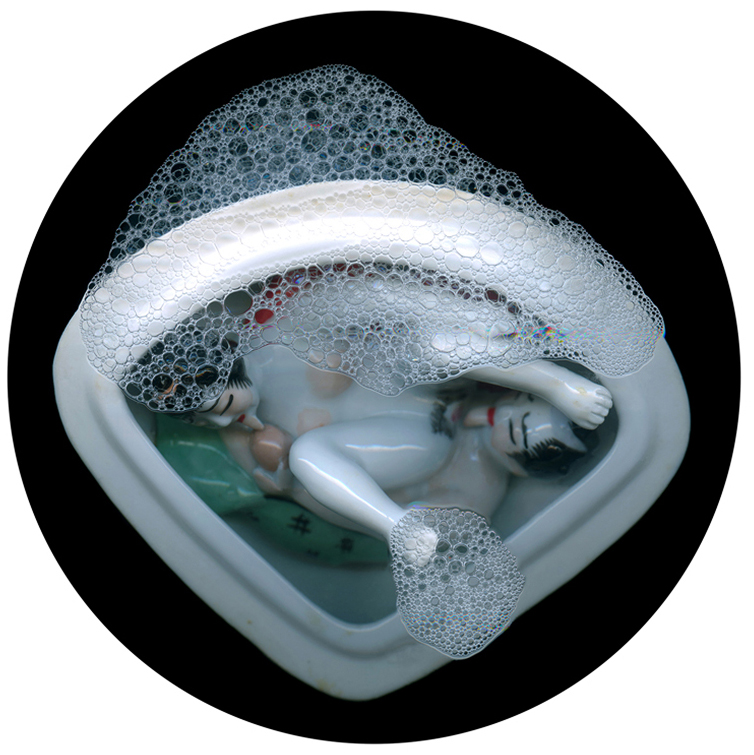 Angki Purbandono's "If You Give Me Lemon, I'll Make Lemonade: Tales from Tokyo and Tangkahan" is on view at Mizuma Gallery, Singapore, until October 29, 2017.