Hong Hao's "New Works"
By Catherine Li
Born in Beijing in 1965, Chinese conceptual artist Hong Hao is acclaimed for his projects cataloguing and manipulating readymade materials that reflect his critical engagement with contemporary China's consumer society. His well-known bodies of work include Selected Scriptures (1992–2012), in which he made prints of maps with rearranged country names that challenged people's preconception of books as authoritative sources of correct information, and My Things (2001–12), where he scanned every object that he had purchased and assembled these unquantifiable images together in an annual account-book style to document the rising consumer culture in China.
Pace Hong Kong's recent exhibition of mixed-media works created by Hong in the past two years revealed his continuous interest in reflecting on the social relationship between people and commercial products, with works selected from four ongoing series: Reciprocating (2013– ), Everchanging Appearance (2017– ), The Realm of Matters (2021– ), and Micro Sentence (2022– ). In Everchanging Appearance No. 32 (2022), geometric shapes of various patterns and sizes appear harmoniously arranged on the canvas in monochrome white. Taking it one step further from his My Things series, Hong fills the outline of everyday objects with white acrylic paint on a canvas, leaving only protruding shapes after the paint solidifies. By effacing their designs, Hong completely erases the objects' social characteristics and materiality, thereby shattering the seemingly inseparable relationship between people and consumer products in contemporary society.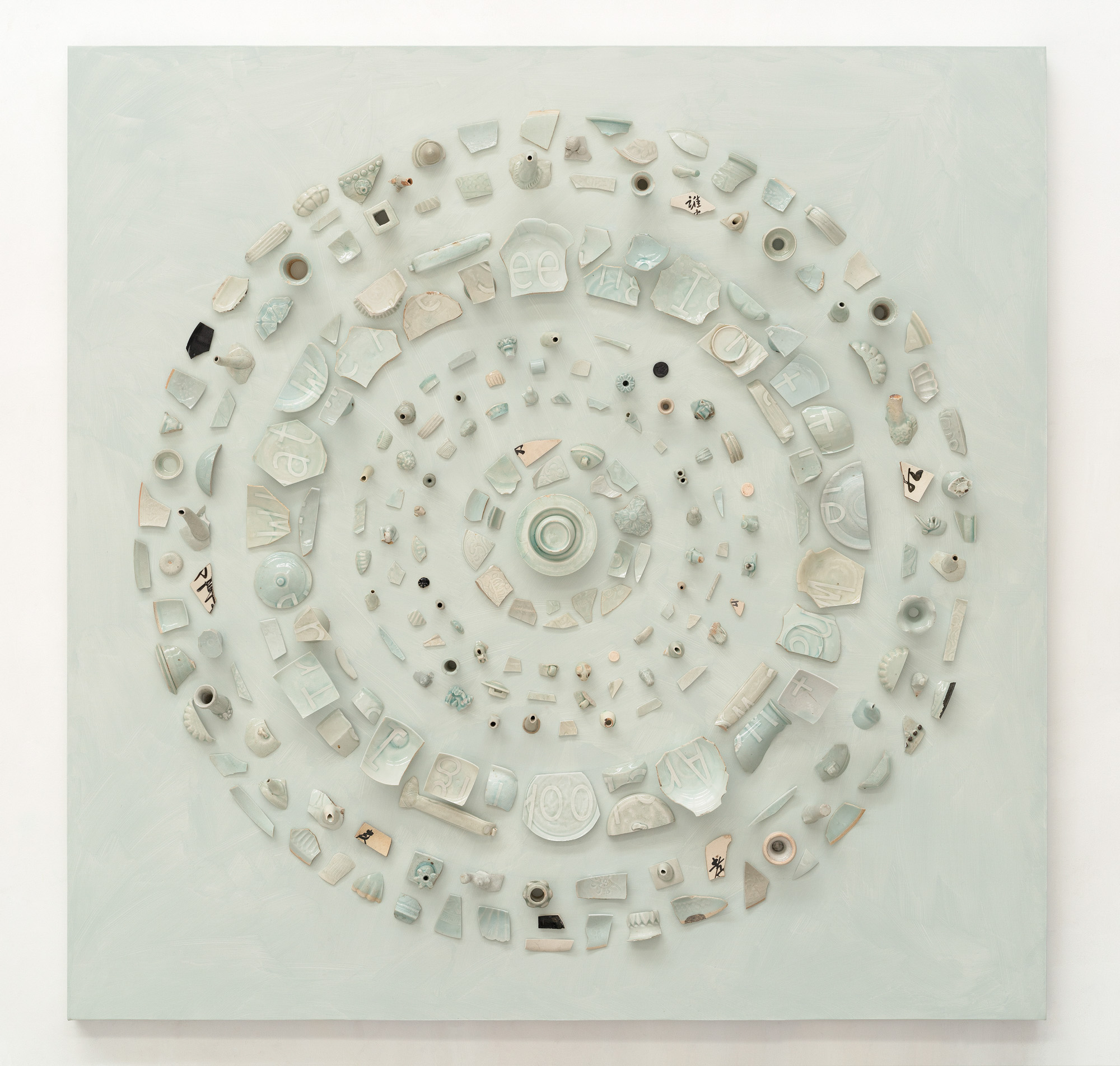 Applying a similar assemblage arrangement in his work The Realm of Matters No. 12 (2021), Hong organizes porcelain fragments of various shapes and sizes in concentric circles on the canvas. Glazing the shattered pieces of one of the rings with the phrases, "What we are seeing is not true / What we are looking [at] is true," he forces the viewers to step in close to recognize the letters and decipher their meaning. These celadon were bought online from an antique trading platform. Their changing identities—from their origins in the Song dynasty as functional objects for royalty, to later artifacts of significant historical value, and then to commodities traded and collected by the public—reflect how objects' cultural and material values shift over time.
The embedded sentences in The Realm of Matters series anticipated Hong's newly adopted practice of using English quotes in his latest Micro Sentence series. Following a similar practice to Everchanging Appearance No. 32, by filling acrylic paint in the mold, Hong inserted the phrase "Commodites are the opiate of the people" on the canvas, and then splashed paint of various colors on top of the letters to create a dripping effect. Alluding to Karl Marx's famous maxim about religion, the work serves as a direct critique of commodities and completely abandons the use of objects as signifiers. In an interview with the New Century Art Foundation, Hong spoke about his views on consumer culture, saying: "I think one change brought by globalization is consumption as strategy, which becomes the impetus for constructing social development. The concept is constantly magnified. Values that pursue material lives obtain a normalized logic. A relationship of reliance between men and objects is strengthened. This constitutes our contemporary life and cultural scene . . . You can't act on your own and decide for yourself."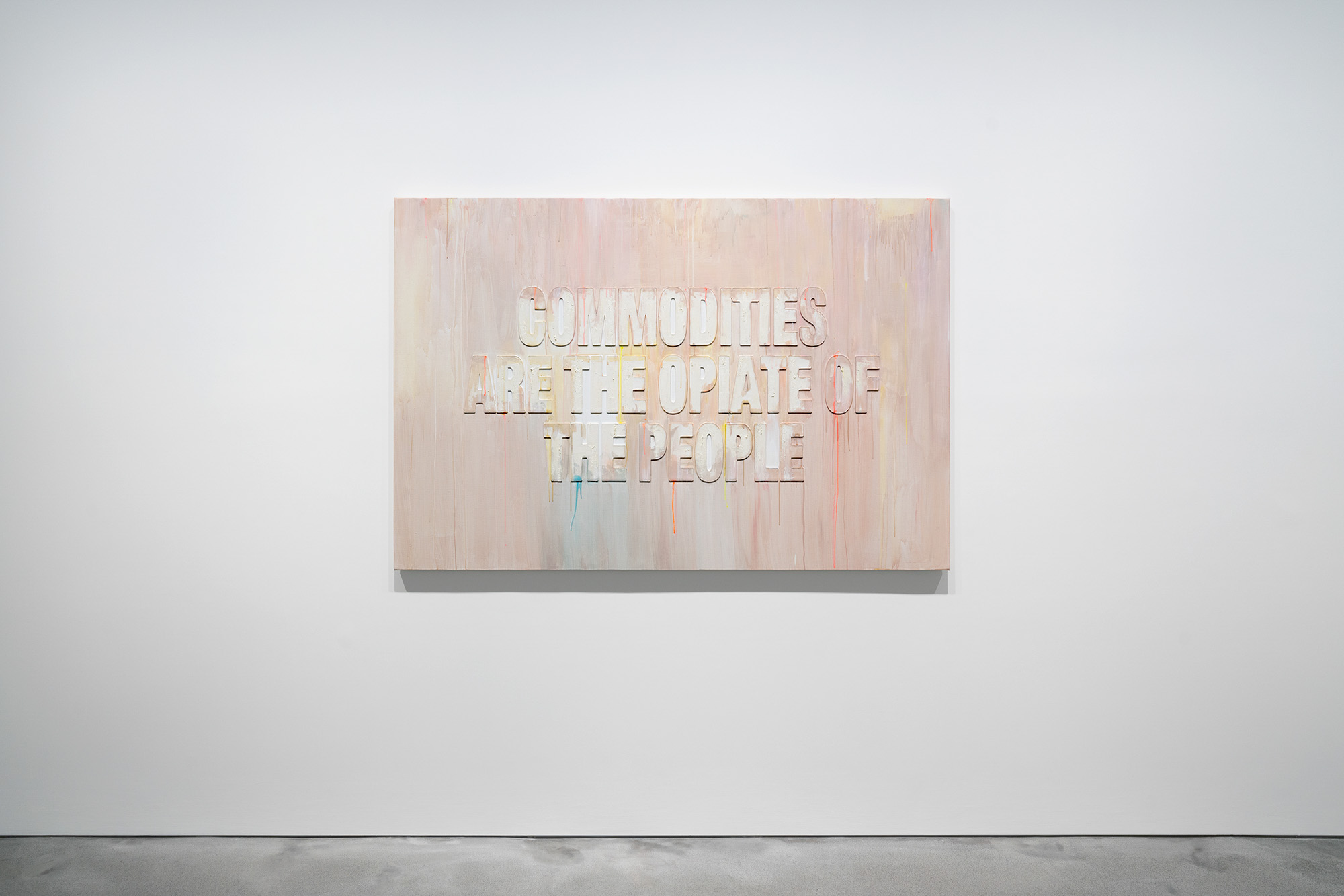 Although the title of the exhibition, "New Works," did not provide much information to viewers, and the works from different series might seem disconnected from each other at first glance, a hidden thread of transition can be traced throughout the nine works on display, from Everchanging Appearance's abstract rendering of his previous series My Things, to cultural relics as readymade assemblages in The Realm of Matters, and then to Hong's latest use of text in Micro Sentence. By adopting various mediums and new ways of expression in recent years, Hong challenges viewers to jump out from our role as passive consumers to think about the objects that we buy and use, how our everyday life is inseparable from commerce, and the social system that generates and fuels our endless materialistic desires.
Hong Hao's "New Works" was on view at Pace Hong Kong from September 30 through November 10, 2022.
Catherine Li is ArtAsiaPacific's editorial intern.