Obituary: Gaylord Chan (1925–2020)
By Pamela Wong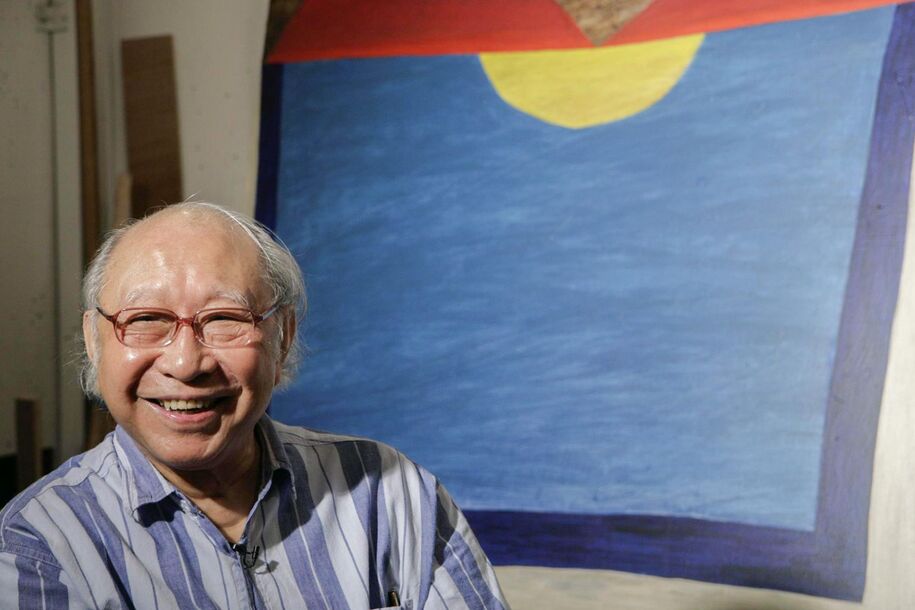 On June 22, Hong Kong Society for Education in Art announced on Facebook that the city's renowned artist Gaylord Chan has passed away at Kowloon's St. Teresa's Hospital, aged 95.
Born in Hong Kong, Chan was a beloved figure in the city's art community. Originally an engineer, he did not start painting until the age of 42. He enrolled in the University of Hong Kong's visual arts program in 1968, shifting from his study of electric waves to forms and colors on canvas. He studied under numerous creatives figures, including architect Tao Ho, and artists Laurence Tam Chi-sing and Hon Chi Fun, among others. After joining Hong Kong Arts Centre's Visual Arts Committee in 1972, he cofounded several art organizations which played a key part in the city's art development, including the Hong Kong Visual Arts Society in 1974 and the Culture Corner Art Academy in 1989.
Chan's expressive, vibrantly colored abstract paintings are often layered with his child-like imaginations. One of his most well-known works is the large-scale wall relief Swift and Safe (1997), installed in the underground MTR tunnel connecting Hong Kong station and Central station, where the city's key business district is situated. The nine-meter-long wall-mounted paper cut style relief depicts a rocket flying in a yellow sky amid hovering satellites. His practice came to a pause after a major lung surgery in 2001, when he could no longer stand for long periods of time. Despite this, he persisted and eventually embraced digital painting during the early 2000's, utilizing Microsoft Paint to draw geometric shapes. He went on to make abstract digital prints in the 2010s, which were later displayed along with his earlier acrylic-on-canvases such as Triangle Strings (1987), Green Wings (1989), and Half Yellow Moon (1989), in his 2017 solo exhibition "Painting at 90," at Hong Kong's Hanart TZ Gallery.
Chan has exhibited internationally and was the recipient of numerous awards, including Member of the Most Excellent Order of the British Empire in 1986; Hong Kong Artists Guild's Artist of the Year in 1990; a Bronze Bauhinia Star, conferred by the government of the Hong Kong Special Administrative Region in 2013; and Honorary Fellow of Hong Kong Arts Centre in 2019.
Chan once stated that authenticity is the most important factor for an artist, during his 2014 interview with RTHK, and his passion has inspired many to enter the field. Several of these artists expressed their sorrow on Facebook, including Ho Sin Tung, who reflected on her time at Culture Corner Art Academy, saying, "When I was little and my mother came to pick me up from my drawing class, Mr. Chan told her, 'Even though you can't become a millionaire just by making art, you are doing what you want to do.' It was his words that persuaded my mother to support me to go into the arts." Artist Bouie Choi also reminisced about being encouraged by Chan when she received an award at her graduating exhibition at Chinese University of Hong Kong in 2009, when he was one of the jury members.
Perhaps it is Chan's good spirit that is most remembered. Speaking to AAP, Hanart TZ Gallery founder Johnson Chang recalled: "He impressed friends as invincible, despite having lost two-thirds of his lungs and suffered numerous operations on other organs . . . on his deathbed, I couldn't help thinking of the 'soul experiment' he proposed some years ago: that we should immediately check our electric wrist watch to see if the second hand misses a beat as his soul spirits pass us on the way to oblivion. Alas I now use an iPhone and must take it on trust that Gaylord has had his last laugh."
Chan is survived by his wife Josephine Chow.
Pamela Wong is ArtAsiaPacific's assistant editor.