Color Change of Installation Sparks Controversy in the Philippines
By Angelique Santos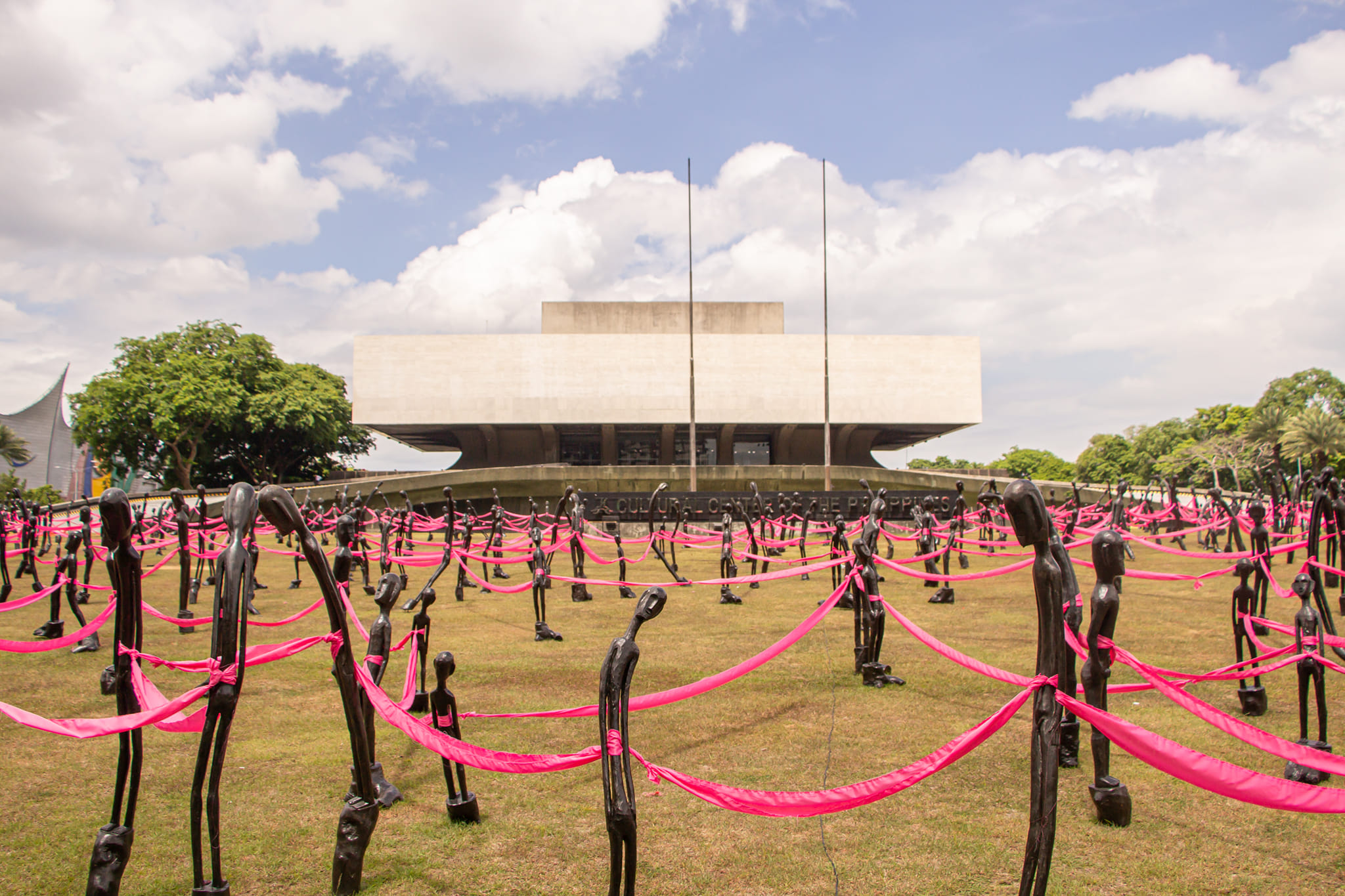 On May 9, the Visual Arts and Museum Division (VAMD) of the Cultural Center of the Philippines (CCP) released a statement on its official Facebook page in support of Jinggoy Buensuceso's artistic intent to convert the color of the ribbons from red to pink for his installation KAINGIN (2022), currently displayed on the CCP's front lawn. The post countered a previous address released on the CCP's own Facebook page just two days prior, which had called the alteration an "unauthorized action" that violated election rules during the country's 2022 presidential election, as the color pink is associated with the candidate Leni Robredo's political campaign.
Backed by Chris Millado, vice president and artistic director of the CCP, VAMD's latest statement clarifies that the change was made by the artist himself through a proposal, which has been approved by Millado. For his installation, Buensuceso transformed the front lawn of the CCP with over 1,000 sculpted bululs, which are figures made of molded fiberglass infused with soil, burned debris, and dust collected from areas in the Philippines that have encountered serious environmental strife. During their debut on April 30, the figures were intertwined by red ribbons, but a week later, the artist decided to convert the color to pink to celebrate "flame of renewal, hope, and love for Motherland," according to his proposal. The statement also stresses on the "responsibility of curators and arts administrators . . . to defend [the artist's freedom of expression] and ensure a safe space for artistic creation, development and appreciation."
In an earlier Facebook post dated May 7 on the CCP's official page, the Center proclaimed that it "disavows responsibility for the unauthorized action taken to deck the front with ribbons donning the color associated with one the presidential candidates" and accused it as a "blatant and brazen violation of election rules." The CCP also stated that as a government institution, it "will never engage in any partisan activities specially during elections."
While the artist did not express any political opinions, and the VAMD insisted that the change was "without prejudice to the election campaign," the act led to speculations that it was made to support Robredo's campaign, since the ribbons were replaced on the last day of the arduous presidential election season in the Philippines.
Owned and controlled by the government, the CCP must adhere to the Civil Service Commission (CSC) under which civil servants are forbidden "to engage in electioneering and partisan political activity." Acts that display materials designed to "support or oppose the election of any candidate or party" are therefore considered prohibited under the 1987 Constitution and other laws and statutes.
The color transition was executed on May 7 but was soon dismantled before midnight that same day "in keeping with the [Comission on Elections] rules," said Buensuceso in a now-expired Instagram story. The installation, stripped of any ribbons, is on view on the CCP's front lawn until May 30, 2022.