The New Arter and Its Inaugural Exhibitions: Part 2
By HG Masters
The vertical proportions of Arter's new Istanbul building means lots of cubic space in the interior. One unique feature is a two-story wall that runs from the central lobby to the exhibition spaces below. How, or if, Arter's curators will use that space consistently is hard to imagine, but they employed it like a blank canvas for Barış Doğrusöz's installation Interstices, a dizzying array of combinations (2018). The piece consists of 47 sculptures based on architectural embrasures (openings for weapons to be fired from) taken from concrete guard posts, or pillboxes, that are ubiquitous in the highly militarized city. By transforming them into abstracted shapes, and mounting them on the wall, they become their opposites: transparent, diagrammatic, civilian, and devoid of architectural and historical context. In their serial presentation, they recall minimalist sculptures despite being a catalogue of crude, and cruel, forms. Perhaps coincidentally, the first work shown in the double-height street-level space at Arter's previous home on Istiklal Caddesi was Michael Sailstorfer's life-size inflatable T-72 (2007) tank, a similarly one-to-one scale rendering, and inversion, of military technology. In Doğrusöz's case, Interstices is a reminder of the region's fiercely contested borders and the many unseen soldiers watching the world from within these boxes.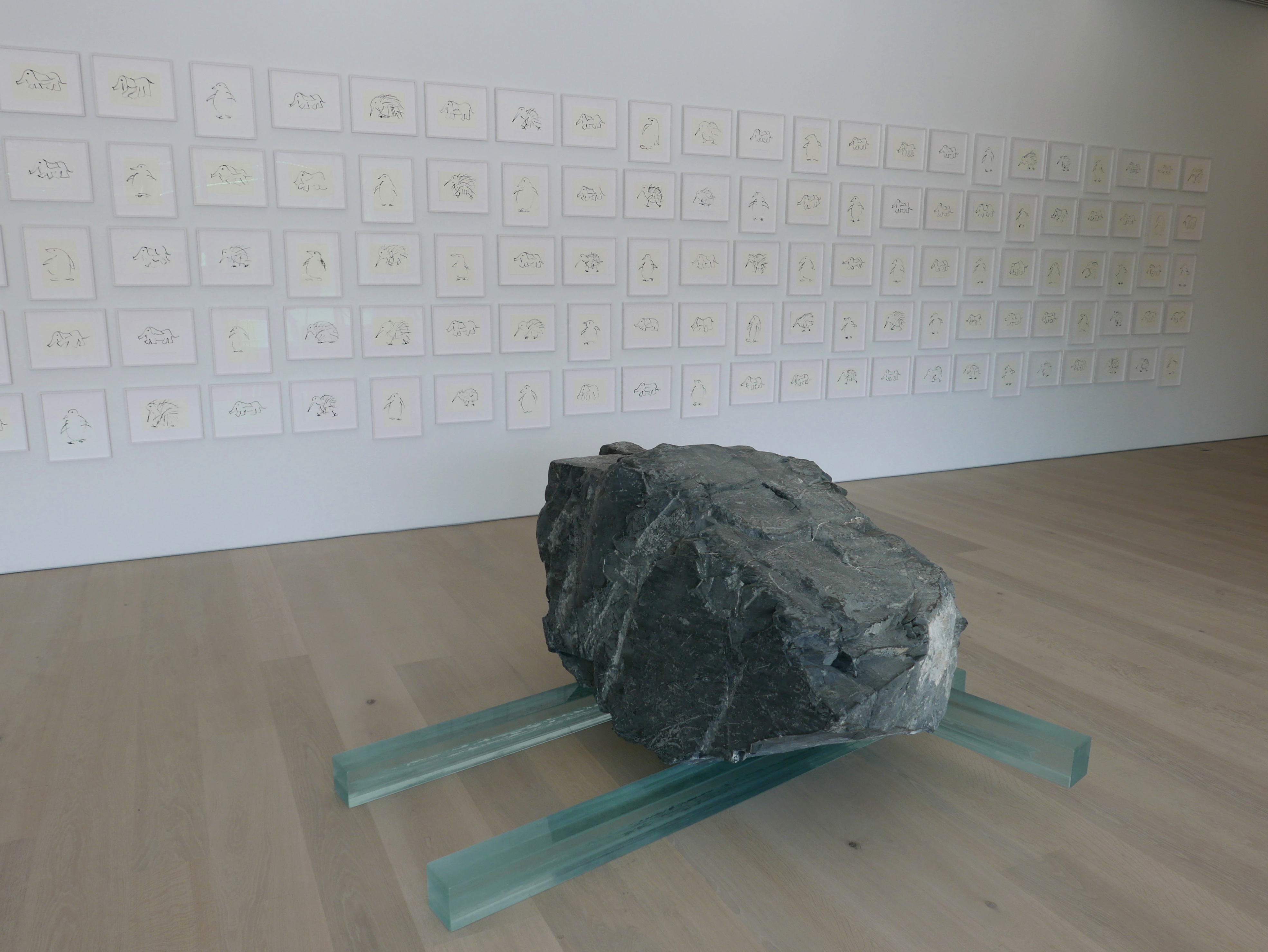 Ayşe Erkmen makes artworks around and about her exhibitions—and Arter's new premises offered plenty of material. The names of the buildings on the boulevard outside became part of a recently conceived installation that filled the space with digitized whistling sound; a lightly polished giant rock found during construction was placed on top of three glass slabs, a layered reference to Erkmen's past projects involving stones and boulders. Older projects were revived: a new panel was added to her 50-year-old series of colored plexiglass sheets cut to the shape of the exhibition space each time the work is shown; from an iconic 1981 installation in Istanbul, 15 rocks were affixed to the floor with colorful tape around the galleries. Several works were re-adapted using Arter's space, including Das Haus (1993), for which Erkmen had the light panels lowered from the high ceiling to between one and two meters above the floor. Portiport (1996) was reconfigured with metal detectors placed at the top of the stairs leading up from the gallery below, and between two of the gallery spaces on the same floor, transforming the space and their function so that they announced viewers' arrivals. With 17 projects in total, "Whitish" felt too crowded for so many conceptual works bearing strong material similarities. The exhibition reminded me a little of a zoo (a place Erkmen herself has explored in past works), as if her works had all been brought in from their diverse original contexts and were now cohabiting awkwardly in one shared space—a feeling perhaps doubly reinforced by the 120 ink drawings of animals in Elephants, Penguins, Kiwis (2018), mounted on a wall adjacent to the taxidermized Dalmatian pelican standing on a pedestal moving back and forth through an entrance into the gallery.
Ayşe Erkmen's "Whitish" is on view until April 19, 2020.
İNCİ FURNİ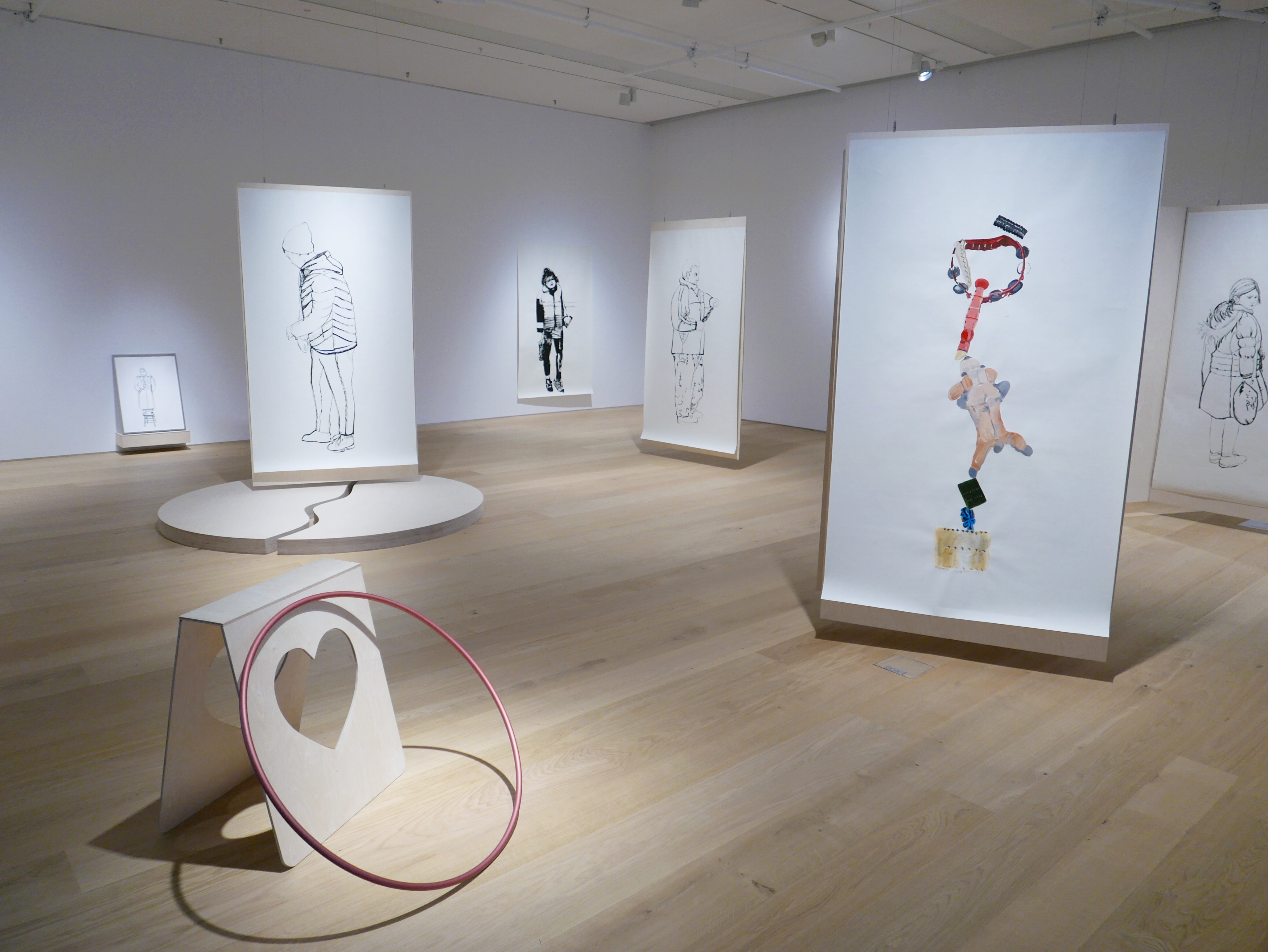 İnci Furni has a virtuosic touch with a paintbrush, capturing forms with minimal strokes in a precise but not precious manner. If the watery paint bleeds, or the brush runs out of pigment mid-stroke, so much the better. But in her exhibitions, she's never appeared content to present her two-dimensional works as stand-alone paintings unto themselves. So while "She Waited for a While" featured at least ten large paintings on paper—full-length portraits in black acrylic of figures in winter coats, and a couple in color of stacked objects, as well as smaller watercolor sketches—the large ones were mounted to plywood boards hanging at various angles in the space of the gallery, so that they appeared like characters and objects plucked from a larger urban scene.
The relationship between the world and how it is signified in art is a question that Furni seems to be mulling over intensely—particularly in the context of the new Arter building, where in a subterranean gallery, her works were completely cut off from the outside urban environment. Her two-channel video, I Found This On the Way (2019), shows the artist rearranging small objects (bought from the Dolapdere flea market behind Arter's building) on a tabletop—stacks of paper cups, a piece of rope, pair of sunglasses, fruits, plastic toys, a latex glove—while reciting a stream-of-consciousness set of words. The ordinariness of these echoed George Brecht's Chair Events (1969), being shown in the collection show upstairs—where mundane objects (can of paint, shoes, plant, bread) and a chair are presented as sufficient for a performance of an unspecified action and duration—except in Furni's case, she recorded herself arranging things and words, in space and time, in a manner that is neither narrative nor absurdist but quite concrete, in what she describes as her effort to "reify" the objects. To that end, there were seemingly ordinary hula-hoops placed around the room, except for the blue one hanging high on the wall with a spotlight trained at it. There, it becomes a symbol, an abstract shape of a circle. By the door was a video of Furni interacting—collaborating, or dancing, perhaps—with the automatic sliding panel, highlighting her interest in this threshold, about who and what goes into a space like this, and how renderings of things and people come alive in and through artworks.
İnci Furni's "She Waited for a While" is on view until February 23, 2020.
ALTAN GÜRMAN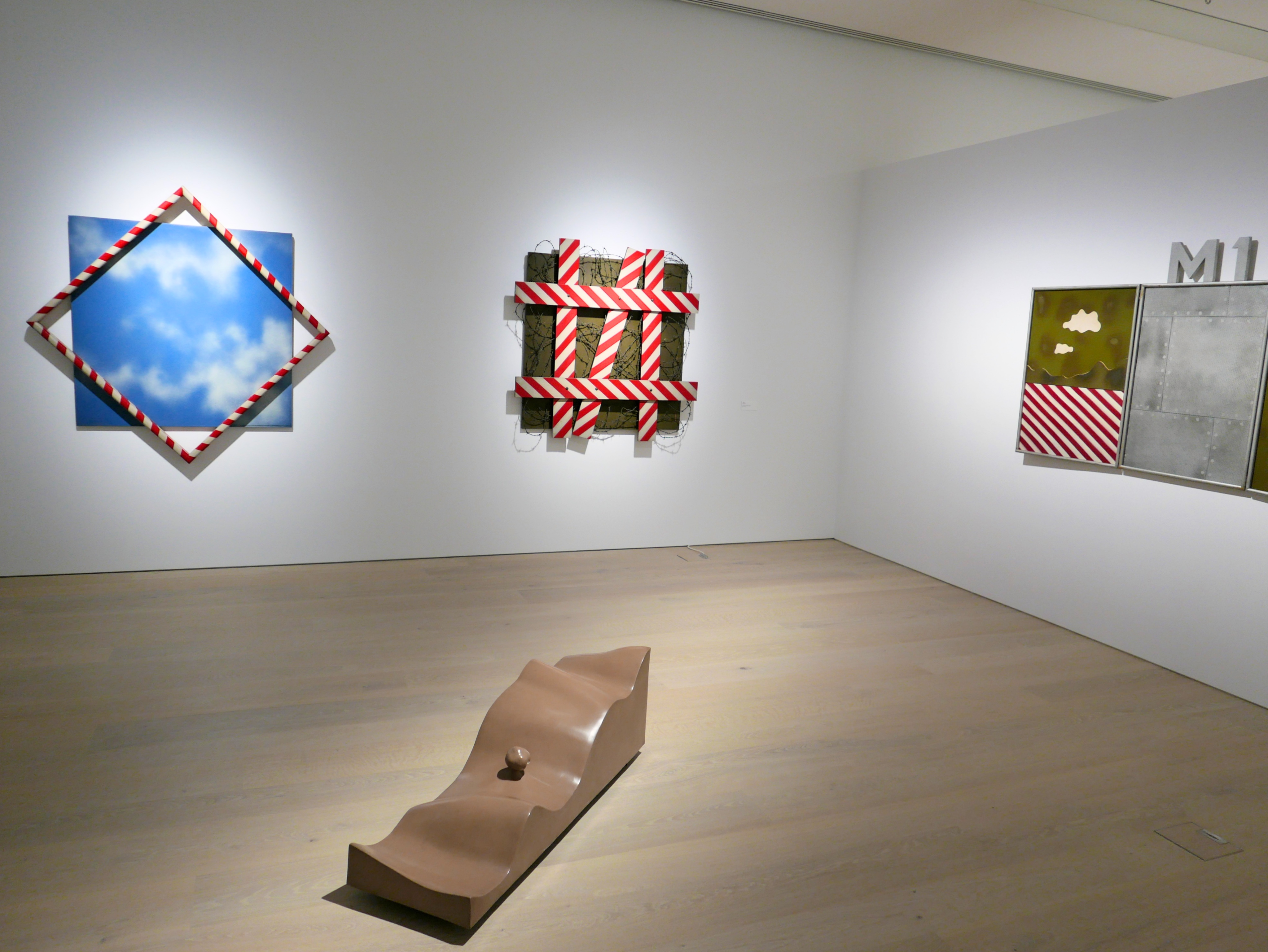 In some chronologies, Altan Gürman (1935–1976) is identified as the first contemporary artist in Turkey. He also held only one solo show in his lifetime, at the Turkish-German Cultural Center in 1967, a largely overlooked exhibition mounted after he returned from studying in Paris. Yet, the boldness of the works presented there—particularly the Montage (1967) series, in which he used barbed wire, white-and-red striped boards, and spray paint in a striking fusion of Marcel Duchamp, European postwar painting, Pop Art, and Turkish military aesthetics—had a delayed, posthumous impact on the art scene in Turkey and is still very evident in Arter's retrospective of his works from 1965 to 1976, curated by Başak Doğa Temür. The triptych Montage 1 bears the alpha-numerals M1, echoing the American military rifle, on the top, and combines cut-out cardboard shapes referencing clouds, hills, and trees, with the striped military pattern for "off-limits" and a central, spray-painted panel resembling gray perforated metal. While Gürman's Montages are his best known works, the exhibition featured many of his later, pared-down, abstracted landscapes made with cut-outs, stencils, and spray-paint; his mid-1960s series of paintings of statistics like the annual potato yield, and graphical renderings of crops; and his sculptural forms of a figure called Pierrot, who looks like an armless soldier or chess pawn. Most influential as a professor in his lifetime, the exhibition highlights this history with materials and slides that Gürman used at the Istanbul State Academy of Fine Art. As part of efforts to expand the examination of this formative artist, Arter collaborated with SALT on digitizing his archive, which is now online. The show's final completed work Padded Panel (1976), depicts a silhouetted figure at a desk with a phone next him. The crimson background is rendered in studded leather, like a plush armchair, suggesting the artist's ascension in the ranks of Turkish society from artist-as-mere infantry soldier to state bureaucrat.
Altan Gürman's retrospective show is on view until September 6, 2020.
An article that looked at the exhibitions of Arter's collection was published earlier.
HG Masters is the deputy editor and deputy publisher of ArtAsiaPacific.
To read more of ArtAsiaPacific's articles, visit our Digital Library.