Atong Atem's "Everything in Remission"
By Michaela Bear
Bright colors punctuated South Sudanese artist Atong Atem's solo exhibition at Melbourne's Gertrude Contemporary. "Everything in Remission" featured photographs and collages with backgrounds of electric hues and figures dressed in contrasting, boldly patterned clothing, in celebration of the artist's African heritage and life's vibrancy.
Visitors were welcomed into the exhibition by Atem's proud parents, photographed in bright blue outfits. While Atem often photographs friends and family in her practice, Wundut, Mandut (2022) is one of the artist's first exhibited images featuring her mother and father, emphasizing the personal nature of this body of work. The photograph captures the pair neatly posed outside their house in front of orange and turquoise fabric hung from a clothesline. This informal setting creates an inviting warmth, which was present within all three exhibited photographs of Atem's parents. The image's title refers to their formal names in Dinka, honoring their heritage and importance within the artist's life.
In some works, Atem digitally manipulated color to create new layers of meaning. The artist is fascinated by science fiction and Retrofuturism, often creating her own empowering and surreal worlds and personas that express nuanced lived experiences in ways that aren't possible in documentary photography. Her portrait Infrared Mandut, Wundut (2022) features Atem's parents sitting side-by-side, their outfits now a lurid green. Their composed faces remain unfazed by strange lilac and teal surroundings. The artist's digital manipulations reference infrared technology used to detect wavelengths of light that are invisible to the naked eye, offering unseen perspectives. Through this unsettling effect, Atem alludes to the hidden realities in the story of her subjects. Both her parents had a strong political presence during the People's Liberation Movement in Sudan's second civil war. Within this portrait, the artist acknowledges their strength in enduring war-torn South Sudan and subsequently immigrating to Australia after spending time in a refugee camp in Nairobi when the artist was a child.
Mandut, Wundut 1 (2022) restores Atem's parents' clothing and the backdrop to their original hues. The work is cropped to focus on the figures' facial expressions to create a more personal encounter. A hint of a smile on their lips dissipate the disturbances from the "infrared" portrait. They appear to be gazing at Atem's collaged memories and motifs on the opposite walls.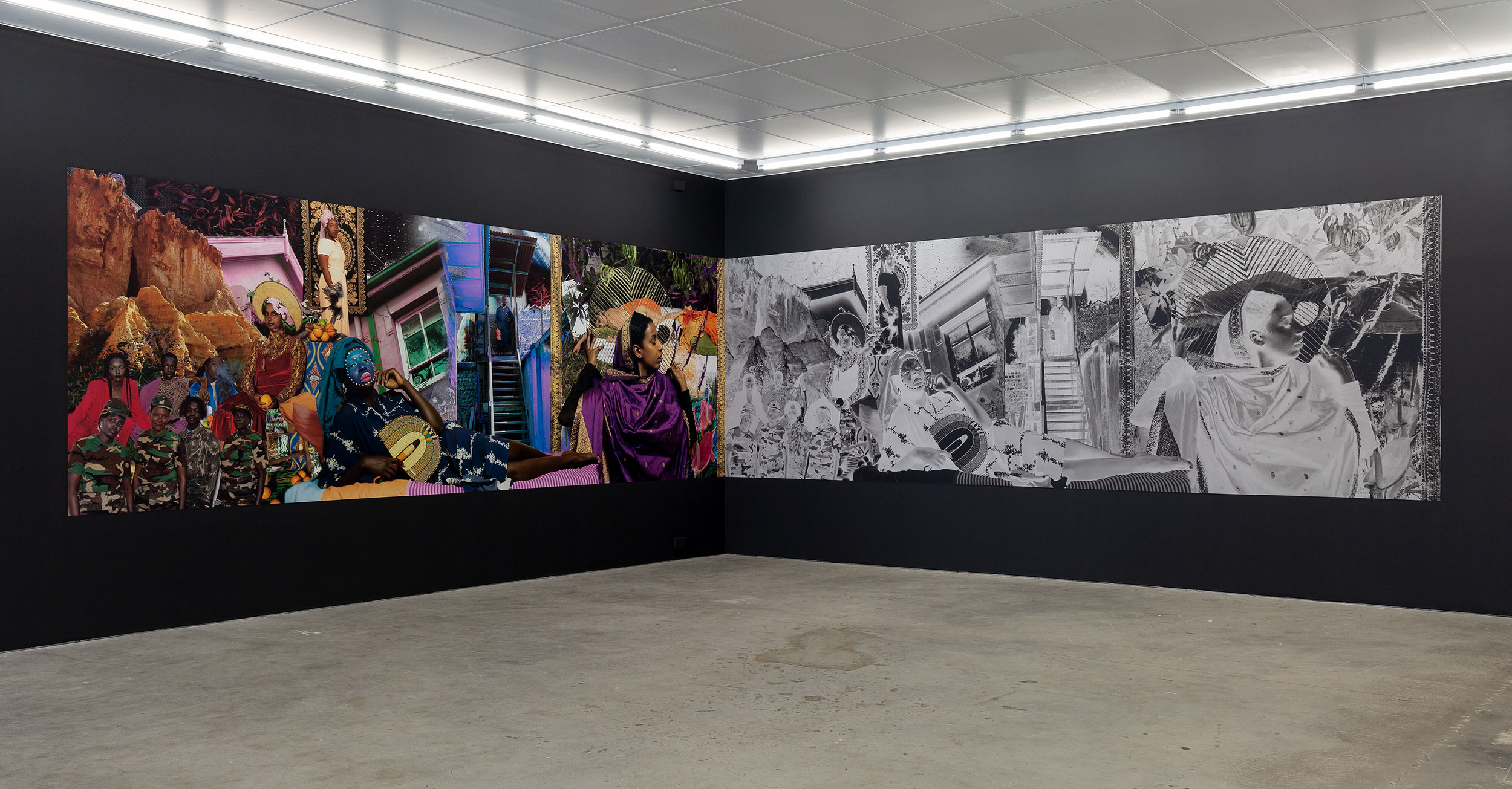 These two six-meter-long, dynamic constellations of texture and form embody the artist's description of her practice as a collective self-portrait. The vibrant version titled Everything in Remission (2022) and its color-stripped and reversed counterpart named Sometimes in Retrograde (2022) amalgamate images that Atem collected over a decade. These include images of family, friends, herself, and others who appear in front of various architectural features, flora, fauna, and rich fabrics. While Everything in Remission evokes the vivacity of the present, the black-and-white version of the collage dehumanizes the depicted figures into ghostly shapes and textures, their vibrancy drained and gazes lost in a haze of gray, eliciting the intangible past. Unlike Atem's often highly-polished compositions, these roughly spliced-together fragments have been likened to stream-of-consciousness writing, or reflective journal entries. Her dream-like assemblages provide a source of inspiration and comfort for the artist by embracing the rich, multifaceted aspects of her identity. Meeting together at the corner seam of the wall, the two collages immersed the viewer between these introspective existences.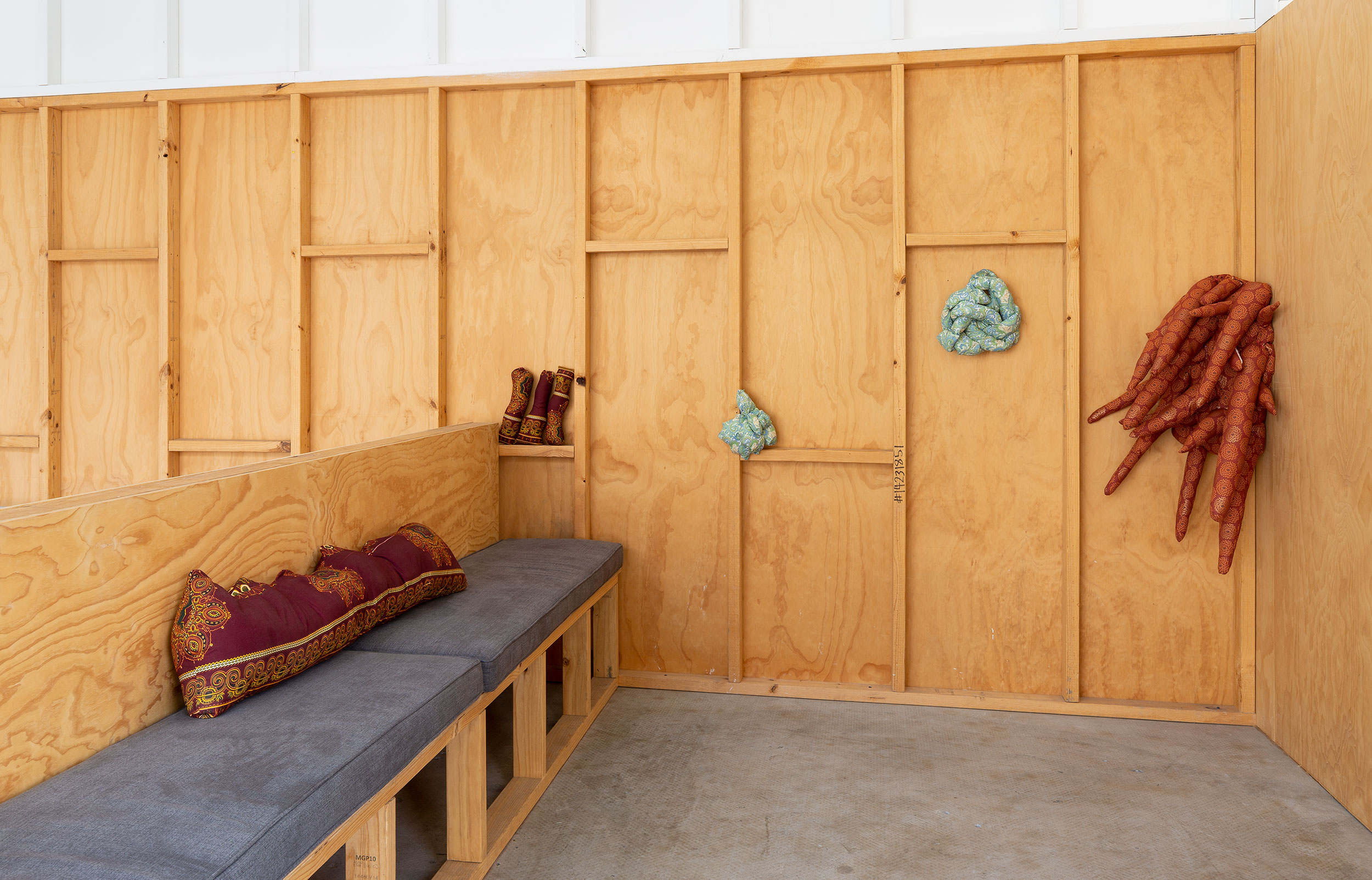 Abstract organic forms sprouted from wooden surfaces in a hidden gallery nook, revealing an unexpected tactile side to the artist's predominantly digital practice. The patterned fabric covering them, commonly seen in African clothing, has appeared in photographs previously taken by Atem. These soft sculptures made comforting additions to her intimate, self-reflective works.
While "Everything in Remission" referenced Atem's lived experience as a South Sudanese woman in Australia—an intrinsic part of her identity—the works also pointed to a distinct humanness that we all share. Together we navigate a sense of self and meaning within our vast inner and outer worlds by embracing moments of expressive reflection, and showing gratitude for those we love.
Atong Atem's "Everything in Remission" is on view at Gertrude Contemporary, Melbourne, until March 27, 2022.