Artists Wonder "Maybe we read too much into things"
By Marybeth Stock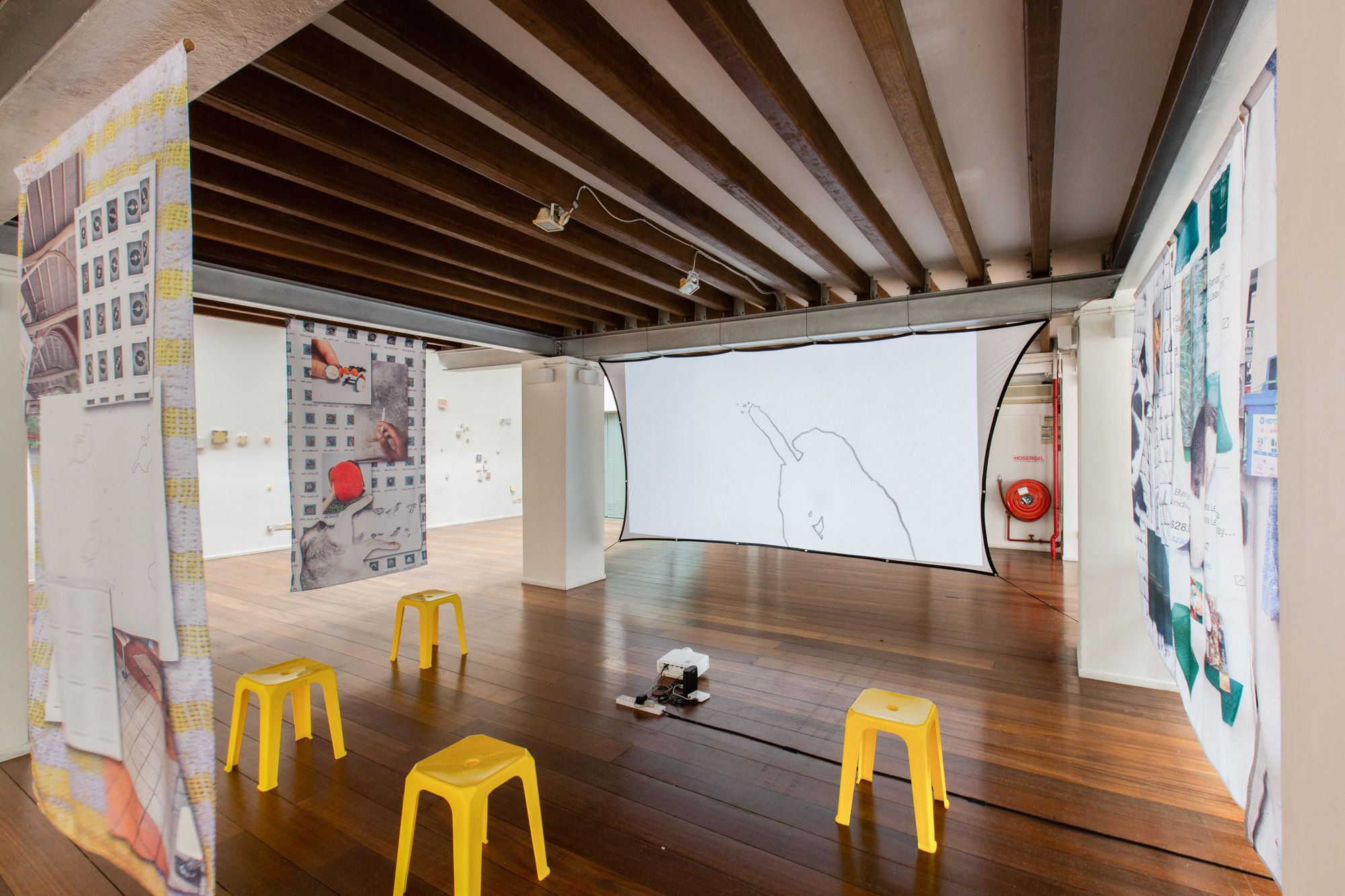 In 72-13, a former rice warehouse turned multidisciplinary art space, six emerging Singapore artists presented the exhibition, "Maybe we read too much into things," curated by artist Berny Tan. The "things" refer to everyday stuff, recontextualized via an eclectic, sometimes confounding array of assemblage, installation, and video.
In the gallery center was Ryan Benjamin Lee's Break (all works 2021), a frenetic 4-minute animation of deceptively inconsequential imagery plucked from Singapore's hawker-stalls. Lee's allusive portrait of food-centers (no food is depicted) reflects his approach of "movement equals personality," revealing a deliciously chaotic mise-en-scène of local food culture: strobing images of beer mugs, thick-veined banana leaves that food is served on, ubiquitous mynahs preying on scraps—seasoned with ashy piles of cigarette butts and stained tile floors. Hanging fabric panels, printed with visual references from the animation process, elucidated the hectic viewing experience.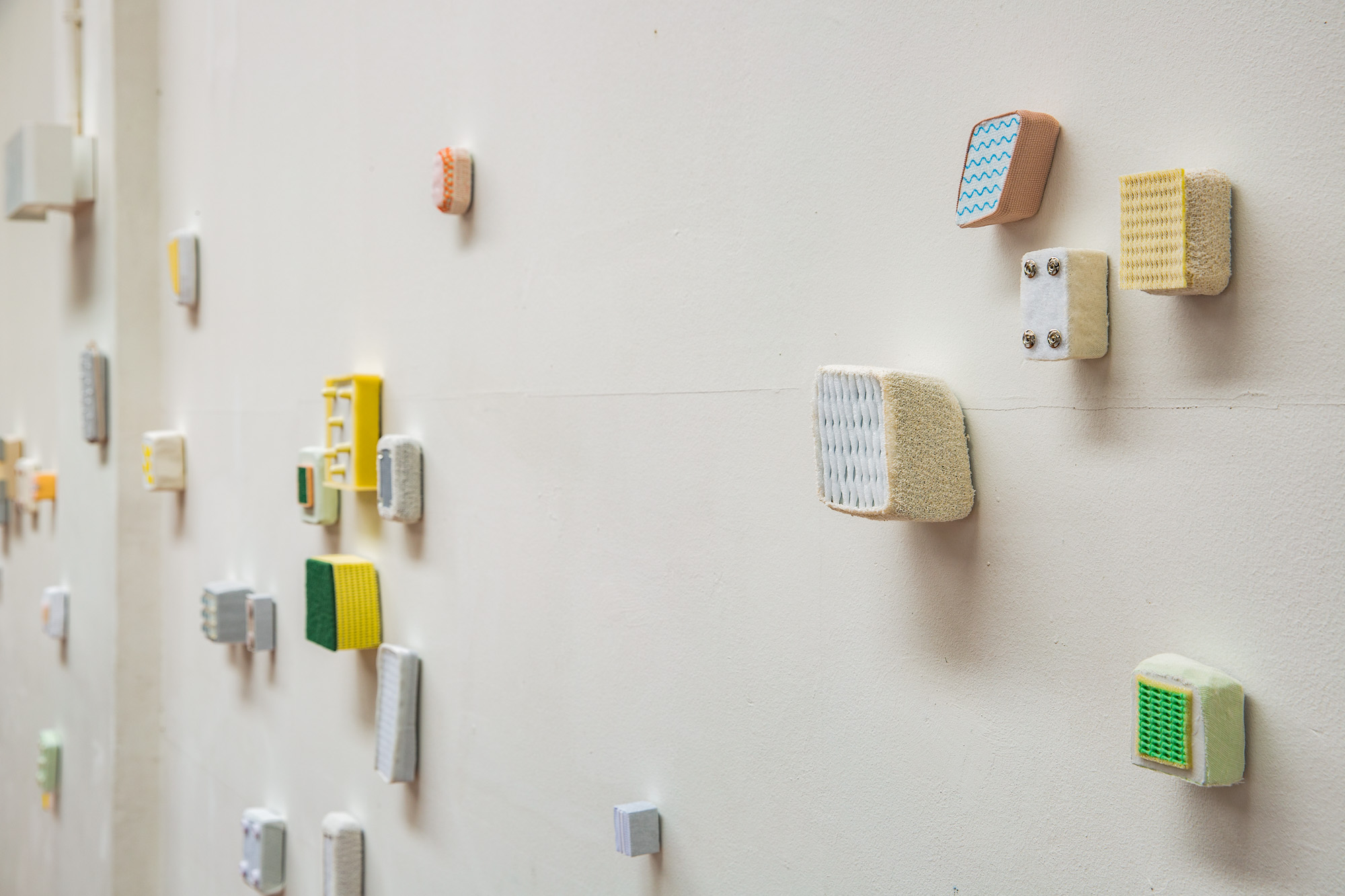 Other works were placed around Lee's installation throughout the gallery. Leow Wei Li considers A Minute of Second Glance, 60 small, mostly square artefacts sprawled across one wall, as "paintings." These reductive constructs depict the prosaic minutiae of commonplace objects, hinting—perhaps—at the underside of kitchen appliances, the geometrics of a keyboard, or an orderly packet of pills. Leow effaces any hint of context, then layers foam, elastic, felt, and rubber into painterly juxtapositions of texture and color; these are enlivened by quirky dimensional facets like tiny buckles, snaps, and plastic morsels which, collectively, arouse a beguiling, elusive déjà vu.
Nearby was Kevin Fee's video installation Always Better With Flowers, a mordant fusion of allure and anxiety. A box presents two peepholes: in one, viewers experience the sedative image of a flower; the other plays several fraught "how-to" video clips, including "installing" batteries in a banana, and stuffing fluffy popcorn into a tiny trophy cup. These exercises in futility demean the integrity of simple objects, reflecting Fee's attitude toward rules that "teach humans how to be human"—an acid reference to Singapore's incessant social-behavior campaigns that belabor the obvious.
A Tired Holder, Held and Holding by Aki Hassan incorporates five assemblages of sinuous metal tubing studded with cheerfully painted clamps and vises that discloses Aki's wordplay of "holder," as both noun and verb. Illuminated by a row of gallery windows, the glossy structures veer between languorous balance and staggered instability. Aki refers to their gestural, anthropomorphic configurations as "bodily," rather than as depicting the body, and it's easy to infer vitality and substance within the spaces enclosed, or embraced, by the slender metal poles.
Scattered unexpectedly around the gallery floor, Daniel Chong's series Absurd Intimacies involves four sculptural installations that embodies the artist's impulse to parse, then reanimate memory. Using resin and clay, Chong's pop-realism invites Instagram-worthy gratification: viewers gawk at two shaggy rugs and cast-off jeans puddled with spilt milk, cereal, and cookies. Though visually engaging, unforeseen nuances of yearning and nostalgic regret are only revealed through Chong's prosy titles, which elevate the works to droll, quasi-performative theater. To wit: A pair of worn jeans containing the replica of spilt Fruit Loop cereal forming the Monoceros constellation. (A discreet joy, lost) (An absence that found filling).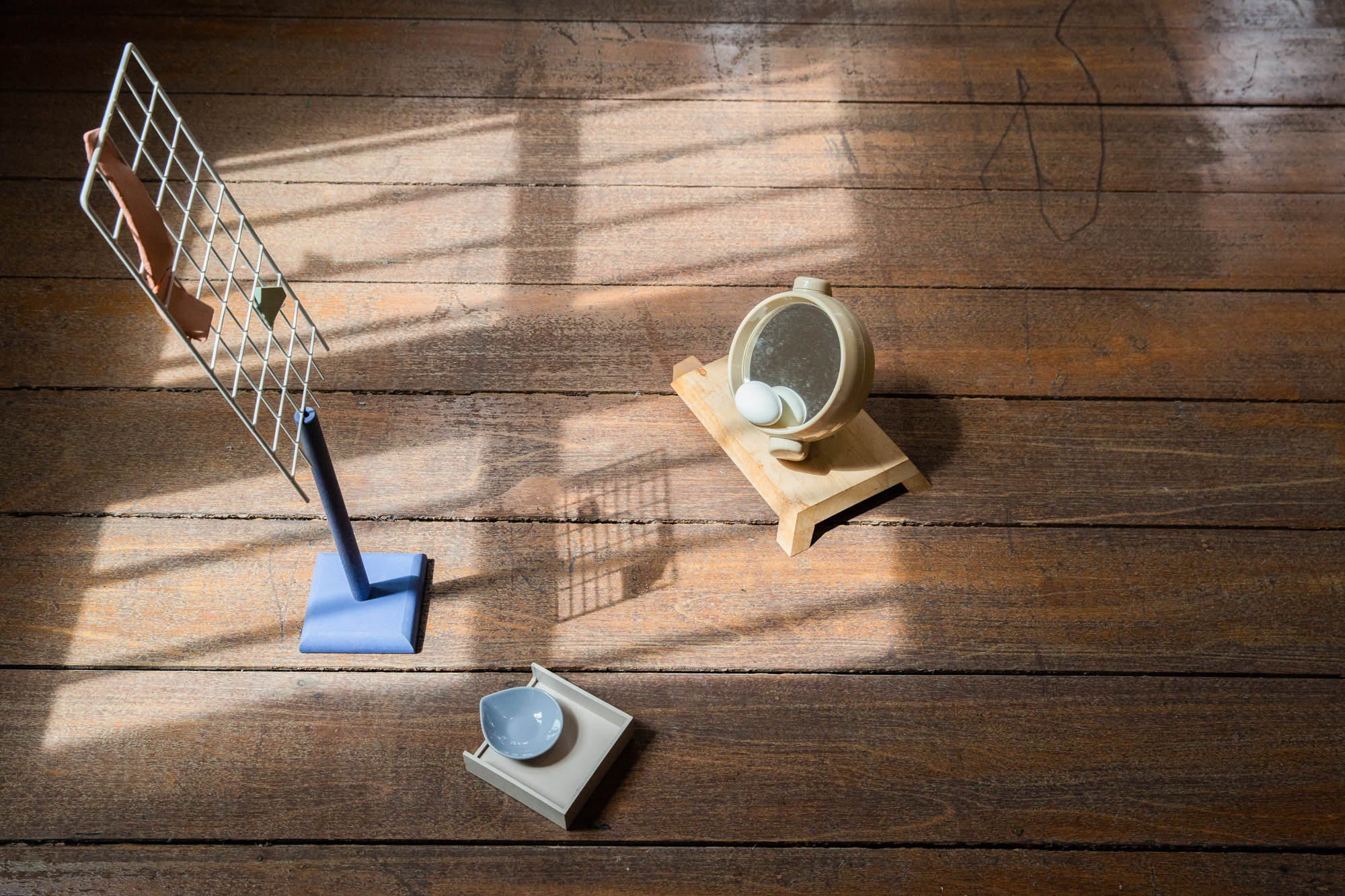 Genevieve Leong's series Tamper, gently comprises ten modest assemblages of found objects tucked in a corner. Hesitant visitors begin by approaching Evaporation, a stack of surgical gloves; after pulling on a pair, they may freely rearrange the other works, as prompted by the oblique titles and open-ended instructions in an accompanying pamphlet. Through subtle palettes and meticulously staged blocking, Leong infuses benign charm into these demure inanimations. In light changes weight changes clouds, the artist indicates a "rotatable mirror" and—rather dauntingly—"an eggshell that should not fall."
The works in "Maybe we read too much into things" ranged from "bodily" sculptures and pop imagery, to animation and the micro-cosmos of material context. These six artists do indeed read far too much into the materiality of familiar, everyday things, with canny results. Their intuitive, ambiguous conversations with the mundane—a bar of soap, a hammer, an egg—suggest that intimacy breeds imagination and, as seen here, fascinating transformations.
"Maybe we read too much into things" was on view at 72-13, Singapore, as part of Singapore Art Week 2021, until January 30, 2021.
To read more of ArtAsiaPacific's articles, visit our Digital Library.