Angela Lyn's "On the Edge of Time"
By Elaine W. Ng
At Villa Arconati-FAR, a 17th-century castle on the outskirts of Milan, a captivating exhibition featured the work of Angela Lyn. Curated by Li Zhenhua, "Angela Lyn: On the Edge of Time" comprised over 150 works, from painting to multimedia installations, made over three decades by the Anglo-Chinese female artist. Lyn spun a narrative thread among the past, present, and future—part fantasy, part autobiography—throughout the 25 rooms of the 400-year-old palazzo, all of which she named for the exhibition.
Born in England in 1955 to a Chinese father and British mother, Lyn has always embraced her cross-cultural background. Although she grew up in a homogenous British and later, an American environment, she traveled to Taiwan for a year at the age of 17, where she studied Chinese at Fu-Jen University, learned painting from a local painter, and met her paternal family. Soon after, she returned to the United Kingdom, where she enrolled as an art student at Southampton College of Art and Byam Shaw (now Central St Martins College of Arts and Design). The idea of becoming a full-time artist was unimaginable. This was the era of Linda Nochlin's seminal essay "Why Have There Been No Great Women Artists" (1971), and if it was hard enough to be a female artist in Europe and North America, it would prove even more difficult in a Chinese context. But feminist activism and the other counterculture movements of the 1970s, which liberated women artists in North America and Europe, ushered in work by other marginalized artists who explored identity politics in the 1980s. Despite the challenges, coupled with the pressures of raising three children, Lyn made every effort to continue creating art.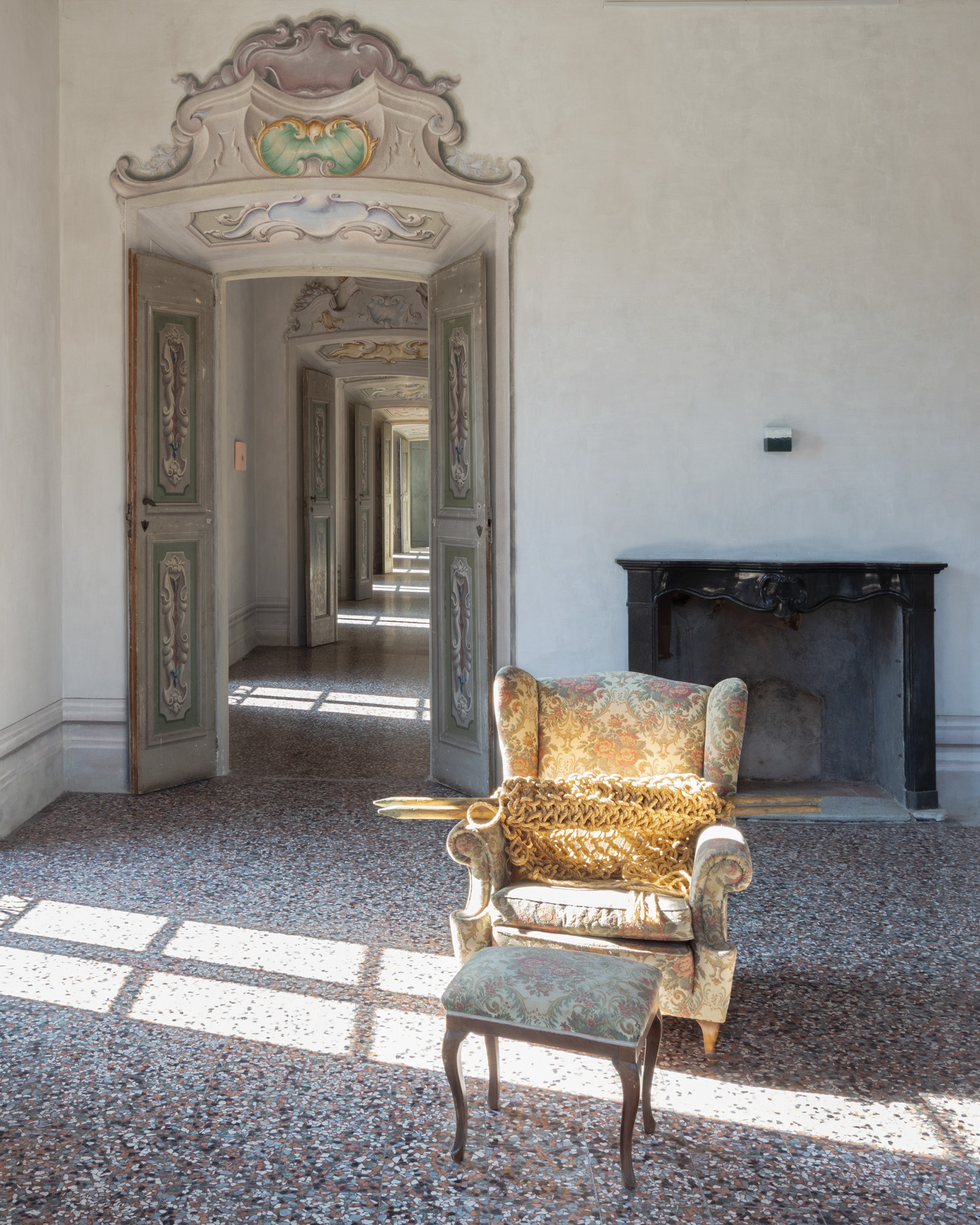 Lyn's deliberation and navigation of her identities as a Chinese woman, mother, and artist is particularly evident through her sculptures and installations in "On the Edge of Time." For instance, knitting (1994), an installation that occupied the entirety of the space that Lyn dubbed the "living room," was created during the summer of 1994 when her children were home from school, making it difficult for her to go to the studio. The installation features an oversized pair of knitting needles resting on an overstuffed armchair, during the process of producing something utilitarian. The needles, which were meticulously hand-carved from wooden sticks from her garden, were used to knit the kind of thick, unwieldy rope used for lifting heavy objects. For Lyn (or, arguably, any woman) knitting with such cumbersome materials was an act of defiance that chafes at the idea of women's handiwork as something delicate and benign. Knitting, in this case, becomes a maternal response—an act of both survival and mending, caring, and protecting. Behind the chair, one fresco painting in the corner depicts a terrified mother protecting her child against an armed soldier. Winding through the 25 rooms of the villa, the show was a glimpse into the secret lives of women across histories and cultures, including the women of Villa Arconati and Lyn herself.
Also notable were Lyn's surreal installations of found objects as well as bronze and textile work. In the "great hall of blood, sweat and salt," one encountered passenger (2021) in the vast, now empty chamber in the upper piano nobile (or what aristocratic class would call the first floor in the 17th century). This is where the Arconati family, the namesake of the villa, would entertain their important guests. The walls and ceiling of this room were originally covered in ornate frescos, with the heavens above and trompe l'oeil Baroque architecture from every direction. At the center of this glorious illusionism, Lyn placed an antique Chinese sedan chair, which felt eerily at home in this setting that oozed European opulence. The sedan chair was an image planted in Lyn's childhood imagination when her father told her how during his childhood in the southeastern Chinese port city of Xiamen, he was carried to school in such a chair, and how he loathed the experience. He described sitting in the chair with his view always obstructed. She recreated this view with a miniature curtain that concealed the small passenger window onto the world, where she embroidered a small phrase of what her father, as a young boy, would repeatedly ask the bearers who carried him: "Are we nearly there yet, brother?" Although understated compared to its privileged Italian surroundings, Lyn's installation works, like a time machine, explored historical and cultural differences of aesthetics and taste, as well as humankind's blind embrace of progress at any cost.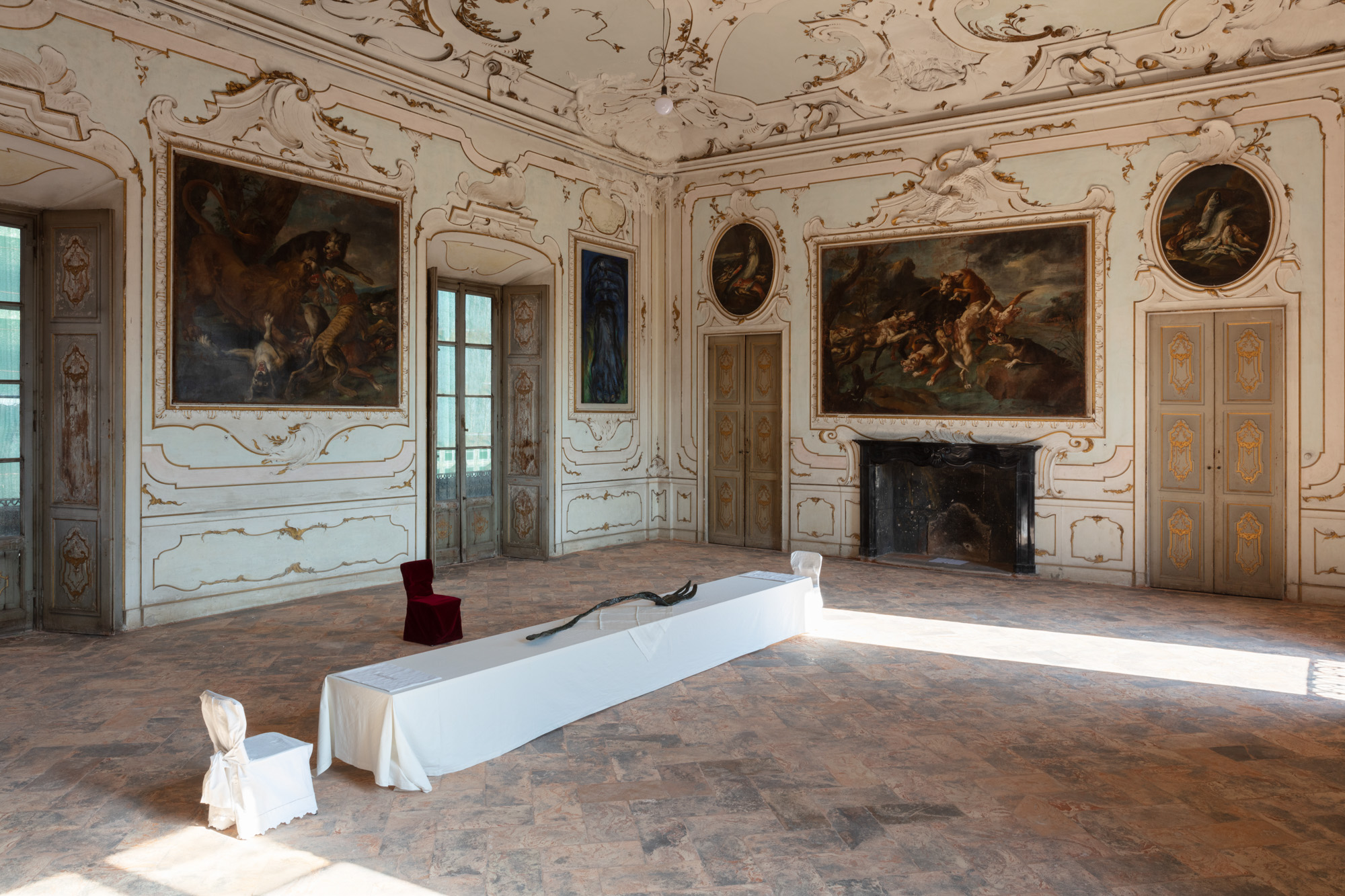 In the "hunting room" was Lyn's site-specific installation will there be enough (2021). A long, but awkwardly low dining table beckoned visitors to sit down on one of the three chairs that were more appropriate for primary school children. Her early bronze sculpture fork (1994) is a surrealistic vision of oversized cutlery that appeared to wilt in the middle of the table. The installation was surrounded by four major Baroque paintings that illustrate gruesome hunting scenes of canines devouring their prey, which were originally commissioned by the Arconati family. This was the room where the master would have his celebratory feasts of their kill during the hunting season. Lyn conjured the life of the owner of the villa, who would spend his days hunting on his 200-hectare wooded property and admiring the raw, violent depictions of the powerful overcoming the weak. The white tablecloth posed the philosophical question, regarding tyranny, war, and domination: "Will there be enough?"
It was timely that this exhibition was so near Milan, seizing the opportunity to draw visitors who could easily travel from the Venice Biennale this year. It was also a serendipitous continuation of the Biennale's curatorial emphasis on women artists and their alternative perspective of the world. To see so many works by Lyn, which highlight both her creativity and her ability to tell a story on the historic grounds of this hidden Italian villa, was an unexpected but welcomed discovery.
Angela Lyn's "On the Edge of Time" was on view at Villa Arconati-FAR in Milan, Italy from April 3 through October 16, 2022.
Elaine W. Ng is ArtAsiaPacific's editor and publisher.