Public Speaking: Interview with Reem Fadda and Galit Eilat
By Chloe Chu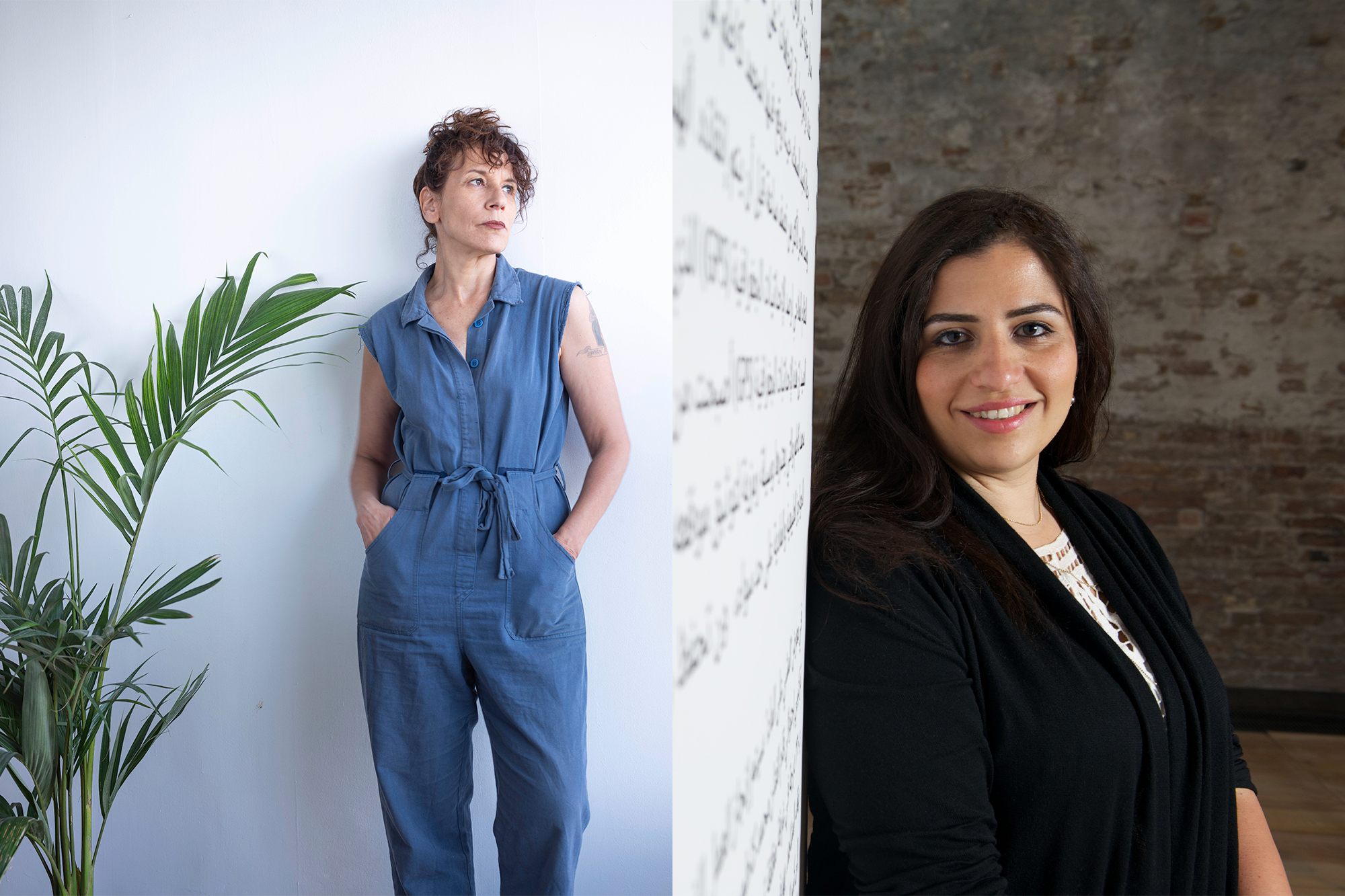 On March 20, Abu Dhabi's Department of Culture and Tourism announced its plans for a three-pronged public-art initiative that promises to "reflect the emirate's intrinsic cultural identity, anchoring a sense of belonging and fostering creativity." Public Art Abu Dhabi will comprise new commissions; light-art projects culminating in an annual event; and a public-art biennial, with the first edition planned for 2024. A yearly budget of USD 35 million has been committed to the initiative. But how might public art speak to the emirate's diverse residents and visitors, and better their lives? I put this question to the co-curators of the inaugural Public Art Biennial—Reem Fadda (RF), director of Abu Dhabi Cultural Programmes and Abu Dhabi Cultural Foundation, and Galit Eilat (GE), Amsterdam-based independent curator and director of the Meduza Foundation—who also discuss their previous collaborations aimed at fostering solidarity, civic discourse, and engaging communities.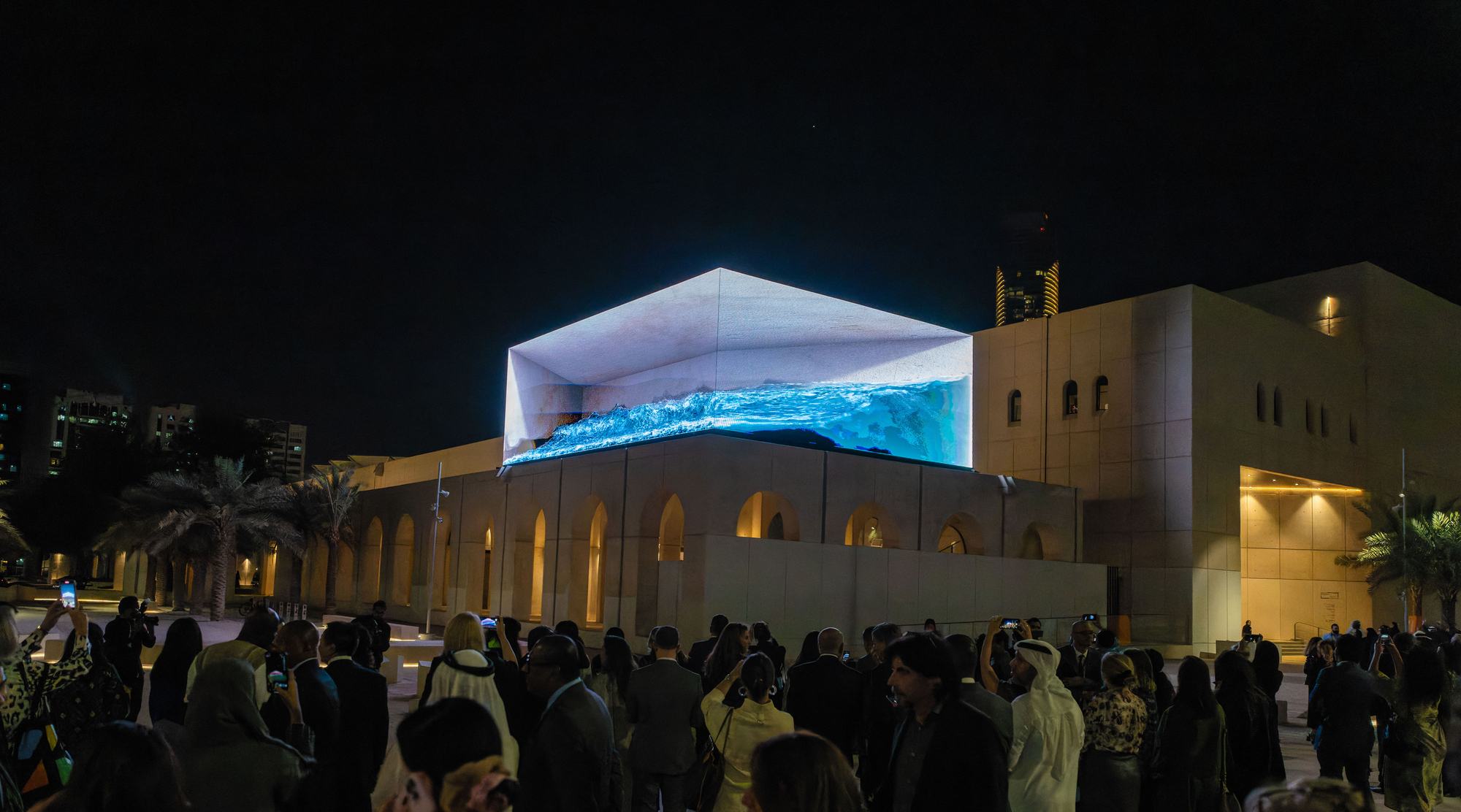 Abu Dhabi's public is made up of peoples from all across the globe, including many migrant workers. How might the city's public art initiatives intersect these different groups and draw out a "unique cultural identity"—a goal of Public Art Abu Dhabi—or acknowledge the communities' differences?
RF: We are part of an emirate, a city, and every city has its own unique identity, so that's what we're alluding to. That unique cultural identity might be interpreted from your encounter with the universal museum [such as the Louvre Abu Dhabi, which aims to rewrite human history from the point of view of transnational exchanges] and with going to dinner at the India Palace [a restaurant that the Department of Culture and Tourism named an "Urban Treasure," in recognition of how the more-than-26-year-old business has been a part of the city's cultural fabric, offering Indian fare to Abu Dhabi's diverse residents and visitors]. It might also be interpreted from walking at the corniche and seeing public art projects, or with going to the Cultural Foundation, encountering the artisans working in that space, and realizing that [cultural discourse has been a primary concern of the UAE since its establishment], when the founding fathers mandated that there should be a cultural institution in Abu Dhabi. That holistic experience of how you navigate the city and the audiences that you encounter around you on the way will shape [what you perceive of] the identity for that place. Your journey in Abu Dhabi will be specific to Abu Dhabi.
We are very cognizant that we are doing that through rootedness with our communities and with our heritage too. It doesn't mean anything if you're not doing it in a way that is anchored here and for the people here. You must have those kinds of stories. In the 1960s and '70s, in the absence of malls and other public spaces, the various communities that lived in Abu Dhabi created clubs: the Sudanese Club; the Jordanian Social Club; the India Club, which Indira Gandhi visited and where sometimes they do events that get thousands of people; the Yacht Club; the Sports Club; and the Officers Clubs. These are massive cultural entities and community-driven institutions that have serviced the entire Emirate. There are a lot of stories in Abu Dhabi. We have to go back to them and shape up that narrative and make that relevant for us.
Like you said, there are these ground-up community initiatives. The Public Art Abu Dhabi initiative, financially backed by the government, seems in this way to be top-down—
RF: I wouldn't say it is top down because there have long been initiatives of public art here. Abu Dhabi Art has been doing public art in Al Ain [Oasis], for example. And then a real-estate company would come and say I want to put sculptures in this other space. What we're doing now is creating a consolidated initiative, to masterplan this together with all these stakeholders. It's more enabling and regulation, as well as adding onto the existing efforts of these other parties through the three streams [of direct commissions, the Manar light festival, and the Public Art Biennial]. Before we even launched this project, we were in consultation about a bike track in Al Ain, for instance, where there was the idea to integrate art, and we were asked for artist recommendations. It's a consolidation initiative to enable and to support groups around us.
How did your partnership with Galit Eilat come about?
RF: Galit and I first worked together 18 years ago. We worked in Palestine and Israel in 2005 and 2006. This was at a very precarious time that included the Second Intifada. The project was called "Liminal Spaces," and it became, for me, a building block in my mind of my curatorial projects. We brought in Palestinian, Israeli, and international artists, and it was a long-term project with many iterations, comprising mainly discussions, artist projects, and showcases around the world, including an exhibition in Leipzig. Galit and I remained colleagues and friends over the years, and we've always had the desire to work together again because we share the same values about what we would want art projects to be about, for community, for place.
Galit, could you elaborate on what these shared values or goals are and what led you to sign on to co-curating the Public Art Biennial?
GE: Having worked with Reem in the past, I am excited to embark on yet another collaborative journey. Working with a brilliant woman on projects involving a deep engagement with communities and art in the public domain is always an exciting opportunity. Abu Dhabi's first public art biennial aims to introduce different existing communities to vibrant, inclusive, and varied artists both rooted in the UAE and the region, alongside artists from all over the world. It is deeply rewarding and necessary work as it can transform and adapt to the Emirates' dynamic reality.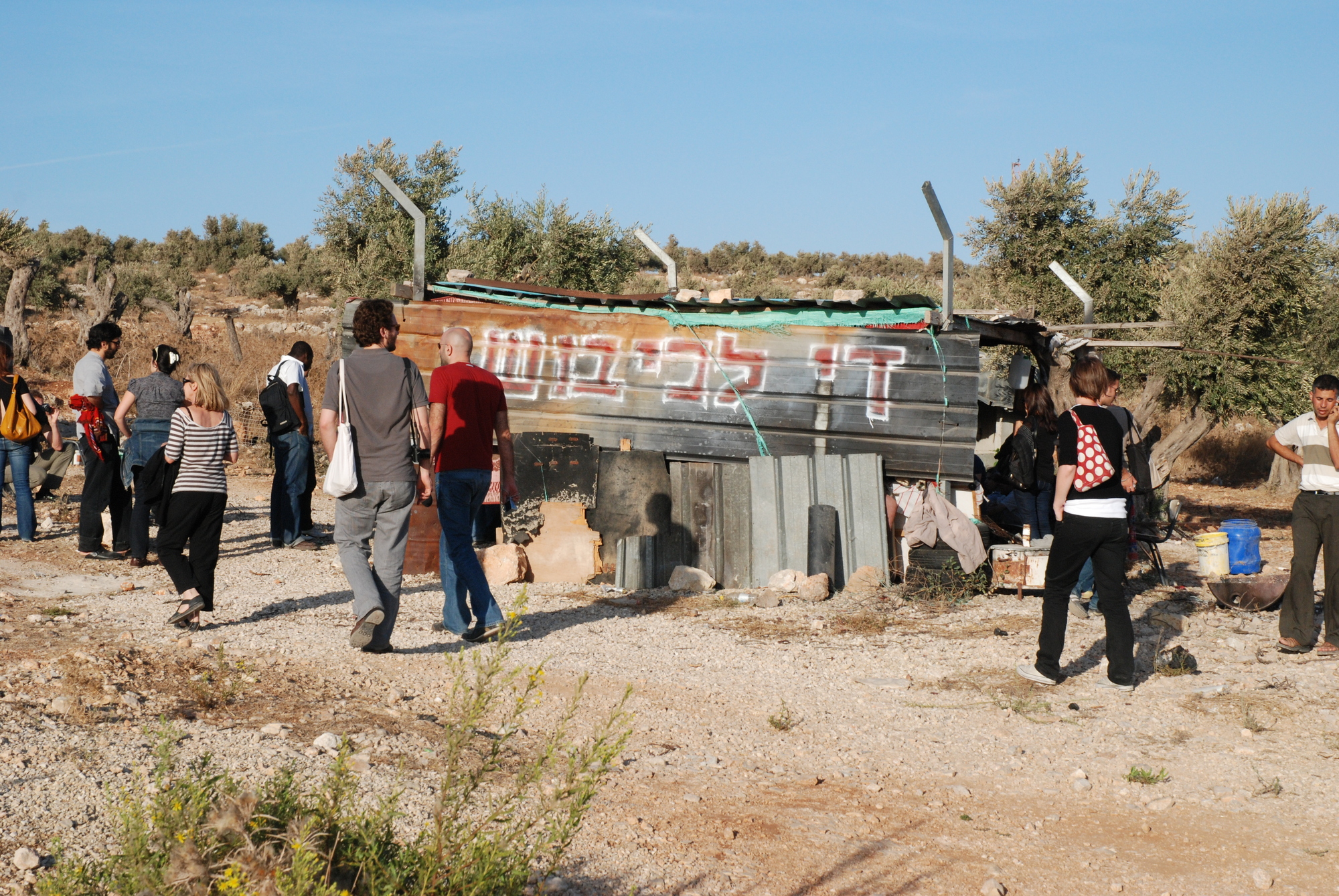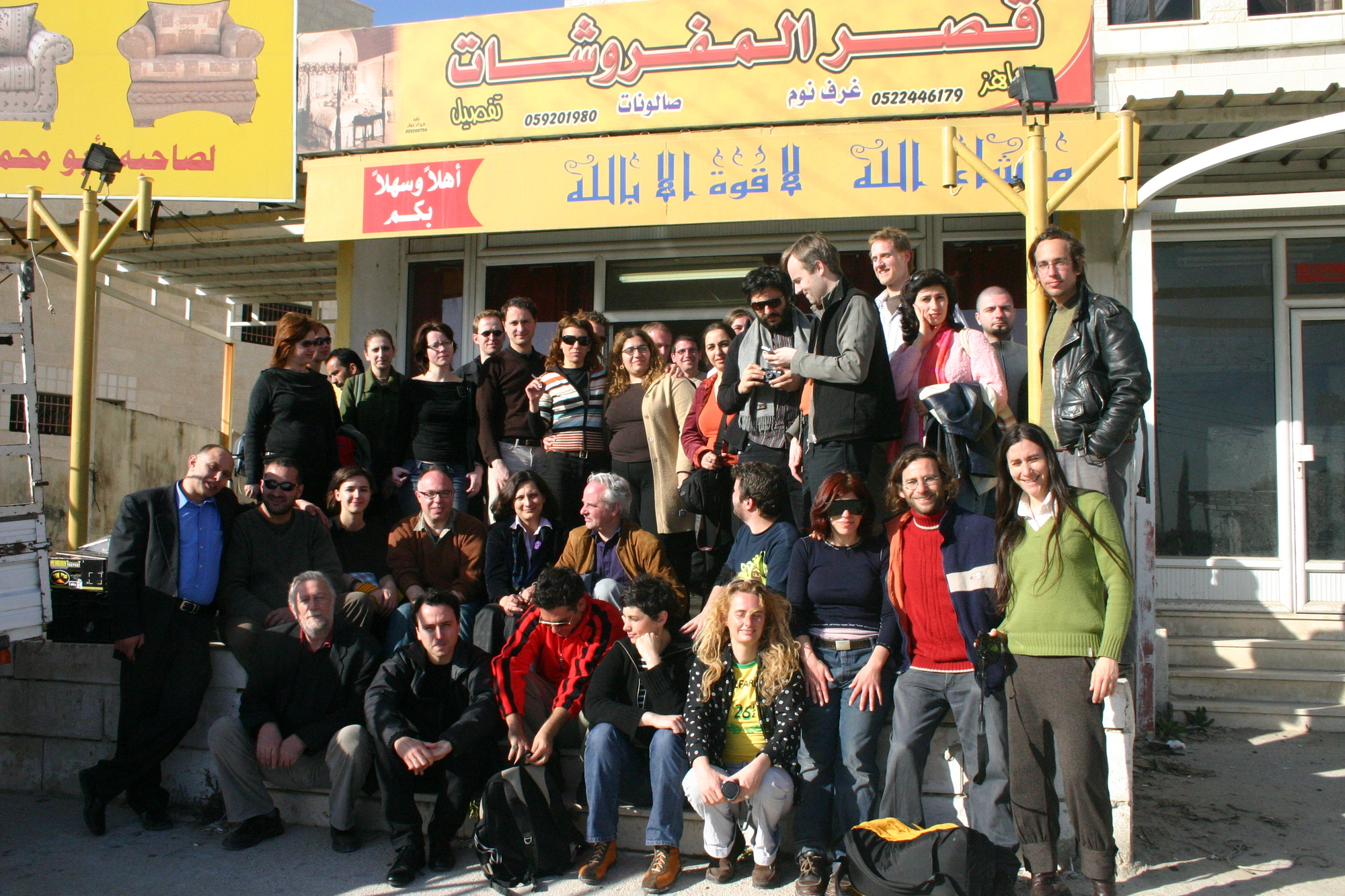 As Reem said, "Liminal Spaces" took place at a tense time. There were calls for boycotts of cultural projects by Israeli state institutions and a suspicion against initiatives that brought Israeli and Palestinian artists into conversation. The concern was if the forcible Israeli occupation of Palestine would be glossed over with the ideal of Israelis and Palestinians living together. "Liminal Spaces" sought the advice of the Boycott Committee at Birzeit University and carefully platformed cross-cultural dialogues while addressing the political asymmetries and segregation surrounding those conversations. Looking back now, what did you learn about navigating the disagreements and agreements that come with civic discourse, collaborations, and building solidarities? Are there any specific ideas that you might be pulling from your past projects?
GE: One of the most important and challenging aspects of transcultural collaboration is learning, unlearning, and relearning. This was one of the great challenges in all iterations of "Liminal Spaces" because there was no role model in the context in which we operated. Therefore, there was no way of knowing our work's limitations or penetrative impact. However, we have grown through it by creating discourse, building trust, jumpstarting cooperation, and rethinking solidarity.
RF: "Liminal Spaces" was a very specific situation and now we want to be exploring this new place, for us both, and see where it goes. We might bring in artists we've worked with before. It's always about that, it's about history, too, so we'll build on that.
How are you approaching your research for the Public Art Biennial and how might you encourage the biennial's artists to engage with local communities and sites?
GE: If you spend time in Abu Dhabi, it is easy to notice that it is a dynamic city with an enormous openness and curiosity for contemporary art. This city bursts into initiatives where sustainability is at the forefront of the approach. The project emphasizes Abu Dhabi's communities; without them, there is no existence for art in the shared urban environment. Therefore, deepening engagement among local communities and sites is how to respect the city and the people who experience and use it daily.
Subscribe to ArtAsiaPacific's free weekly newsletter with all the latest news, reviews, and perspectives, directly to your inbox each Monday.