Protests at Gwangju Biennale End Newly Established Park Seo-Bo Art Prize
By Tong Tung Yeng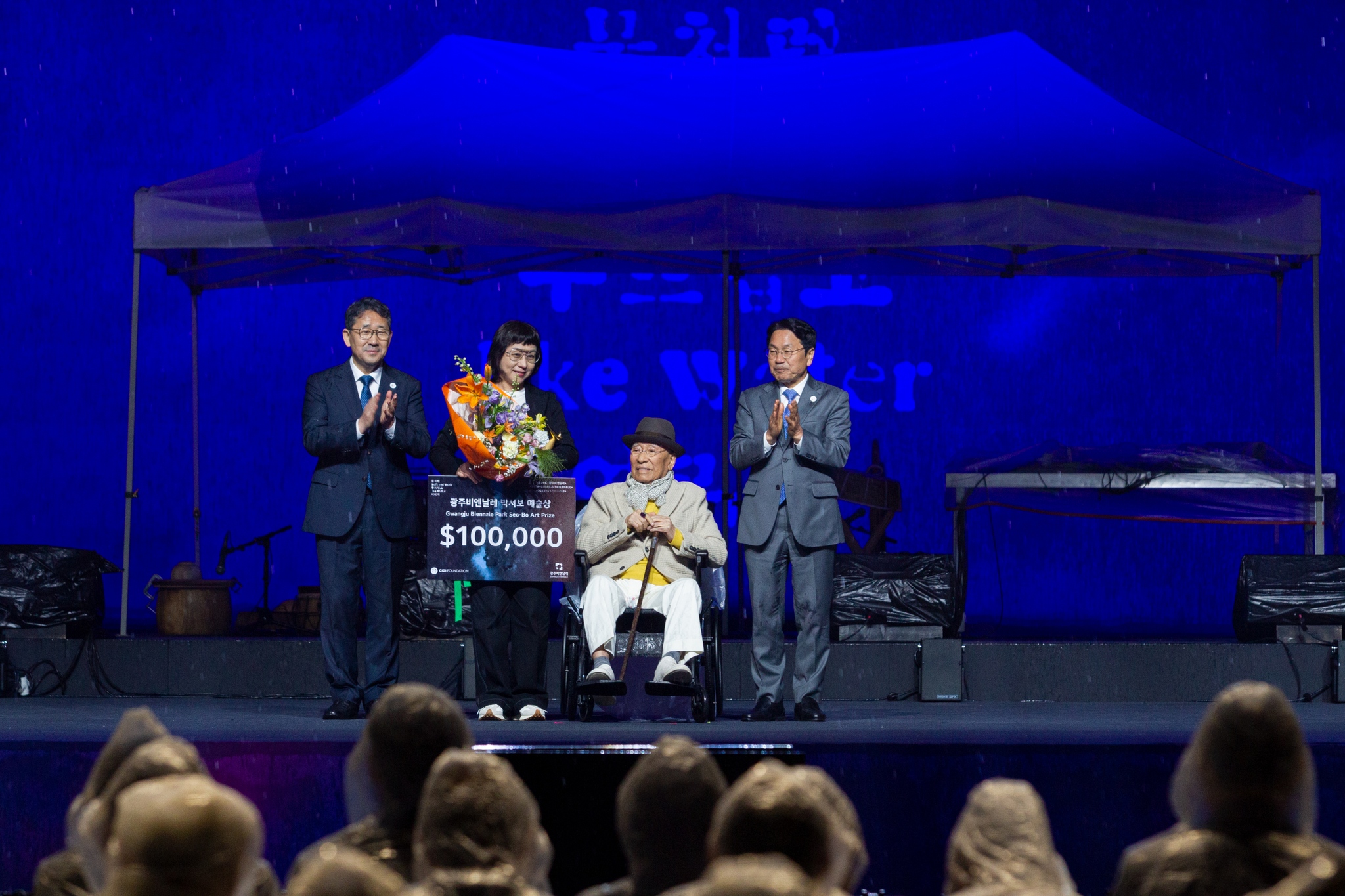 Midway into the ongoing 2023 Gwangju Biennale, protests against veteran Dansaekhwa painter Park Seo-Bo have forced the Gwangju Biennale Foundation to end its once-feted Park Seo-Bo Art Prize, launched in February 2022. Founded by Park through his representative GIZI Foundation two years prior, a total of USD 1 million was meant to fund ten editions of the prize beginning 2023 through 2042, with USD 100,000 awarded to one artist during each Biennale. The prize's first—and now, only—awardee is Oum Jeongsoon, who received the USD 100,000 cash prize for her tactile elephant sculptures, Elephant Without Trunk (2023).
Dissenting voices first emerged prior to the Biennale's opening in April, where some members of the public raised concerns of the award and promotion of Park Seo-Bo as running contrary to the "political spirit" of the Gwangju Biennale. In their view, the formalist qualities of Park's works were detached from socio-political realities and exigencies espoused by the Biennale. At exhibition grounds, protestors distributed leaflets proposing an alternative art prize named after late artist Oh Yoon, a member of the Reality and Utterance movement who produced numerous political prints in response to the 1980 Gwangju Uprising and massacre.
In response to the cancellation of the eponymous art prize, Park expressed resignation on his Instagram on May 10, "It is regrettable that the problem was raised on the day of the event . . . I have a dream, which is to create my own art museum, regardless of size, to provide scholarship funds to support younger students, and to establish an art award. However, I think I will have to proceed with my last dream in a different way. An agreement was reached with the Gwangju Biennale Foundation to abolish the Park Seo-Bo Art Prize."
Born 1931 during the Japanese occupation of South Korea, Park grew up in an environment of fear and oppression. After being forcefully conscripted into the military and even briefly experiencing life as a fugitive, he produced his Ecriture series of canvas-scratchings as a meditative process to aid in clearing his mind. Park, along with artists such as Ha Chong-Hyun and Lee Ufan, were pioneers of the Dansaekhwa movement which emerged in the late 1950s and represented a generation's efforts in healing from the chaos of war while grappling with national identity.
The Gwangju Biennale Foundation has yet to comment extensively on its decision to cancel the Park Seo-Bo Art Prize. The announcement of its cancellation came together with the Biennale's appointment of relational art theorist Nicolas Bourriaud as curator for its 2025 edition.
Tong Tung Yeng is ArtAsiaPacific's editorial intern.
Subscribe to ArtAsiaPacific's free weekly newsletter with all the latest news, reviews, and perspectives, directly to your inbox each Monday.